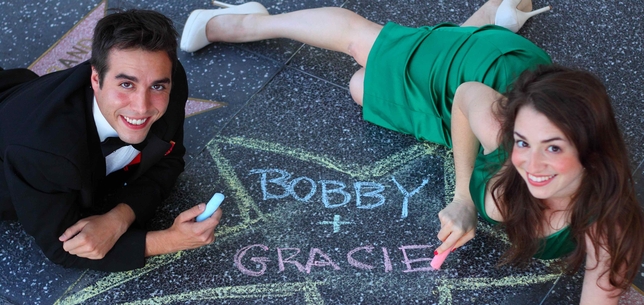 Get ready for new episodes of "The F-List," the hilarious webseries created by self-proclaimed struggling actors Beth Triffon and Sean Edwards. Today's new episode, "Fake It 'til You Make It, Part 1," will be the series' fourth installment, following three episodes that have collectively earned over 50,000 views.
The series follows the trials and triumphs (more often the trials) of Bobby (Edwards) and Gracie (Triffon), two wannabe Hollywood actors trying to raise their status from F- to A-list. From auditioning for a cayenne chicken commercial (despite a deathly allergy to cayenne) to sneaking into a B-list actor's birthday party, these two F-listers show viewers the harsh realities of finding success in modern Hollywood.
"We wanted to create 'The F-List' so every person who is living in, working in or simply dreaming about Hollywood could come and laugh at the heart-breaking yet always-inspiring life they've chosen," Triffon said in a statement. "Laughing at yourself can be very therapeutic and after jumping through every hoop and degrading myself in every way, this series was amazingly fun to create."
Joining Triffon and Edwards this episode will be Mark Burnham, who will play the role of cutthroat studio executive Max Madden.
"We are extremely honored to bring the talents of established actors like Mark Burnham to 'The F-List,'" Edwards said. "Mark's most recent credit includes staring opposite Marilyn Mansion in Quentin Dupieux's new film 'Wrong Cops,' shown recently at Cannes Film Festival. He was the perfect fit for Max Madden and we are thankful for his amazing portrayal."
Want to get in on the F-List action? You can follow Bobby and Gracie on Twitter @FListTV and use #FLISTMOMENT to broadcast your own Hollywood horror stories.