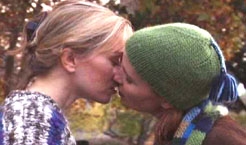 "Sex perversion or any inference to it is forbidden." With those nine ignorant words, written in 1930, the Motion Picture Production Code made official policy out of an unofficial cultural taboo, and an entire group of Americans was rendered virtually invisible. For two-thirds of the 20th century, lesbian, gay, bisexual, and transgendered (LGBT) people were excluded from the American self-portrait as created by Hollywood on the nation's motion picture screens. Even today, nearly 40 years after the code's demise, mainstream Hollywood shies away from films focusing directly on queer America. Generally, gays are restricted to playing colorful best friends or dying nobly from fatal diseases.
One need only look at the fate of Oliver Stone's "Alexander" last year to see why. Controversy over its depiction of the legendary warrior as a bisexual who may have preferred his male companion's company to that of his queen dominated press coverage of the film out of all proportion to its importance to the story. The film tanked at the box office. Thoroughly chastened, Stone, according to the Gay and Lesbian Alliance Against Defamation (GLAAD), is currently preparing a "director's cut" DVD release, due out in August, that excises much of the gay content. Stone is quoted as saying that it will make the film "more accessible" and as blaming "a raging fundamentalism in morality" for the film's commercial failure. "They called him Alexander the Gay. That's horribly discriminatory, but the film simply did not open in the South, in the Bible Belt. There was clear resistance to the homosexuality," Stone told Daily Variety in December.
It has been left to independent cinema to give Americans their first three-dimensional portraits of the lives of LGBT men and women. Some of these films gain sufficient visibility and critical acclaim to "cross over" to straight audiences. Some even get nominated for Oscars: Recent examples would be "Gods and Monsters," "Kinsey," "Boys Don't Cry," and "Monster." But a large and growing body of work still remains under the radar of general audiences. Scott Cranin, editor of gay content for TLAVideo.com, says that approximately 140 LGBT-themed pictures are or will be playing on the 2005 festival circuit and looking for distributors, up from about 100 in 2004, an increase of 40% in only one year.
These films are produced on a relative shoestring, receive a comparatively limited theatrical release (if they're released at all), and find their largest audience on DVD. They speak directly and powerfully about the reality of contemporary queer lives in a variety of lively, disparate, mostly LGBT voices. And most of them are made available by a handful of distributing (and occasionally producing) companies.
In celebration of Gay Pride Week 2005, Back Stage takes a look at the burgeoning world of grassroots LGBT-themed indie cinema. Nine filmmakers -- directors, writers, and actors -- and representatives of six distribution companies that facilitate their work speak with us about how and why they do what they do, the challenges and obstacles they face, and their advice to aspiring, like-minded filmmakers.
Fueled by Technology
Several important changes in technology seem to have spurred the creation of these films. One is the invention of the videocassette recorder (VCR), which has now given way to DVD players and recorders. Most of the six companies profiled below came into being with the advent of the home video industry in the mid- to late 1980s. The VCR didn't just revolutionize the way Americans watched movies; it also created a market for films that previously would probably never have been made. For small films, home video allowed tailored marketing to a niche audience: It proved to be much easier to get such movies into the home than to get enough consumers out of the home to support a theatrical release.
Another is the invention of digital video, which eliminates the expense of developing film stock and has brought costs down substantially, democratizing who can make a movie. Michael J. Shoel of Culture Q Connection, a distributor of LGBT films, notes, "Films can be made for $20,000, though highbrow filmmakers will tell you no. I've seen acceptable films come in for less than that."
Editing has also become much cheaper -- even for film. Gregg Araki shot "Mysterious Skin" on 35mm film, not digital video, but says, "We cut it on a Final Cut system that, all included -- the computers, the screens, everything -- cost $7,000. And I had it in my living room. In 1995, 'Doom Generation' was one of the very first movies cut on Avid, and extremely primitive Avid. It cost $100,000."
The Crossover Conundrum
Another reason for the production explosion targeted to a niche market has to do with the above-mentioned lack of crossover appeal of LGBT films to the larger straight audience. Ben Berkowitz, a straight filmmaker who made the gay-themed "StraightMan," admits as much: "I don't like it, but there are a lot of people out there who like to watch things that relate to them directly. Watching a film completely about gay characters, they feel out of the loop."
LGBT audiences, of course, have had to watch many, many films solely about straight characters and long ago learned how to "substitute" themselves into such stories. But, by and large, straight audiences continue to refuse to "substitute." "It's true," says Berkowitz. "It's because they don't have to." So LGBT artists interested in making films about themselves need to take their likely smaller share of the market into account.
And that is where the six distribution companies profiled below come into the picture.
A Collegial Community
No matter how inexpensively you manage to make your film, without a distributor it's akin to that proverbial tree falling in an empty forest. As Luane Beck, writer-director of the relationship drama "Intentions," told Back Stage, films that go unfinished or unreleased account for "something like 90% of independent films." So how does one go about landing in the fortunate 10%?
Each distribution company Back Stage spoke with has something that makes it unique, allowing it to stand out in what is admittedly a small community. "It's a family," says Richard Wolff, director of acquisitions for TLA Releasing. "We're very close with all of our competitors. We have dinner with them. It's very collegial." Wolff recommended two films he saw at the Cannes Film Festival last month to a competitor: "We didn't feel they were right for us. We passed on the information, and I know they picked up one of the films. We were very happy."
Filmmaker Rodney Evans, writer-director of "Brother to Brother," states unequivocally, "If it wasn't for these companies, our films wouldn't get out to audiences and gay people wouldn't have the reflection and representation of their experience in a truthful way."
TLA Releasing
TLA stands for Theatre of the Living Arts, which was an experimental theatre group in Philadelphia founded by André Gregory in the early 1960s. Upon the group's demise in the late '60s, its theatre was turned into an art film house, which was run by TLA Entertainment Group, founded by Raymond Murray, film historian and author of "Images in the Dark: An Encyclopedia of Gay and Lesbian Film and Video." In 1985, the company opened a video store next door to the theatre. Today it owns and operates six stores in Philadelphia and New York City, selling videos of all persuasions on-site, through direct mail, and over the Internet at www.tlavideo.com. But it wasn't until 2001 that TLA Releasing was formed and the company began releasing films theatrically and on DVD, with a primary focus on LGBT-themed work. Just recently it moved into producing as well, with three properties currently in production: Todd Stephens' "Porky's"-style comedy "Another Gay Movie," Christian Calson's romance "Flirting With Anthony," and Richard Bell's street-kid drama "Eighteen," starring Alan Cumming, "Queer as Folk" 's Thea Gill, and the voice of Sir Ian McKellen.
With more than 200 employees and about 80 DVD releases and 12 theatrical releases per year, TLA Releasing is one of the bigger fish in the pond. Director of acquisitions Richard Wolff characterizes a TLA film as "a larger movie. We tend to be a little more aggressive, proactive in the scope of the projects we take on. Edgy is not a problem for us. And star power is a criterion: an actor or a director." A current example is "Mysterious Skin," Gregg Araki's highly acclaimed film of Scott Heim's novel about two teenage boys, one gay and one unspecified, dealing with the aftereffects of sexual abuse and possible alien abduction in their childhoods. A grown-up Joseph Gordon-Levitt, of "3rd Rock From the Sun" fame, provides the star power, along with director Araki, whose film "The Living End" (1992), about two HIV-positive men on a nihilistic and hedonistic road trip intending to "fuck the world," remains a seminal title in edgy, provocative gay cinema.
Why not release all films theatrically? "All filmmakers would like to see their films released theatrically," says Wolff. "Unfortunately, we can't always accommodate them. We try to educate them. We say, 'This movie has a smaller capacity. If we spend a lot of money on print and advertising, you're never going to recoup your investment.' " DVD sales increasingly represent the bulk of a movie's profits, and a theatrical release -- and the reviews that accompany it -- can help add to those profits substantially. But a direct-to-video release, still considered a sign of inferior quality in mainstream cinema, is not at all unusual for a niche market like the LGBT community. Even Marcus Hu of Strand Releasing, the only company we spoke with that always releases its movies theatrically, admits, "There are some real great entries in the straight-to-video market."
Like its competitors, TLA has good relationships with all the major chains: Blockbuster, Tower, Virgin, Netflix. It has even begun selling movies to Wal-Mart. "The retailers are savvy," says Wolff. "If it's a good movie and a gay movie, it doesn't really matter. The marketplace has changed so dramatically in the gay film arena." The company has sold around 25 titles to the Q Television Network, one of the new gay cable channels, and is also distributing some titles to Here! TV, which also offers LGBT content exclusively.
Wolff considers $100,000 to be the "rock bottom" budget for a movie, which is higher than some of his competitors, who will go as low as $5,000. Why? "The bar's been raised. There is a lot of product that's readily accessible. These small gay films that aren't really that good don't have the market that they used to. That little film is competing against all the other product that satisfies the niche better."
TLA is open to unsolicited submissions. "We're easy to reach," says Wolff. "Send us a script, or let us see what you're doing. Get us excited. Tell us why your project differentiates itself from the other 50 pictures we get a month. But call first and let us know something's coming."
Water Bearer Films
Water Bearer is the small fry of the sextet, owned and operated by Mike Stimler out of his home in Charlottesville, Va., which he shares with his husband of eight years. "David Searching" writer-director Leslie L. Smith describes Stimler as "really, really great. He's a small company run by one guy, but he works his tail off and gets the job done." Even Stimler admits he's "not the biggest player on the block" and will urge artists with whom he has a relationship to take better offers from bigger companies if they come along.
But small has its advantages, one of which is an ability to push the envelope. Stimler says that what distinguishes Water Bearer is his interest in "cutting-edge material that others would find too risqué: prostitution, underage sex. I'm not afraid of them. These are films that need to be out there." But though willing to tackle tough subjects, he adamantly draws the line at "films that paint homosexuality in a negative light. But that doesn't mean they can't have evil characters." Experience has taught him that his customer list is only interested in movies about gay men: "I can't seem to sell lesbian films at all. I've never understood it." He refers promising lesbian films to Wolfe Video.
Water Bearer began life in 1987, when Stimler's father subcontracted from MGM the right to release Pasolini movies on home video: "MGM released Fellini's 'Satyricon' and sold only 4,000 copies. They needed to sell at least 40,000 to make money." But Stimler père thought that 4,000 copies in a targeted niche market could make money -- and they did.
Stimler quit his Wall Street job ("I'm a numbers cruncher, that's what I do") to join his father's nascent business, at that time located in Manhattan. Shortly thereafter, he was at the New York Gay and Lesbian Film Festival enjoying a movie called "Fun Down There." He found himself lamenting that no one was likely to see the movie outside of the festival circuit. Then the light dawned on him that he was in a position to get it seen. And so, in 1988, "Fun Down There" inaugurated what would become Water Bearer's primary focus: gay-themed movies. The company does, however, maintain an eclectic library that includes foreign films and classics, from those Pasolini films to the 1968 TV version of "A Midsummer Night's Dream," with Judi Dench and Diana Rigg, and even the taped version of Michael Crawford's West End musical smash "Barnum."
Water Bearer does not produce films, nor does it get involved in theatrical releasing. It doesn't even sell films from its website (www.waterbearerfilms.com). Instead, the website lists a toll-free number to call. While some of the films it picks up may have had small theatrical runs, the bulk of its new acquisitions are direct-to-DVD. The company releases 15 to 20 films a year. Stimler finds films on the gay film festival circuit, in trade publications, and from keeping an eye on the Internet. He accepts unsolicited submissions, preferring to look at a completed film, or at least a rough cut. He doesn't read scripts. He's open to films made on a low budget, such as an Israeli film he picked up that cost only $5,000 to make.
For Stimler, "it's not about money. It's about good, solid films with a good message that have nowhere to go and deserve to be seen." He's particularly interested in films "showing gay people just being people. We all have psychopaths out there somewhere, but to find the true loving couple in their 50s or 60s -- when a film like that comes along, that's great."
Wolfe Video
According to director and president Maria Lynn, California-based Wolfe Video (in San Jose and Los Angeles) is "unquestionably the largest distributor of lesbian films. We're very proud of that. Women are not reached out to much in this market." CEO Kathy Wolfe founded the company 20 years ago. A producer of LGBT-themed documentaries, she couldn't find a company to distribute them on home video. So she created her own.
Wolfe is the only releasing company we spoke with that also sells product from other companies (TLA Video does, but it is separate from TLA Releasing). "Our roots are in consumer access," says Lynn. "We're good at reaching out to consumers to tell them what's coming out. We're good at marketing the products of others." She puts the size of the catalogue at "hundreds and hundreds. We do a mailer every month. And new titles can be found on our website [www.wolfevideo.com] every week." Under its own label, Wolfe distributes approximately 12 films a year. It is open to unsolicited submissions. The company does not produce "any longer," says Kathy Wolfe. "We think about it occasionally. But then we think we're best sticking with what we know very well."
Wolfe moved into releasing films about gay men approximately 10 years ago. Lynn agrees that "every distributor has a sensibility. It's connected to personal taste. Our films are generally less edgy. My personal favorite is one with a 'feel good' aspect to it." She notes as an example "Big Eden," a film about a successful New York artist who returns to his rural hometown in Montana to care for his ailing grandfather and has his prejudices about small-town homophobia challenged.
Virtually all the interviewees agreed that there are many more gay men making films than lesbians. Lynn believes the reason is "the same old issue of access to money in a male-dominated industry. Every year at Sundance, there's been an article about how few women directors there are. And naturally, most lesbian films will be made by women." But most of the interviewees also agreed with Lynn that "it's pretty close to equal in demand between the gay male market and the lesbian market," at least when it comes to home video. The conventional wisdom is that gay men buy DVDs and lesbians rent them. And it's harder to do well with a lesbian film in theatrical release.
The majority of Wolfe releases are direct to DVD. "We're getting more conservative about releasing theatrically," notes Lynn. "Gay films from much bigger companies are not doing well. It's connected to what's happening to the whole industry. People are waiting to rent or buy." But they still buy more copies if a film has had a successful theatrical release, with good reviews and a higher profile. "There's a great connection between theatrical success and success on DVD," says Lynn. "And that affects filmmakers getting additional chances to make films."
Which leads Wolfe and Lynn to make a very specific plea: "It's very important for people to go to theatres in the first place. It impacts everything: whether that filmmaker will get to make another film and how many films you will see in your video store. Video retailers watch the revenues from the theatres. Please underscore for your readers that people should go to the theatre."
Culture Q Connection
In the wake of a 1994 earthquake, Culture Q Connection president Michael J. Shoel and his late partner, Donald Zelkowski, took their five-year-old distribution company from Hollywood and Vine to Tucson, Ariz. At the same time, they began to switch their focus from low-budget horror films to LGBT movies. Their first acquisition, in 1994, was the 30-minute "Kizuna," the first gay-themed animated film from Japan to be released in the United States, followed by 1997's "Breaking the Surface: The Greg Louganis Story." Today, Culture Q has about 80 films in its catalogue and has greatly multiplied its yearly releases, from three to four a year prior to 2004 to between 24 and 30 in 2005. And it has just produced its first movie, Q. Allan Brocka's "Eating Out," a comedy about a sexy hunk who pretends to be gay because the girl he wants prefers the company of gay men. He ends up dating her equally hunky gay best friend, and sexual identity crises ensue. "Eating Out" snagged the cover of The Advocate's April 26 issue: "Queer Cinema Is Back...With a Vengeance!"
The company's website (www.cultureqconnection.com) exhorts its customers to "join us in building bridges and breaking down barriers with images that are happy, sad, reflective, and fun." But Shoel points to "Eating Out" as an example of the kind of material he is partial to: "It's just about gay people enjoying a funny, sexy film. We deserve that as much as anybody else. We concentrate a little more on pop culture and making a connection between pop culture and queer culture. Gay people have a place in pop culture and it doesn't always have to be serious." He also feels that the company's Tucson location distinguishes it: "Most gay art is identified with large cities. We bring a sensibility that isn't metropolitan-based."
Of course, the company does have its share of serious fare. "Anything that's expressive of what I determine to be the gay, queer experience, in all its different formats," says Shoel. The company also produces and releases "a whole line of soft-core porn. Full nudity and eroticism, but no triple X. Just enough plot to be considered a movie. We do walk the line more closely than anyone in the industry still on the mainstream side of things. Sex sells. It's a reality. We have some really mainstream titles, but if we have a guy with his shirt off on the box, it's going to sell better."
"Eating Out" has been a success for Shoel, playing in about 25 cities from New York to Alaska, and the DVD comes out this summer. Shot on digital video, the movie cost between $50,000 and $60,000, and Shoel is ready to make another. He's open to unsolicited submissions and will read a script. The trick, he says, is that "it's very difficult to find a person who knows how to make a film on a miniscule budget well. I'll tell people it's low-budget and they're thinking $500,000. Or someone says he can make a $10,000 to $20,000 movie and he doesn't know what the fuck he's doing -- pardon my French." If you don't know how to use the technology, you end up wasting money or having an unreleasable product. "Craft, talent, and an awareness of limitations" are paramount, says Shoel.
Shoel's optimism is contagious and his enthusiasm for his work seems boundless. "Gay movies are the last bastion of what's new in entertainment, at least for the last five to 10 years," he exults. "It's exciting to be a part of it."
Picture This! Entertainment
Picture This! Home Video was formed in 1998 by its parent company, 21-year-old DW Diversified, which initially specialized in selling American films to foreign countries. According to President Douglas C. Witkins, "We decided the gay market was really starting to percolate domestically and felt we should have a presence there." The Los Angeles-based company's first home video releases were the documentaries "The Real Ellen Story" and "Party Monster," plus the gay drama "No Ordinary Love," which Witkins wrote and directed in 1994. But in a reversal of its parent company's business, Picture This! distinguishes itself in the marketplace by acquiring LGBT-themed foreign films for distribution in North America (both theatrically and on DVD), something it is well positioned to do thanks to its already-established relationships.
According to Witkins, "It's a question of sensibility and quality of product in terms of budget. Europeans have so many government subsidies. They can put more money on the screen." The company's website (www.picturethisent.com) talks of its pride in "bringing uncompromising and enlightening motion picture fare to discriminating audiences" and its "desire to push the envelope and disturb the sleeping masses." But that doesn't mean Witkins isn't open to American product: "We welcome it. English-speaking product will generally sell more. But we have a strong commitment to quality, and it would have to be the same from domestic sources." He insists that "there is no restriction on content. As long as it has gay and lesbian content, it will be viewed by the company. And you don't have to know somebody to submit it -- that's silly." One thing he is adamant about: no dubbing of foreign-language films: "I find dubbing offensive."
Witkins considers asking how cheaply a movie can be made "a loaded question. What does it look like it cost? That's what matters. If you can get stock donated, a camera for free, call in favors, and make it look like it cost a couple of million, that's great." The company will have seven theatrical releases this year -- "more than ever before" -- and around 25 releases in total. The increase in theatrical releases is due to an infusion of "P&A" money, which means "prints and advertising -- the money you need to put a movie out there, which is substantial. It lets us put dollars behind pictures that previously we wouldn't have, giving them a bigger profile." How many units a DVD release needs to sell to be profitable is, of course, a function of the cost of the picture. But Witkins does consider that "5,000 units is a bottom, bottom floor for gay movie DVD sales. I'm just ballparking."
Witkins' catalogue is up to "probably 65 to 75 titles -- 95% new stuff, though we are picking up certain specific titles that were out on VHS but not on DVD." And his company has a second specialty that he believes is of interest to LGBT audiences: "coming-of-age pictures. There's some sensibility about these pictures, though they aren't gay, that gays can identify with: a difficult adolescence, difficult parents to overcome. These pictures we want very much to start with the gay audience and then go mainstream."
Strand Releasing
Alone among the six companies profiled, Strand Releasing doesn't do direct-to-DVD releasing. "We only do theatrical release first; otherwise, we don't bother," says co-founder Marcus Hu. Hu and partner Jon Gerrans founded the company in 1989 with a stated desire to "fuse quality art films with commercial product." They must have done something right, for Strand Releasing, according to Hu, is the only distributor to be honored with a 10-year retrospective by New York City's Museum of Modern Art, curated by Laurence Kardish in 1999.
"Our films tend to be higher profile than a lot of other product, and that's what really differentiates us from other companies. On a big release, we'll go into over 100 markets -- areas like Cleveland, St. Louis, Des Moines, Kansas City, Minneapolis," says Hu. "Direct-to-video release doesn't really give much of a viable life, doesn't give a film its New York Times review, doesn't give it a national profile. Ultimately, those things affect how it's perceived in the marketplace. We do eventually take it out onto video and give it a life on cable or broadcast TV."
Strand will also occasionally pick up classic titles, such as Hector Babenco's "Kiss of the Spider Woman" and Mike Nichols' "The Graduate," which it will also give a theatrical release. "When it's a reissue, that's even more reason to do a theatrical push on it," insists Hu.
Strand's 300-plus titles are not exclusively LGBT-oriented, though the majority of them are. It handles between 12 and 14 titles a year and has produced or executive produced only 10 films in its 16-year history. "We really kind of produce our friends' movies," says Hu, citing such titles as Gregg Araki's "The Living End," Robert Lee King's film of Charles Busch's play "Psycho Beach Party," and Tommy O'Haver's "Billy's Hollywood Screen Kiss." "Production is a very arduous task," he says. "It's very labor-intensive, and you end up taking responsibility for that film for its entire lifetime."
Hu admits a personal preference for "dark and edgy" films: "I think they are more interesting films. They can have less of a theatrical pull, but I find them the most rewarding." He waxes a bit nostalgic for the days "when the new queer cinema was just emerging [in the early '90s]. There was some really thought-provoking work, films like 'The Living End' or 'Go Fish' or 'Poison' or 'Swoon.' I was so completely affected by them. Today I'm seeing less and less interesting, daring work and more and more gay and lesbian films that are trying to be feel-good movies, or affirmations of gay and lesbian and transgender life without having much weight to them."
Hu remains open to very low-budget films, setting $10,000 as the budgetary floor for a feature today. And in its support of artists like Canadian auteur Bruce LaBruce, whose experimental films feature a heady mix of Marxist politics, slashing social satire, a fixation on skinheads and fetishes, and actual hardcore sex, Strand can certainly lay claim to being the riskiest distributor in the pack. But Strand is also alone in refusing to accept unsolicited submissions. "It's just too dicey a thing," says Hu. "We could accept something and then later get accused of stealing the ideas. And if we did accept them, we'd just be inundated." So how can a filmmaker get noticed by Strand Releasing? "Get your film accepted in a festival, or have a sales or producers' rep contact us."
Hu insists that for Strand Releasing, "it's all about the passion, much more so than the commercial. We have so many titles that at the end of the day bring in nothing. But we just fall in love with them and you have to do them. Of course, you can't take too many of those chances a year. But those films are what really keep me going. I know I also have to work on things that I'm really doing just for the money. So it's a balancing act."
Parting Glances
Asking what advice they could give to young would-be filmmakers prompted some eclectic words of wisdom from our interviewees.
Kathy Wolfe: "Investigate same-sex marriage as a topic for a movie. There's great material there for drama, especially when children are involved. Aspects that are brand-new to everyone and issues surrounding protection of children's rights. Legal battles about same-sex parents' rights in divorce regarding children. That's a few movies."
Richard Wolff: "Be realistic on your first project or two. Keep your budget to within where you're going to be able to recoup your money, pay off your producers, and make that second film. We've seen a lot of one-hit wonders come through the door over the years. It's so important to get that second film made. Be aggressive; try to get some talent attached. People will recognize that savvy."
Mike Stimler: "Don't make a film without clearing the music rights. And never use 'Happy Birthday.' It's a killer. It's copyrighted. It's an owned piece. Like Disney, they'll come after you. They'll clobber you."
Michael J. Shoel: "The expectations of the audience are going to increase and increase and increase. Several years ago we could release a movie with poor production values, but because it captured some gay man's vision in some way, it was still of interest. We can't get away with that now."
Douglas C. Witkins: "Understand at least the basics that a distributor needs to properly exploit a film. He needs good still images, so have a still photographer on the set. Come well-prepared with good press materials. Have an on-set publicist. You need a sense of the business side of things."
Marcus Hu (laughing): "Make a good movie!"