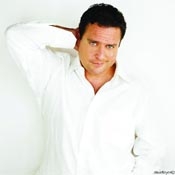 "Wow, this is such a surprise. Mainly because I'm a comedian and, as everybody knows, comedy is not acting. Comedy is very easy. Anybody can do it. All you need to do is not try very hard, make fun of real acting, and boom: comedy. I'd like to thank my mom because she told me I'd never amount to anything. I'd like to thank my dad because he was an alcoholic and he gave me my motivation to get into show business. I'd like to thank my agent because he's in the audience and he'll never get me another job if I don't. Free Tibet."
-- Sean Cullen Toronto and Los Angeles
"First of all, to the other four actors who were also nominated: nice try. Maybe this will be your wake-up call to try a little harder. Second, I would like to mention a few folks whom I would not like to thank. I would not like to thank the casting director who 10 years ago brought me in for the role of Paulie, the half-man, half-horse traffic cop. I certainly have no words of gratitude for the director who told me that no matter how many jobs I get, no one is ever going to want to sleep with me. And finally, far be it from me to ever acknowledge that I owe anything to the Academy. You want my thanks? Start sending me screeners again."
-- Regan Burns Agoura Hills, Calif.
"First and foremost, I want to give thanks and glory to God for showing me how to take who I am, who I wanted to be, what I can do, and use it for a greater purpose than myself. Without Him, nothing would be possible. Next, this is for my mother, who sacrificed so much to give me life and support me all the way here. I love you, Ma! To all my family and friends, who rode every hill and valley with me: I love you too. To the Academy, thank you! You made a young man's dream a reality."
-- Kenny Vibert Los Angeles
"I would thank my mom, then go on to thank everyone—everyone—involved in the project. After that I would send a hopeful message to all the aspiring actors out there. My message would be something like: 'Don't give up, even when you're working once every six months. Always remember that it's not how many times you get cast but what you do with the roles you've been given. Whenever you're given a chance, use it for everything it is worth.' Then I'd thank my mom again."
-- Hayley Nystrom Portsmouth, N.H.