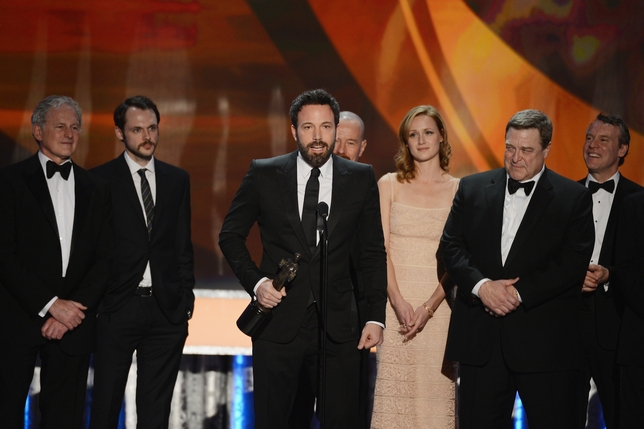 Humblebrag me all you want, but I managed to correctly predict 11 out of the 13 SAG Award winners tonight; four out of five in the film category (didn't see "Argo" winning ensemble) and seven out of eight in the TV category (I picked Ed Harris over Kevin Costner.) Now that the night is over, a few things have been solidified. If Hugh Jackman ever had a shot to beat Daniel Day-Lewis, it was tonight. But the "Lincoln" actor triumped and is certainly on his way to a third Academy Award for best actor. Tommy Lee Jones, long perceived as the frontrunner for supporting actor, finally picked up a precursor award, also for "Lincoln." (Though he wasn't there to accept.) The battle between Jennifer Lawrence and Jessica Chastain was won by Lawrence...for now. And nothing will stop Anne Hathaway from winning supporting actress.
But the real surprise was "Argo" taking the ensemble award, continuing it's amazing journey to Oscar night. When "Argo" first hit theaters in October, it was viewed as the movie to beat. While other films came along to challenge it, not a week went by when pundits didn't change their minds--it's "Lincoln!" No, wait, it's "Les Misérables"! It's "Zero Dark Thirty." Then Ben Affleck failed to receive an Oscar nomination for best director. Suddenly, "Lincoln" became the one to beat. At least for a few minutes--"Argo" went on to win the Critics' Choice Award and Golden Globe within hours of the Oscar nominations being announced. Now, people are saying what a surprise it is that "Argo" has become the frontrunner--when I never thought it lost it's standing to begin with.
"Argo" found it's momentum sealed with back-to-back wins at the PGA Awards and SAG Awards this weekend. While an ensemble win for a film doesn't necessarily corrleate to a best picture win (look at last year, when "The Help" took the top prize), in this case it indicates a huge groundswell of support. The perceived front-runner was "Silver Linings Playbook," which also had three individual nominations for its cast going in. Only one, Lawrence, walked away with a SAG Award. Had "Silver Linings" or even "Les Miz" won the ensemble award, it wouldn't have necessarily been viewed as a threat to best picture, as both featured large, varied ensembles. People would have said they were voting for the actors, not the film.
But "Argo" winning is different--just as it would have if "Lincoln" had won. The win for "Argo" indicates a strong love for the film from all the guilds. Which is not to say the cast isn't excellent and deserving, as well. Just that "Silver Linings" and "Les Miz" seemed to have the kind of big-name casts doing flashy work that SAG voters tend to go for.
So what's up for grabs? I wouldn't consider supporting actor a finality for Jones just yet; after all, Christoph Waltz wasn't in the SAG race but he'll provide some competition at the Oscars. Lawrence and Chastain will battle it out down to the wire. And with Affleck not nominated for best director, might Ang Lee overtake Steven Spielberg? Or could "Beasts of the Southern Wild"--ineligible for SAG Awards but nominated for four Oscars--turn the race upside-down completely? We have four more weeks to go before we find out. Until then, the only sure thing is this: nothing is certain.
See the full list of winners here.