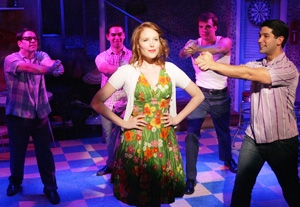 Every young actor wants only to be a film or TV star, right?
Well, that's not quite true. A sturdy crop of young actors recently graduated from college theater programs has been giving stellar performances in musical theater productions across the country.
Take, for instance, Jessica Keenan Wynn, currently the sole female in "Life Could Be a Dream," a doo-wop musical set in 1960. Written and directed by Roger Bean ("The Marvelous Wonderettes"), the show is currently playing at Los Angeles' Hudson Mainstage Theatre.
"There's something about musical theater where everything is heightened through song," Wynn says. "I hate to say it, but if I could sing my emotions every day—without being thought of as clinically insane—I probably would." (Perhaps Wynn comes by her enthusiasm naturally. She's the granddaughter of actor Keenan Wynn, who appeared on Broadway in musical revues in the 1930s and 1940s, and the great-granddaughter of Ed Wynn, a dominant force in Broadway musicals in the very early 20th century.)
Finding the right training regimen—whether in an academic setting or from private teachers or studios—challenges every aspiring musical-theater performer.
Getting In
Wynn, who this spring earned a bachelor's degree from the Ray Bolger Musical Theater Program at the University of California, Los Angeles, always had her heart set on UCLA. She attended a high school with no theater program, but she had been singing since age 3 and had attended theater camp for several summers as a child. She auditioned for UCLA right out of high school but was not accepted. So she attended Santa Monica College—a community college program—where she fulfilled her general education requirements and starred in productions of "Mack and Mabel," "Cabaret," and "Evita." After three years, she re-auditioned for the UCLA program and was again rejected. Another year passed; she tried once more. Finally, she made the grade.
Another UCLA alum, Albert Meijer (B.A., 2006) originally was accepted as an acting student. He noticed, however, that musical theater students underwent the same actor-training regimen he did but also received singing and dancing lessons. "I was like, 'I want to be able to broaden my skill sets,' " he recalls. And so, after his freshman year, he re-auditioned and was accepted into the musical theater group.
Charity De Loera, currently on Broadway in "The Lion King," and Jonathan McGill, now in Broadway's "Wicked," were experienced dancers when they set out to find a college program. De Loera, however, started her training much earlier, having taken ballet classes since age 3 in Beaumont, Texas. McGill trained at the Debbie Allen Dance Academy in Los Angeles from about age 13, gaining experience in an array of dance styles.
Neither had a particular interest in musical theater. De Loera was focused solely on classical ballet until her teacher showed her a videotape of the Alvin Ailey dancers, introducing her to the approaches of Martha Graham and Lester Horton. She applied and was soon welcomed to the Ailey BFA program, which is run in conjunction with New York's Fordham University. McGill's first choice had always been New York University's Tisch School of the Arts. Knowing that a dancer's career is short-lived and that he came to dancing relatively late, he appreciated that Tisch moved students through the program quickly and into a career. But it wasn't until he arrived in Manhattan that he seriously thought about performing in musicals.
A native of Corpus Christi, Texas, Jeremy Jordan—now a swing substitute performer in Broadway's "Rock of Ages"—also came to performance fairly late. He had been a "choir nerd" in high school but had only minimal experience in community theater and high school before applying to some of the country's top schools. "Nobody from my hometown knew how good I was or if I had any talent," he says. Several schools, including NYU and Carnegie Mellon University, offered Jordan a spot; he decided on Ithaca College in central New York state, in part because it was the only school that popped up when he ran a computer search matching prospective students with colleges. Jordan finished Ithaca's BFA program in 2007.
Ben Giroux, who appeared in and co-produced the 2007 L.A. show "Invasion! The Musical," grew up in Phoenix. He had been active in theater as a kid. But after high school, he enrolled in a film production class at Chapman University in Orange, Calif. "I was away from acting for a year, and it felt like the longest year of my life," he says. So, as a sophomore, Giroux transferred to a bachelor's program in theater at the University of Southern California. He graduated in 2007.
Getting Through
All these alumni were enrolled in degree programs—as opposed to pure conservatories—so, as students, they needed to balance their artistic training with general education requirements. This made for long days. De Loera describes a routine at Ailey-Fordham that typically included four dance classes per day, with academic courses on many days as well. "The Broadway schedule is not that big of a deal to me," she notes. "I'm already used to having such a demanding schedule."
Add participation in college theatrical productions to the mix, and schedules become even tighter. Meijer, who took at least one or two general education courses at UCLA per quarter, also participated in school shows regularly. With all these commitments, he was barely able to pencil in time for sleep.
For students already trained in one particular musical theater discipline, college offered opportunities to develop new skills. Singer Wynn worked on strengthening her dance chops, for instance, while dancers De Loera and McGill looked toward building up their acting and singing abilities. De Loera completed an "acting for dancers" class at Ailey-Fordham and began exploring singing instruction after participating in a musical theater workshop. "I was like, 'Wow! My voice isn't as bad as I thought it was,' " she says.
Similarly, McGill studied acting as part of his NYU curriculum, but he notes that there was little if any collaboration between the Tisch dance division and its musical theater program. Indeed, the only time he set foot in the musical theater building was to take an elective course on the history of musicals. He tried to register for singing classes but found that the sections filled up too quickly. Not until he completed his degree was he able to take private voice lessons.
Students with little formal performance training, such as Jordan, found the college instruction in singing, dancing, and acting revelatory. "I was always such a nerd in high school," says Jordan. "I had just kind of wrapped myself around academic stuff. And I just wanted to completely change that and discover the artistic side of myself. So I really got to do that a lot. The voice and movement classes verged on [the] spiritual at times."
The moments most inspiring to Wynn came when an entire class would assemble to perform an ensemble number. "I can't explain it, but there's something in that community—in having that support from people who have that same passion as you and who are extremely talented," she says. "It's like a drug."
Much of Giroux's musical theater training came in the school productions—including an award-winning turn as Moonface Martin in "Anything Goes"—rather than in the course curricula. "I pick things up best just by doing [them]," he says, adding that many of his general acting courses taught skills that were applicable to musicals. He notes in particular a course that concentrated on acting in the plays of Samuel Beckett, Harold Pinter, and Sam Shepard in which the instructor emphasized a careful consideration of a play's textual features. This class, Giroux says, allowed him to view all plays—including musicals—in a new light.
Few students savor the thought of report cards. But receiving honest feedback from faculty members about academic progress proves useful, of course. Meijer describes a jury at the end of his second year at UCLA when he sat in a room with all his then-current instructors, along with those whose classes he would take the following year. One by one they dissected his progress. Meijer was especially nervous about being evaluated by his dance instructor, so he was relieved when that professor cited him as his most-improved student and complimented his robust work ethic. This vote of encouragement helped Meijer sail through the final two years of the program with a freer attitude.
Getting on With It
Not many of these alums appeared in showcase auditions for industry professionals at the end of their college careers. But Ithaca provided the opportunity for Jordan and his classmates. This helped him gain representation—and his agent happened to be an Ithaca alumnus also. Shortly afterward, Jordan booked his first major stage job (the nonmusical "The Little Dog Laughed," at TheaterWorks in Hartford, Conn.) and received his Equity card.
In her final year at Ailey-Fordham, De Loera participated in a four-day workshop conducted by Disney. The event included a mock audition at which she was chosen to read the role of Nala from "The Lion King." She had no idea that among the panelists were top Disney executives. Largely because of this workshop, De Loera wound up officially auditioning for "Mary Poppins" and "The Lion King," and soon she was cast in the latter. Six months after her 2008 graduation, she was performing on Broadway. "I think that if anyone's college experience helped them to get where they are, I'm the poster child for it," she says.
Similarly, a connection Meijer made in college brought him a series of jobs after graduation. He had participated in UCLA workshops taught by Lydia Koniordou, artistic director of the National Theatre of Greece, performing a musical piece that explored fragments of the Iphigenia myth. This led to a number of subsequent roles at the Getty Center and the Getty Villa, including a starring role in a modern-day musical adaptation of Aristophanes' comedy "The Wasps."
But perhaps more important to students in the long run than introductions to industry insiders are the skills and resources that colleges and universities provide. When creating the role of Lois for "Life Could Be a Dream," Wynn drew on tools for character development she'd collected in UCLA acting classes. Early on in rehearsals for Lois, Wynn found she was playing her as a stereotypical Doris Day–Sandra Dee character. "I realized I had to stay honest, not only to myself but to this girl," she says, "and really dig in deep and use what I've learned in school and ask the questions that were needed. 'Where does she come from?' 'What does she want?' 'What does she need?' 'What does she aspire to be?' And that eventually led to what I created."
Giroux used the self-starter skills he'd gained at USC to get "Invasion!," an irreverent, "South Park"–style musical he and other USC students developed, on the boards. "There was a general understanding on campus that if you really wanted to make headway in the theater school, you made your own stuff and got as many people involved as possible," Giroux says. He extended that understanding into nonacademic commercial theater.
In the end, perhaps tips on self-reliance may be the most valuable lessons colleges and universities impart. Says McGill of the Tisch dance program, "There was no one there to baby me. If I was having a bad day, it wasn't like, 'Oh, everyone, Jonathan's having a bad day! Let's take it easy on him.' " McGill learned to take a sick day when truly ill but otherwise to suck it up and do the work required.
And that, finally, may be the simplest yet surest mark of a true professional.