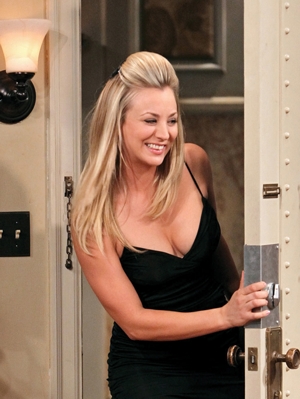 "The Big Bang Theory" actor Kaley Cuoco's tweet promoting the ad-skipping technology of Dish Network while the company is embroiled in a lawsuit with CBS may have cost her other promotional work.
CBS is part of a legal battle against Dish that claims the AutoHop and PrimeTime Anytime services violate copyright law and its contracts with the satellite provider. AutoHop allows subscribers to skip ad flights on recorded programs, something that Dish continues to promote to the chagrin of the ad-supported TV networks.
The latest kerfuffle between the two parties started Feb. 27 after Cuoco tweeted to her some 1.2 million followers: "Amazing! Watching live TV anywhere on the #Hopper looks pretty awesome! Now where can I find a tiny beer? #ad" along with a link to an ad for the service.
The tweet was subsequently deleted from her account—at the behest of CBS, according to Dish—but not before it "earned thousands of clicks from consumers interested in learning more about the Dish DVR experience."
Cuoco is likely covered under a personal services agreement with Warner Bros., which produces "Big Bang Theory" for CBS, not the SAG-AFTRA TV contract, which doesn't prohibit people from doing promotional work.
"[Cuoco] loses the opportunity now to be a spokeswoman or do work for TiVo or DirecTV or some of the competitors to Dish," said Brian Fergemann, a partner in the Chicago law firm Winston & Strawn who specializes in advertising, marketing, and privacy law. "It's generally not in the talent's best interest to accept what would be a nominal payment for a single tweet. Just to negotiate the deal to do that would generally cost more than the deal itself. Generally the use of social media by a celebrity talent would be part of a bigger deal. It would be something that would be done in connection with a television [ad] or a more broad social media campaign."
For instance, Cuoco tweeted photos from a TV commercial shoot she did with William Shatner for the travel website Priceline. A spokesman for Dish did not respond to questions about the nature of its agreement with the actor. But Dish told TheWrap, which first reported the story, that the decision to hire Cuoco was based on her "influence." Still, it could also have been a way for the company to get back at CBS for disqualifying its products from CNET's "Best of CES" awards program. CNET is owned by CBS Corp.
"It's disappointing that CBS—once the exemplar of editorial independence and innovation—continues to use its heavy hand to hold back progress from consumers," Joe Clayton, Dish's CEO, said in a statement after Cuoco's tweet was deleted.
CBS shot back in a statement: "Once again, Joe Clayton demonstrates his dubious gift for hyperbole and hucksterism. No demands were made, but it's clear that Dish's culture of fabrication is alive and well."
"It makes CBS look bad that one of the actresses on their network is promoting a service it thinks is illegal," said Jack Lerner, a digital rights management and entertainment law expert at the University of Southern California. "This is a small town, and she could possibly have needlessly alienated CBS, so ultimately it's a political problem more than a legal issue."