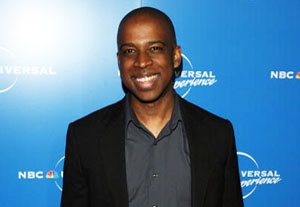 In a 2008 article titled "What Tina Fey Would Do for a Soyjoy," Keith Powell, an actor with a recurring role on NBC's "30 Rock," talked to New York magazine about a product-integration deal the sitcom struck with American Express. The arrangement called for the show's characters to appear in mini-episodes featuring the credit card company's products.
"At some point, some of the cast members started saying, 'Are we doing a commercial or are we filming "30 Rock"?' " Powell told the magazine. The author noted that Powell has had a successful career in old-fashioned TV commercials—the kind that viewers now zip past at the fastest speeds their DVRs will allow—and that he was concerned the American Express spots would interfere with his commercial exclusivity. But the actor took no action. "I do want to make it clear I think that we need product integration," Powell said in regard to product placement. "If Verizon didn't pay…we wouldn't be on the air."
Nor would a lot of shows. While "30 Rock" may be the standard-bearer for effective product integration (or perhaps co-standard-bearer, along with its brand-dropping cable cousin "Mad Men"), the army of scripted programs in step behind it is growing. With the television ad market looking increasingly sickly, integration promises to become more and more prevalent. In a December 2008 study, Nielsen (the parent company of Back Stage) found 2,575 occurrences of product placement that year on the CW drama "One Tree Hill" alone. To the show's producers, those placements likely represent 2,575 reasons that "One Tree Hill" is still on the air. But viewed from a different angle, they look like 2,575 potential conflicts for actors who make their living through a combination of commercials and entertainment programming.
Whereas Powell chose not to speak up about his fears that the American Express spots might complicate his commercial career, Alan Rosenberg has never been one to keep quiet. Speaking to Back Stage, he made plain his feelings about the threat the product-integration trend represents.
"Now they're insinuating commercials into scripted content, into TV shows and in movies, having actors in character, in wardrobe, do commercials," the former Screen Actors Guild president said. "They're not paying us for it; they're not consulting us about it. If I walk on set and they say, 'Hey, your character is going to do a Coca-Cola commercial,' and I say, 'But I can't do that; I have a Pepsi commercial—I'll lose that account,' they say, 'We don't care. You're going to do it, and we're not going to pay you for it.' "
Untenable Situations
Rosenberg is a divisive figure in his own union, but he raises an intriguing question. When an actor performs in a scripted union commercial, the exclusivity clause in the union contract prohibits him or her from appearing in a commercial for a competing product for 21 months. But if the line between scripted commercials and scripted entertainment is being erased, how do actors protect their exclusivity?
Jonathan Handel is an entertainment and digital law attorney at the Los Angeles firm TroyGould. He said a look at SAG's commercials contract, which is essentially the same as the American Federation of Television and Radio Artists' contract, provides no easy answer.
"The first question is whether appearing in a product placement in a scripted program in fact is a violation of commercial exclusivity or not—and it's not clear," Handel said. The second question, according to Handel, arises if you assume that a television or film product integration can be deemed subject to exclusivity. "Now you've got the performer subject to two separate binding legal agreements"—the commercials contract and the TV-theatrical contract. "On the one hand, they're subject to a binding agreement that says they're subject to exclusivity, but on the other hand they've signed a contract that says they're going to act in this movie or this TV show, and then at the last moment, after they've signed their contract, it's sprung on them that part of their acting is that they have to take that can of Coke and endorse it."
In this scenario, according to Handel, the performer can't escape unscathed. Refusing to do the product integration would put the actor in violation of the TV-theatrical deal, while doing the integration would violate the commercial deal. "That helps create an argument that performing under the television or movie contract does not violate exclusivity, because you're creating an untenable situation," Handel said.
Talking Cars
But so far neither AFTRA nor SAG has addressed the issue in its contracts. That leaves open the question of whether an actor can be taken to task by an advertiser for work done in entertainment programming.
In 2008, Will Arnett was slated to play the voice of K.I.T.T., the talking car in NBC's revival of the '80s series "Knight Rider." But two weeks before the TV movie that would serve as the series premiere aired, Arnett, who had already recorded his part, was replaced by Val Kilmer. The reason? On the new series, K.I.T.T. would be a Ford Mustang, part of a sponsorship deal between NBC and the automaker. Arnett already had a commercial engagement with Ford's archrival. "I was very excited at the prospect of playing the part of K.I.T.T. in the new 'Knight Rider' movie," the actor told Variety in a written statement. "However, because of a long relationship with General Motors as the voice of GMC trucks, I had to respectfully withdraw from the project."
Arnett's story may add celebrity cachet to the product-integration-as-bear-trap argument, but it's an imperfect example. If Arnett was paid above scale, his contract with GMC may have included a more stringent exclusivity clause. The rules that apply to middle-class actors often don't apply to celebrities.
Doug Wood is the chief negotiator for the Joint Policy Committee on Broadcast Talent Union Relations, which represents advertisers in contract talks with SAG and AFTRA. He calls the question of whether actors can be held responsible by commercial advertisers for product integrations they do under a film-and-television contract "interesting," but mostly academic. According to Wood, advertisers have a financial interest in not giving actors a hard time over product integration.
"The argument would probably be, from the unions' perspective, that that person is not doing a commercial," Wood said. "It would be a little hard for us on the commercial side to say that we don't have any obligation to pay them—because we're not doing a commercial with them, we're not hiring them—but that nonetheless we think they're prohibited from doing that because of exclusivity. It's almost like having your cake and eating it too."
Of course, until product integration is addressed in the union contracts, the cake is only hypothetical. The eating may or may not occur.