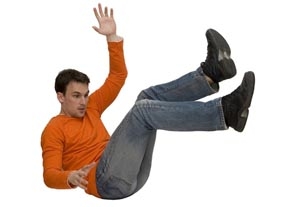 At its best, a professional acting class is like a studio-sized petri dish: a fertile place where experimentation prompts all sorts of warm, woolly, fascinating organisms to appear. Unlike the actor's workaday life— where you go to auditions, get cast according to type, show up, hit your mark, and then go home—in acting class you can feel free to make offbeat choices, take big chances, and investigate characters and situations far apart from your usual, commercially dictated niche.
Actors willing to take risks in the classroom contend that doing so leaves them feeling rejuvenated, that it boosts their creative growth. And yet, as the performers Back Stage spoke  with for this article explained, maintaining a spirit of innovation, exploration, and adventure in class is sometimes easier said than done.
The Joy of Taking Chances
Clifford Bañagale is probably best known for his role as Diesel in the Sacha Baron Cohen film "Brüno." Bañagale first studied at the American Musical and Dramatic Academy, but more recently he has worked with actor-teacher Marcie Smolin at the
Actors Circle
in Los Angeles. He recalls one exercise in Smolin's class in which he stretched himself beyond his comfort level, attempting something that might have bombed horribly.
"Marcie has this stash of random props and clothing that people have dropped off over the years," Bañagale says. "You're assigned a partner, and you go in there and you dress up. And when you come out, they give you a scenario. I dressed up in, like, a pimp outfit. I came up with an accent, and I was just in a whole different place. I didn't really make an excuse for my vulgarity or my missteps in doing the exercise."
Others in the class responded positively to what Bañagale was doing, and as he continued, he found himself playing off their reactions. There was an element of "working the room" in what he did, but it somehow felt right. "I think it's very important for every actor to get out of their head and realize that it's not just about making [the work] your own," he says, "but also about making it accessible to other people to connect with."
Smolin applauds the courage it takes to do the kind of thing Bañagale did—to go places other actors wouldn't even consider. "You can bet that Johnny Depp…went in there and made some interesting choices" when he was a student, she says. "Some of the things he's done with some of his characters, people in an acting class situation would have said, 'What are you doing?' With Jack Sparrow, for example, he started with Keith Richards. That was his inspiration, and he honed it. He took a little bit of this and a little bit of that—and a lot of Johnny. Because that's the other thing: The thing that makes those crazy choices and those risks work is that actors add themselves to the mix. You've got to keep a piece of yourself in everything you do. That brings it back to reality."
Different Roles, Different Challenges
Conor O'Farrell, who founded the
Actors Refuge
studio in L.A., studied early in his career with Michael Moriarty, who epitomizes the "You'll only be as good as you dare to be bad" school of acting, O'Farrell says. "I've never known anybody who took more risks onstage. Sometimes they were miserable failures. So when he was bad, he was really bad. And when he was brilliant, he was really brilliant. There were very [few] in-betweens with him…. I think there are very few people like that."
But, with an open attitude, student actors can likewise learn to embrace the idea of going out on an artistic limb.
After a prolonged hiatus from performing, Elaine Marlowe recently returned to the classroom. She is currently taking a class in the Meisner technique, taught by Rochelle Oliver at
HB Studio
in New York, and a scene study class with Tom Grail of the
TG Theater Group
. "I try all kinds of things," she says of her work in Grail's class. "I totally make an idiot of myself, I know. But everyone else does too, so it's okay."
Among other things, Marlowe tackles roles she would never be hired to play "in real life," she says. She worked, for instance, on a monologue from William Saroyan's "The Cave Dwellers" that was meant for a young woman of 18 or 19. While preparing a scene from Neil Simon's "The Last of the Red Hot Lovers," she was coached by Grail to play it as Tennessee Williams, Eugene O'Neill, or David Mamet might have written it. This exercise led her to discover the different colors available to her—shades she could incorporate into the scene when she returned to playing it as written.
Teacher-Supported Risk-Taking
When acting instructors encourage discovery through improvisation and provide direction of the sort that Grail gave Marlowe, it can lead actors to move beyond a play-it-safe mentality.
San Antonio, Texas–based actor Kristopher Thomas has taken workshops with local teachers
Brad Milne
and
Nikki Young
. He remembers one improvisation exercise with Milne in which students were asked to identify their first behavioral impulse and then do the exact opposite. Thomas' character in the scene was having a fight with his girlfriend. Instead of blaming her, Thomas reversed course: He had the character blame himself. The exercise may sound as though it's intended to curb an actor's intuition, but Thomas found that it instead opened him to new possibilities. When "you do any activity and it becomes habit," he says, "sometimes you can get into a repetitive nature and you don't really explore anymore."
Los Angeles actor Paul Linke became familiar to audiences when he played Officer Arthur Grossman on television's "CHiPs." Later he became known for the one-man show he wrote about losing his wife to cancer, "Time Flies When You're Alive." Recently he returned to acting class, studying with
Brian Reise
.
Linke is fortunate to have received positive reinforcement when he took a risk in his very first acting class, taught by Gretchen Kanne at the University of Southern California back in the early 1970s. He remembers presenting a solo scene, dealing with substance abuse and lost love, using the song "The End" by the Doors. It was an unusual sort of scene for the class, and the room was quiet when Linke finished. Kanne told him his work was "very brave" and encouraged him to next work with a partner on a scene from a Murray Schisgal play. But when the class staged a "best of" presentation at the end of the semester, Kanne asked that Linke revive the Doors piece.
"That was really important, because it validated the risk I'd taken," he says. "And it gave me the experience of trying to repeat it."
---
---

Starting Up and Starting Over
Linke's experience may have been a case of beginner's luck. By their nature, of course, classes in the basics of acting offer fewer opportunities for doing one's own thing than classes for more-seasoned performers. O'Farrell points out, though, that for newcomers, the very act of taking those first steps entails risk. If students "begin to access those parts of themselves that they either didn't know were there or that they just rarely had shown people—especially people in a public venue—it's really risky for them," he says.
In a similar way, seasoned actors who are steeped in a particular technique take risks when they open themselves to an entirely different approach to their craft. It may prove challenging, and even frustrating, for such actors to go back to square one, to work with an instructor who believes that his or her job is to drill actors in a new set of skills. Marlowe notes that there is less room for personal innovation in the Meisner class she's taking than there is in her scene study class. Meisner's technique "is A, B, C, D," she says. "It's a very good technique, but basically he's broken acting down to a very scientific process."
Some teachers' very nature seems to work against student-generated discovery. Some teachers are stern taskmasters. Some have an ego-driven "guru" sensibility. Others come off as intimidating, perhaps without intending to be. "I audited a class from a very famous teacher," remembers Marlowe. "I would never have taken from her, because there was so much tension in the classroom. The students were so afraid of making a mistake. Everything had to be sort of at performance level. I felt that that was not for me. I needed something a little less restrictive, where I could do what I needed to do and grow."
To Risk or Not To Risk?
Marlowe's observation underscores a basic conundrum in the teaching of acting—or perhaps in the teaching of anything. Students are supposed to be open to learning through trial and error, but they tend to fear error so greatly that they skip the trial. They make safe choices. They try to please teacher. This becomes especially problematic if the instructor has any influence in the other parts of an actor's career. When Thomas began classes with Milne and Young in San Antonio, he realized they were also involved in casting local productions. He says, "There's a little bit of nervousness there: 'If I screw around and am bad in class, then they're not gonna think I'm good and they're not gonna call me later.' "
In workshops taught by casting directors or others with hiring power, actors may naturally feel inhibited about trying something unusual or risky. Smolin wouldn't discourage an actor from signing up for such workshops, but she feels they shouldn't be the only classes that performers take.
Is there ever a time when actors should limit their experimentation—when they should censor themselves—in an acting class? Marlowe admits to very few restraints. She advises against such obviously outlandish choices as stripping off clothes in the classroom or attacking fellow students physically, but that's about it. "If I crawl on a lap or get physical in some way or I put my arms around [other students] or kiss them, I always check beforehand," she adds. "Otherwise you're invading their privacy."
Marla Yost, a New York actor who has studied at the
T. Schreiber Studio
,
Primary Stages' Einhorn School of Performing Arts
, and elsewhere, advises actors to approach with care the whole idea of "experimentation" in scene work: "There's taking a risk and making a choice in the moment of a scene that may or may not work for that character. And then there's going in there with the objective of 'being experimental'—which I think is not going about the scene properly. It's like you're experimenting for the sake of the experiment, and you're not trying to elucidate something that you've seen in the text. I don't know too many people who would try to do that. But I can see acting teachers calling you out if they think you're trying to be different just for the sake of being different."
When Failure Equals Growth
What happens after you land unceremoniously on your face when you try something new and original in the classroom? Occasionally, unmitigated disaster. Yost remembers being "ridiculed" by a professor in grad school when she tried to perform an exercise that involved personalizing an external object. It turned out she hadn't followed the directions. She simply wasn't prepared.
Sometimes actors realize that their failure is the result of not committing fully to an acting choice due to some sort of inhibition. "That's great, actually," Yost says, "because then you're facing that fear. You're trying to work through it. And some really exciting stuff can happen, in the moment, to get through that."
Sensitive and wise teachers know that a student's failure works best as a teaching moment, not as an occasion for reprimand. Bañagale recalls floundering in an exercise in Smolin's class. "We stopped class for a second and talked about why it wasn't working," he remembers. "It wasn't like, 'Shame on you, you didn't do it right.' It was more like, 'See how this scene is going? This is what I mean about going off subject and why it doesn't work.' It was more like an 'a-ha' experience."
When students get discouraged in class, they may find solace in recalling that all actors—even highly acclaimed ones—go through similar struggles at points in their training. Linke recalls the late actor-director-teacher Charles Nelson Reilly telling him about studying with Uta Hagen and Herbert Berghof—in a class where Reilly's fellow students included Hal Holbrook, Jack Albertson, Geraldine Page, and Jack Lemmon.
"They were terrible," Reilly told Linke of his now-legendary classmates. "You went to do the scene from 'Death of a Salesman' with the two brothers, and everyone would go, 'Arrgh, no!' But you go into class every time and you grow. You commit to it. You just keep working at it."