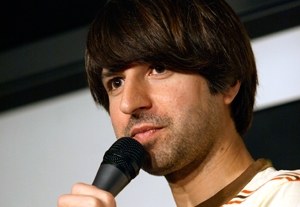 Comedy is cool. Comedy clubs, however, tend to give off a seedy vibe, and these days even strip clubs have dropped the whole two-drink-minimum thing.
Patrons aren't the only ones who can be put off by the club scene. Frustrated with the time-intensive and competitive process of getting regular stage time at the big clubs or by the formulaic nature of club sets, many comics have taken matters into their own hands and created shows wherever they can find a room with chairs. These shows are often cheap -- or free -- and a good time for performers and fans alike.
Emily Gordon books "The Meltdown," a Wednesday-night show hosted by her husband, Kumail Nanjiani, and fellow comic Jonah Ray at Meltdown Comics in Hollywood. When Gordon and Nanjiani moved to L.A. in 2010, she says she "felt like the shows were just boring, frankly. Not that the comedians were boring, but the shows were. Comedians wouldn't hang out at shows, which in New York is all anybody ever did. Here they would do their sets and then leave because nothing exciting was going on." With "The Meltdown," the goal is to foster that sense of community and create a "spontaneous kind of you-have-to-be-there vibe."
Since most shows of this nature are weekly, comics don't feel pressured to hang out every night to get spots, something that might be de rigueur at traditional clubs. But they have to perform often. Dave Ross, who runs "Holy Fuck" at the Downtown Independent theater every Tuesday night with fellow comedian Jeff Wattenhofer, says, "The way that we find out about people is by seeing them, or meeting them at a show, repeatedly -- like enough for us to know who they are." In a talent pool as deep as Los Angeles, "there are so many fucking comedians that in order for a booker to remember you, they have to be reminded of you. A lot." Gordon agrees: "I feel like a lot of people, they want to hustle to get sets, but hustling is not emailing me eight times. Hustling is going up as much as you possibly can, getting really, really good at standup, and I'll see you if you're doing shows and working hard."
"It's mostly talent," says Ross, "and then it's partially being visible, and being nice."
In addition to "The Meltdown" and "Holy Fuck," here are a few other cool comedy nights that skip the usual club trappings.
Los Angeles
French Toast
The hosts of "French Toast" have a tough job: get people to associate comedy with France. Germans are universally regarded as the most humorless and stoic of European peoples, but at least they gave us Colonel Klink.
When: Sundays, 8:30 p.m.
Where: Taix, 1911 W. Sunset Blvd., L.A.
Hosts-bookers: Margie Mintz and Zach Sherwin
Admission: Free
Website: www.frenchtoastcomedy.wordpress.com
The Josh and Josh Show
As far as West Hollywood bars go, Bar Lubitsch is pretty tolerable. These guys manage to make it downright enjoyable one night a week.
When: Thursdays, 8 p.m.
Where: Bar Lubitsch, 7702 Santa Monica Blvd.,
West Hollywood
Hosts-bookers: Josh Haness and Josh Weinstein
Admission: Free
More info: Twitter @joshandjoshshow

Performance Anxiety
A comedy show in a sex shop? Inspired. It's hard to not laugh when you're surrounded by dildos.
When: Every second and fourth Tuesday, 8 p.m.
Where: The Pleasure Chest, 7733 Santa Monica Blvd., West Hollywood
Hosts-bookers: Eli Olsberg and TJ Miller
Admission: $7
More info: www.thepleasurechest.com
New York
The Big Terrific!
This show is so cool that the hosts don't even have to advertise. Bring that girl you like with the fake glasses, and she'll think you're cool too.
When: Wednesdays, 8:30 p.m.
Where: Cameo, 93 N. Sixth St., Brooklyn
Hosts: Gabe Liedman and Max Silvestri
Booker: Secret
Admission: Free
More info: www.cameony.net
Broken Comedy
Yo, son, check it out, God. Word is bond, God, these dudes hilarious, son. Brooklyn, son. Mad jokes.
When: Mondays, 9 p.m.
Where: Bar Matchless, 557 Manhattan Ave., Brooklyn
Hosts-bookers: Mike Denny, Michael Che,
and Nimesh Patel
Admission: Free
Website: www.newyorkcitybrokencomedy.tumblr.com

Comedy as a Second Language
Since babies learn to poop their pants and throw their food before they learn to talk, you could argue that comedy is our first language.
When: Thursdays, 9 p.m.
Where: Kabin Bar and Lounge, 92 Second Ave., Manhattan
Hosts: Sean Patton and Chesley Calloway
Admission: Free
Website: www.comedyasasecondlanguage.com
Hot Tub With Kurt and Kristen
They describe it as a "weekly variety show that features comedy from New York's best comics and sketch groups, new music, and the occasional oddity." I describe it as a chance to pass Kristen Schaal your love poems.
When: Mondays, 8 p.m.
Where: Littlefield, 622 Degraw St., Brooklyn
Hosts: Kurt Braunohler and Kristen Schaal
Admission: $8
More info: www.hottubshow.tumblr.com
Sweet
"Sweet" is kind of like the O.G. show of this type, having been running weekly since 2004. You can tell from the name. It's like the guy who snapped up Sex.com, or the guy with the Twitter handle @john. Comedy is sweet. Bam. Show name.
When: Tuesdays in July, 9 p.m.
Where: Ella, 9 Avenue A, Manhattan
Host-booker: Seth Herzog
Admission: $5
More info: www.sweetcomedy.com