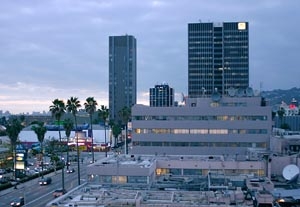 Actors seeking a place to live in L.A. or its vicinity that's affordable, comfortable, and convenient will find many diverse options. Take the time to make a choice that will serve all your needs. When you arrive in the city, you'll be eager to find an agent, seek out auditions, locate suitable acting classes, and do plenty of networking. Yet finding housing is a crucial first step. Locate a home base where you can work and relax, plan your career strategies, and clear your head. Following are descriptions of areas where many actors decide to settle, with pluses and minuses of these regions to help you narrow down your choices.
Hollywood and Vicinity
Though the fabled glamour of Tinseltown doesn't match its glory days of the 1940s–60s, a mystique still surrounds it. There are a lot of fabled sights to relish here—including the legendary Hollywood sign on Mt. Lee, the ornate Chinese Theatre on Hollywood Boulevard, and the Samuel French bookstore on Sunset Boulevard. Much newer, but nonetheless impressive, is the massive Kodak Theatre, where the annual Academy Awards take place. The still-active Paramount Studios on Melrose is a signpost of the big-studio heyday, and CBS Television City studios at the corner of Fairfax Avenue and Beverly Boulevard is the place where classic shows such as "The Carol Burnett Show" once ruled the airwaves.
Yet beyond the glitter are many reasons why actors might find Hollywood or its surrounding areas—gay-friendly West Hollywood and the Fairfax District—places to hang their hats. This region is fairly affordable, and highly practical—filled with casting offices, 99-Seat theaters, acting classes, film-screening facilities, union headquarters, and small production studios. Also, its central location makes it easily accessible by freeways and surface streets for getting to networking events, business meetings, and social gatherings in various parts of the metropolis. Plenty of diverse shopping, dining, and entertainment opportunities are available along Melrose Avenue, at the Grove, and at the adjacent Farmers Market. Right nearby is the huge Beverly Center shopping complex.
Costs for a one-bedroom apartment here will range from $1,100 per month to $2,000 or upward, depending on the neighborhood and other factors. Studio apartments are rarer, but they can be found, at rents of $750 per month and above.
SilverLake, Los Feliz, and Echo Park
Those with an affinity for an artsy or bohemian environment might find neighborhoods in these areas to their liking. A funky suburban feel makes these a comfortable alternative for those wishing to spend their leisure time away from the urban jungle. Coffee shops, yoga studios, artist hangouts, and other such places add to the laid-back vibe. Freeways provide easy access to all areas of L.A. County and beyond. This area was once a mecca for the silent film industry, and Walt Disney's first studio was here, so it has a rich legacy. The Disney-owned Prospect Studios remains here. Among the active small theaters in this vicinity are the Katselas Theatre Company's Skylight Theatre on Vermont Avenue and the Lyric Hyperion Theatre-Café on Hyperion Avenue.
One-bedroom apartments here average $1,000 to $1,700 monthly. Studios generally range from $600 to $800.
Westside/Beaches
Heading westward toward UCLA, one finds an invigorating collegiate environment. Farther west are the beaches of Venice and Santa Monica, boasting the allure of nature and a temperate climate. Outdoor activities such as biking, hiking, swimming, and sunbathing are compatible with the areas. Though freeways to all areas of greater L.A. are easily accessible, these communities aren't particularly close to industry activity. One might have to deal with more commuting and less convenience in exchange for the area's charms. The Fox and Sony studio lots are mainstays in this vicinity. There are also acting classes and casting offices. Theater companies range from the upscale, midsize Geffen Playhouse in Westwood, where established stars and world premieres are frequent, to the highly eclectic Odyssey Theatre on Sepulveda Boulevard, the highly regarded Pacific Resident Theatre in Venice, and the veteran family-run Santa Monica Playhouse, which includes a resident company of young performers.
One-bedroom apartments away from the beaches tend to cost $1,100 to $1,600. If you feel compelled to live near the ocean, expect to pay a minimum of $1,400.
San Fernando Valley
Many actors find the San Fernando Valley an ideal place to settle. This is the home to several major studios. In Burbank are Warner Bros., Disney, and NBC. Not far away is Universal City, home of Universal Studios. The heavily attended Universal CityWalk features terrific dining and entertainment opportunities. Universal City is also known for its ever-popular studio tour attraction—where newer actors find work. In Studio City is the vintage CBS Studio Center. The Valley also includes countless industry-related offices of all sorts, as well as dance studios and other places of interest to performers.
The area offers more of a suburban vibe than does the Hollywood side of town. There's a wealth of theater in the Valley, highlighted by the NoHo Arts District—which includes the historic El Portal Theatre, Deaf West Theatre (shared by the classics-focused Antaeus Company), Dakin Matthews' renowned Andak Stage Company, Road Theatre Company, NoHo Arts Ensemble, and more. In Burbank, the Colony Theatre is an Equity company offering a variety of popular fare, and Garry Marshall's Falcon Theatre does likewise. Burbank's 99-seat Victory Theatre Center, established in 1999, specializes in world and regional premieres.
Many actors and other entertainment professionals seem to favor Sherman Oaks and Studio City for their Valley residence, as these areas offer a more upscale alternative to communities such as Van Nuys, North Hollywood, and Valley Village. One caveat: If you are averse to scorching summers, the Valley might not be the ideal spot for you.
One-bedroom apartments generally start at $1,200 in the more upscale areas and about $150 less in other neighborhoods.
San Gabriel Valley
The San Gabriel Valley includes the charming city of Pasadena, home of the Rose Bowl and the 94-year-old Pasadena Playhouse, which once housed a renowned acting school where many famous actors got their start. Pasadena is also home to the adventurous and critically lauded 99-Seat company Theatre @ Boston Court, as well as 20-year-old A Noise Within, a classics-focused troupe, which is moving from its longtime Glendale home to a new $13.3 million Pasadena facility opening soon. Due to the scarcity of apartments in Pasadena, rentals are less plentiful than in other areas, and thus a bit pricier. One-bedroom units generally start at about $1,200 a month. In the areas of Altadena and South Pasadena, you should be able to find less-expensive rentals.
Useful Resources
Legal regulations and guidelines on renting a residence in California: California Department of Consumer Affairs,
www.dca.ca.gov/publications/landlordbook/index.shtml
Apartment search guide for California, by region: Select the region of your choice to peruse listings:
www.apartmentfinder.com/California/Hollywood-Apartments