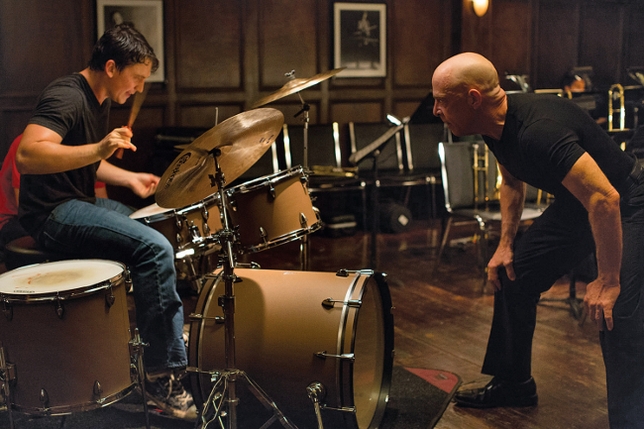 Sunday marked the end of the 30th Sundance Film Festival, which ran from Jan. 16–26 and featured a robust lineup of 118 films. The climactic awards ceremony found "Whiplash," "To Kill a Man," and "Difret" taking home honors, among others.
Opening night selection "Whiplash," about the relationship between a jazz drummer prodigy (Miles Teller) and his teacher (J.K. Simmons), was the fest's big winner, taking home the Grand Jury Prize, the Audience Award for U.S. drama, and a deal with Sony Pictures Classics.
Director Damien Chazelle was floored by the win. "It was impossible to finance because no one wants to make a movie about a jazz drummer, which is a total shock to me," he said after accepting the Grand Jury Prize. "Whiplash" received the feature film treatment after premiering as a short at Sundance last year. "Without people seeing [the short] here at Sundance, we wouldn't be here today," Chazelle said.
The "Whiplash" victory marks the second year in a row that one film takes the festival's top two prizes; last year, "Fruitvale Station" had the honor.
"To Kill a Man" took the World Cinema Grand Jury Prize, and the Audience Award: World Cinema Dramatic went to "Difret," an Ethiopian film about a kidnapped 14-year-old girl, directed by Zeresenay Berhane Mehari and executive produced by Angelina Jolie. "When we started this project, we heard that people would not want to watch this sort of a story," Mehari said while accepting the award. "Thank you very much, your voice goes a long way. We made this film with the support of the audience."
Walking away with the Waldo Salt Screenwriting Award was the Bill Hader-Kristen Wiig "Saturday Night Live" reunion, "The Skeleton Twins"—penned by Craig Johnson and Mark Heyman, and also starring Luke Wilson. The film landed distribution contracts with Lionsgate/Roadside Attractions for domestic release, with Sony Pictures Worldwide picking up international territories.
The Special Jury Award for Breakthrough Talent went to Justin Simien for the Indiegogo-funded "Dear White People," a film following four African-American students at an Ivy League college. "That's crazy!" writer-director Simien said while accepting his award. "Thank you so much. To everybody in general. So grateful to have a platform for this film. This is a dream come true. Thank you." The satire—based on a Twitter account of the same name—centers on the creation of a radio show by a female student after an "African American"-themed party hosted by white people becomes popular on campus.
Actors and real-life couple Nick Offerman and Megan Mullally hosted the ceremony, during which they made some over-the-top jokes, including one comparing Sundance founder Robert Redford's face to a vagina. However, both expressed their love for Sundance: "Our frenzied coitus is the stuff of legend, but really, there's no place we'd rather get our swerve on than right here in Park City," said Mullally.