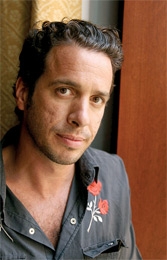 Filmmaker Michael Cuesta is not afraid of the dark when it comes to telling kids' stories. The man behind 2001's L.I.E. makes other melodramas about children seem like after-school specials, because he's not afraid to delve into the bleaker side of recess, so to speak. In his latest riveting film, 12 and Holding, three intense yet misguided 12-year-olds flirt with danger: One attempts to seduce a much older fireman, another dangerously seeks redemption for his brother's murder, and the third locks his mother in the basement to force her to go on a diet.
"If you're not there for your children, someone else will be," warns Cuesta, a father of two. "The film is very much [about] that gap that's created when you're not [there for your children], and watching kids navigate that world unsupervised is illuminating and also incredibly scary. The [12 and Holding] script was brought to me by my agent, and I couldn't shake it. To see children tackle such adult issues was gripping, and how they're able to impart wisdom unintentionally--that I find really cool. Some of my favorite films are films that deal with adolescents, like [François Truffaut's The] 400 Blows. I just find that sort of vulnerability makes for great drama."
The former commercial director majored in photography and literature at the School of Visual Arts in New York, later winning an Ad Council Award for his public service announcement on underage drinking. The focus was on kids again for Cuesta's first feature, L.I.E. (Long Island Expressway), which centered on a 15-year-old's friendship with the neighborhood pedophile. The widely acclaimed, controversial film was nominated for six Independent Spirit Awards, including best feature and best director, and the Producers Award; it also won the Prix du Jury at the Deauville Film Festival and a Grand Jury Award for best American narrative feature at OutFest. Cuesta garnered the best new filmmaker award from the Boston Society of Film Critics, the best directorial debut award at the Stockholm International Film Festival, and the new director award at the Edinburgh International Film Festival.
Cuesta has a knack for casting. L.I.E.'s lead actor, Paul Dano, has since become a hot commodity, appearing in The Ballad of Jack and Rose, The King, Little Miss Sunshine, and the upcoming Where the Wild Things Are. When it came time to cast the three young leads for 12 and Holding, the director again enlisted the help of New York casting director Judy Henderson--with whom he'd worked on L.I.E.--to sort through hundreds of hopefuls.
"Judy's fantastic and has a great sensitivity towards people and a great instinct. There's not a lot of discussion. We're in sync and have a similar sensibility," explains Cuesta, who doesn't like to take credit for getting such great performances out of his young actors. "Again, it's in the casting. Find the right kid. That's really what it is. If you have good text and you cast well, it more than enough falls into place. You can either be extremely hands off and let [child actors] do what they do naturally, and the other part of it is when they lose focus, you have to be very, very specific to what you want."
Cuesta avoids overdirecting, instead finding what is natural about the actor and working with it; he often uses the actor's own blocking. He does not shy away from presenting his young characters in a seductive or sexually overt way. After all, he notes, aren't childhood crushes sometimes more consuming--and confusing--than adult crushes? Child actors and controversial material don't always mix, but Cuesta hasn't had any bad experiences with skittish parents. "After L.I.E., you think, either people are going to run for the hills or totally get what I want to do," he says. "I was lucky enough to experience the latter. They really understood that I was responsible." However, he had a close call when actor Zoë Weizenbaum's mother wanted to pull her out of 12 and Holding a week before shooting.
"We almost lost Zoë, because she was cast in Memoirs of a Geisha as Young Pumpkin and her mother didn't want her doing two movies," Cuesta recalls. "I was in a tough spot, so I started to recast even though I still wanted Zoë [to play precocious Malee]. One night I sent an email to the mother basically pouring my heart out and empathizing with her plight of being a parent and not wanting to burden her children with our stuff or too much work. The next morning, I guess she was moved by it, and she let her daughter do it."
After spending a few months searching for identical twins to play Jacob and Rudy Carges, Cuesta decided to give both roles to Conor Donovan. "Those were tough roles for him, but [Donovan] was able to play the rough-and-tumble tough kid [Rudy] and the vulnerable one living in the shadow of his brother [Jacob]." In the film, Rudy's death affects his brother and their friends Malee and Leonard in drastic ways. Canadian actor Jesse Camacho was the first tape Cuesta saw for Leonard, a chubby kid determined to slim down after losing his sense of taste. "When [Camacho] sent the tape of himself doing pushups and sit-ups, I thought, 'Oh, it can't be this easy. He was the first tape I got.' And I went through the process of looking at 100 other kids and just came back to him, just sort of trusting the instincts."
Taking his time in the casting process worked. Despite their tender ages, Donovan, Camacho, and especially Weizenbaum deliver powerful, focused performances. For the adult roles, Cuesta cast Annabella Sciorra (Law & Order: Criminal Intent) as Malee's therapist mom, Mark Linn-Baker (Perfect Strangers) in a small role as a music teacher, and Jeremy Renner (North Country) as Gus, a former fireman sorting through past trauma. Cuesta says he looks for bright, unpredictable actors who aren't squeamish, and that goes for children and adults alike. He is always open to newcomers but would like to eventually work with Philip Seymour Hoffman, Robert Downey Jr., and Matt Dillon.
Cuesta co-produced and directed the pilot of a new Showtime series, airing in November, called Dexter, which stars Michael C. Hall from HBO's Six Feet Under. Cuesta directed five episodes of the critically acclaimed Six Feet before he decided to cast Hall as a serial killer of serial killers in Dexter.
Cuesta considers the experience of filmmaking therapeutic and educational. "The films I've done are clearly challenging and make me question a lot of preconceptions or preconceived ideas I have about things," he says. "I think, going into it, I never really know how it's going to turn out. So by the time it's cut, finished, [and] picture-locked, I think I mature. I learn more." What exactly has the writer-director learned? "I'm not afraid to take chances with genres that a few years ago I might have turned my nose up on; like, now I'm interested in the horror genre." Cuesta is currently developing a horror film called Shiver with the Weinstein Company.
"Horror is really an auteur genre where, and I don't mean this selfishly, but it's very much about the director," admits Cuesta. "If you're dealing with such a specific emotion as terror or fear, then it really becomes the director's job to make sure they get that right, whereas drama can rely more on script and the actors. With horror, the director better do his homework. Great craft has to come into play in that."
The filmmaker also recently adapted the novel The Miracle Life of Edgar Mint with producers Sandy Stern and Michael Stipe; it's close to getting made. The bestseller, by Brady Udall, centers on Edgar, a "half-breed"—Apache and Caucasian—boy who triumphs over several seemingly insurmountable challenges in the late 1960s. Again, Cuesta is drawn to an uplifting story about an unsupervised yet wise adolescent facing loss. But the director doesn't see his work as dark; he prefers the term "real."
"12 and Holding" opened May 19 in New York and is set to open May 26 in Los Angeles, with plans to open nationwide during June.