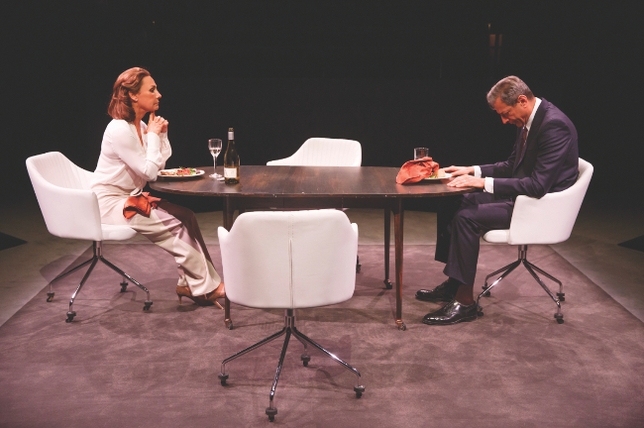 Approximately 18 productions of Shakespeare are taking place in New York this season. Sure, every actor wants to play Hamlet at least once, but who is today's Shakespeare? And wouldn't it be more fun to play a role that no one else has attempted?
"Shakespeare's great, but he was really written for the time period he was in. New plays are reflective of the age that we live in, and it's sort of the reason the art has persisted the way it has," says John Pollono, who wrote and stars in "Small Engine Repair," which is playing at MCC Theater. "If you're doing a classic play that has been done 500 times, you already know it works, so there's a safety in that. Remove that safety element and have some balls."
A few actors and writers are exercising their balls this season. Pulitzer Prize winner Bruce Norris has a new play, "Domesticated," opening Off-Broadway at Lincoln Center and starring Laurie Metcalf, and Sharr White has his second show on Broadway in consecutive seasons with "The Snow Geese," featuring Mary-Louise Parker. Celebrity actors can help new plays find shiny productions, but playwright Madeleine George found actor John Ellison Conlee to be essential to her writing process for "The (curious case of the) Watson Intelligence."
"I remember the moment in the first rehearsal when he was there, I could feel his voice collapsing onto the page. I was like, 'Oh, this is the sound of this guy,' " says George, whose play explores four "Watsons"—Sherlock Holmes' sidekick, Alexander Graham Bell's assistant, the IBM supercomputer, and a fictional IT guy—all played by Conlee at Playwrights Horizons starting Nov. 15. "Then the writing just came so much faster after that because it was no longer me and my imaginary ghost voice trying to generate these texts. The sound of his voice was running through my head like a river. I just felt like I could dip into my head, and there was the sound of him."
On some plays George says she likes to have multiple actors work on the piece through workshops and readings, but in this process Conlee was essential. What happens, however, when he's not there for the second production? "From your lips to God's ears," George jokes, wishing for a second time. Pollono is on his second go-around with "Small Engine Repair," which received a rapturous reception in L.A. at his theater company Rogue Machine Theatre in 2011 and now is having its New York premiere. Pollono is the only returning actor, and while he's making some changes for the new cast members, he encourages his fellow performers to work through hurdles in new work.
"To some extent, actors may say if they're challenged by a line or an action, their first instinct might be 'Let me change it so it's easier for me,'" says Pollono. "You've got to be careful with not doing that because if you get a play that you can't change anything as an actor, you get pushed up against something. A lot of times that challenge ends up unlocking an amazing objective and an amazing moment for you."
Rebecca Henderson, who'll be seen this fall in Meghan Kennedy's "Too Much, Too Much, Too Many" at Roundabout Underground, agrees with Pollono and likes to work through difficult moments. Henderson has made a name for herself performing in new work, most recently Samuel D. Hunter's "The Whale" and Ethan Lipton's "Red-Handed Otter," and while she has classical training and says she wants to play Lady Macbeth some day, the classics don't stimulate her as much as an original work.
"When those auditions come through and when I look at those lines, I just don't get excited. With a new play, it just gets me; it just makes me really excited. There's so much unknown, and it's really exciting to show it to people," says Henderson. "I mean, we know what happens in 'Hamlet.'"
---
Advice for Acting in a New Play
"Give it all you got, and be fast and loose, because things can change up until the very last minute." - Rebecca Henderson
"Don't hold back. Don't pull punches. Just do your thing, and don't worry about everybody getting it." - John Pollono
Take a cue from John Ellison Conlee: "He's a guy that goes after parts that interest him and parts that allow him to show off what he can do. He's worked on every kind of stage." - Madeleine George