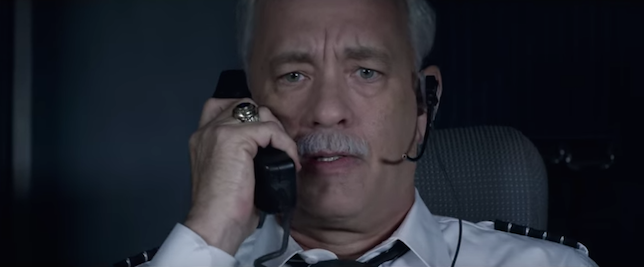 Tom Hanks is setting his sights on this year's Oscar race for a second consecutive year.
The trailer for "Sully," the Clint Eastwood–directed retelling of the true-life "Miracle on the Hudson" has been released. Hanks stars as Captain Chesley "Sully" Sullenberger, the airplane pilot who successfully landed a U.S. Airways aircraft on the Hudson River with no casualties in January 2009.
READ: "Jodie Foster, Tom Hanks Offer Actors Advice at TFF 2016"
"No one said, you are going to lose both engines at a lower altitude than any jet in history," Hanks narrates. "This was dual-engine loss at 2,800 feet followed by an immediate water landing with 155 souls onboard. No one has ever trained for an incident like that."
The film will delve into the aftermath of the astounding feat, calling into question the pilot's need to land the plane on the river, his family life, and his potential alcohol consumption at the time of the forced landing. Co-starring Anna Gunn, Aaron Eckhart, Tracee Chimo, and Laura Linney as Sully's wife Lorraine Sullenberger, "Sully" will hit theaters Sept. 9, 2016. Check out the trailer below!
Inspired by this post? Check out our film audition listings!