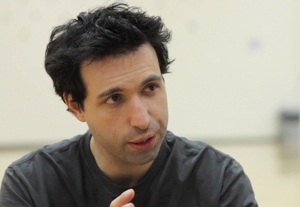 Alex Karpovsky, the writer-director-actor who has already made an impact at SXSW and Sundance with films like "The Hole Story," "Beeswax," and "Tiny Furniture," stars in two films that are premiering at the Tribeca Film Festival this year. In "Supporting Characters," Karpovsky is one half of a film editing duo working to re-cut a failing movie while coping with personal and professional turmoil. And in "Rubberneck," which he also co-wrote and directed, Karpovsky is a scientist who gradually loses control after a one-night stand with a co-worker.

This is Karpovsky's first time in attendance at the festival, both as a viewer and a filmmaker. But after TFF closes on April 29, the indie favorite will be poised to break through to the mainstream with two high-profile projects.

In Lena Dunham's ("Tiny Furniture") buzzed-about new half-hour series "Girls," airing Sunday nights on HBO, Karpovsky has a recurring role as Ray, a voice of misguided wisdom for the 20-something women at the show's center.

"He's on the periphery of the show and of this circle of girls," Karpovsky explains. "I only feel comfortable talking about the first few episodes of the season, but at least initially he basically is there to kind of contextualize their problems, their issues, and also their desires and their dreams. He's slightly older than them, he's slightly more jaded, he's slightly more cynical, and he likes to inject his world view into their situation. And by doing so, he hopes to sort of pop their bubble and really give them a dose of reality. 'You think you've got problems? These are legitimate problems. You think this is a real relationship? Let me tell you what happens in a real relationship.' So he's often there to give his advice or perspective, but because he has his own baggage and issues, often his perspective comes out very tortured and perverse and twisted, and at the end of the day it may not be much advice at all."

Karpovsky adds that the opportunity came to him because of his past relationship with Dunham, the creator, writer, director, and star of "Girls." (Dunham also shares a scene with Karpovsky in "Supporting Characters.")

"I think Lena invited me onto the show because of our familiarity with one another from not only 'Supporting Characters,' but before that I worked on 'Tiny Furniture' with her, which is where I really got to know her and hang out with her a little bit," Karpovsky says. "So there was a comfort and familiarity there, and I think she wanted that presence and that feeling on her show."

Next year, Karpovsky will be seen in Joel and Ethan Coen's "Inside Llewyn Davis," about a singer-songwriter in New York's folk scene of the 1960s. He says that working with the Coen brothers was a "magical experience" that reinforced his belief that on-set communication is the most important skill an actor or director can learn.

"They're probably my favorite directors," Karpovsky says. "I've seen all of their movies, and I'm a huge fan. So the thing that was really great was to observe how they communicate – how they communicate with each other, how they communicate with their crew and specifically with their cinematographer, how they communicate with their continuity person, how they communicate with actors. It was just really fun to see two sides of one brain working in tandem. I've never worked with two directors before."

Karpovsky also knows that working as not only an actor but also a writer, director, and editor on his own films and his friends' projects has taught him how to better interact with cast and crew.

"I think wearing different hats has been most helpful in just figuring out how to see and experience from another position's point of view," he says, "and thusly you can express your feelings and your sensibilities in a much more relatable and succinct, coherent, engaging way."

Read more about Alex Karpovsky at BackStage.com.

"Girls" airs Sunday nights on HBO. "Rubberneck" and "Supporting Characters" are currently playing at the Tribeca Film Festival.

For the full 2012 Tribeca Film Festival schedule and to purchase tickets, visit TribecaFilm.com.