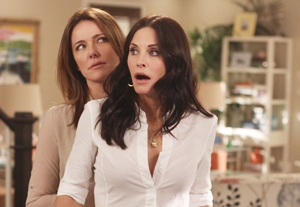 If ABC decides to jettison "Cougar Town" the struggling comedy could find an afterlife on cable.
The show's future is uncertain following a ratings drop in its third season. Talks are reportedly ongoing between TBS and ABC Studios, which produces the sitcom, about a potential move.
If the move does happen, "Cougar Town" wouldn't be the first network show to find new life on cable. NBC's "Southland" was picked up by TNT after the Peacock Network canceled it three years ago. The cop drama, which is produced by John Wells, was recently
renewed
for a fifth season by Turner.
Initially, though, "Southland" wasn't a TNT drama. The cable net originally bought the episodes that had aired on NBC and the unaired second season. It gave the drama a try out before spending millions to restart production.
Network switches aren't any guarantee of renewed success. In 2005,
according to TheWrap
, the cable net Syfy bought the 14 episodes of the space western "Firefly" from Fox TV. New episodes weren't ordered, though, because the show never took off.
"Cougar Town" is in a different predicament. The half-hour sitcom is edging toward potential syndication having returned for a third season in February. But it was bumped from the coveted Wednesday night slot following the hit "Modern Family," and couldn't maintain its audience.
The show, which stars Courteney Cox and features a strong supporting cast, has been posting its
lowest ratings
since it premiered in 2009. About 5 million viewers have followed it to its Tuesday night timeslot - half the audience it had in the first two seasons.
As ABC looks to push shows like "The Middle," "Happy Endings" and, potentially, "Don't Trust The B---- in Apt. 23," Cox and company may be out in the cold. If the show is canceled after this season, it likely wouldn't make it into syndication.
But there's hope it can find new life on TBS. The cable net has been in negotiating with Cougar Town producer ABC Studios,
according to Deadline
. The deal would be for two, 15-episode seasons, giving the beloved show enough episodes for syndication.