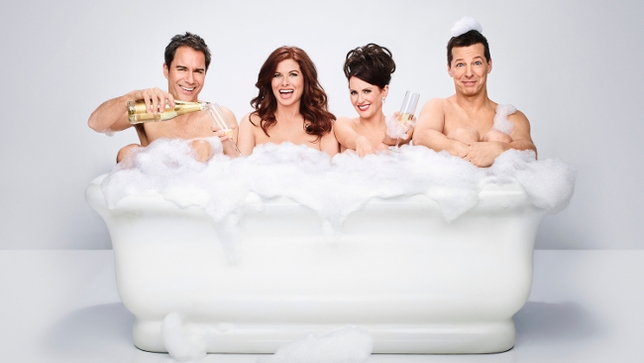 Stay in the loop on industry and casting news with our write-up on who's been slated for recent film and television roles!
"Will & Grace"
Get ready to "Oh, honey" the heck out of your friends à la Karen Walker—"Will & Grace" is sashaying back onto network TV. It's been an entire decade since the show said goodbye to audiences, but leave it to the nostalgia-laden climate of today's television fans to want to hang with their New York friends again. Word on the streets of Hollywood suggests that the revival will ignore the original finale in favor of having the characters all together once again. While there's no exact breakdown of what will happen on the new NBC run, fans can expect the same sharp wit the original is famous for. Like most revivals, its success depends on how many originating cast members sign on to participate, and this time they've got them all: Debra Messing, Megan Mullally, Eric McCormack, and Sean Hayes are back on board. Additional casting for the 16-episode run will go through the office of Julie Ashton. While the series has already begun filming—and been renewed for a second season—cast is still being lined up for the rest of the production's run, which is looking to go into late 2017. Los Angeles is hosting the series.
"The Umbrella Academy"
Netflix may be rich with selections from Marvel, but it's a Dark Horse comic that has nabbed a spot on the digital platform's to-do list. While "The Defenders" will hold down the Marvel fort, "The Umbrella Academy" is now in session for the far less theatricalized Dark Horse sector. The series, which is set to premiere next year, will be a superhero family affair centering on a group of estranged siblings who must solve their father's death—without killing each other first. Expect to see names like Spaceboy, Number Five, and the White Violin making their digital debuts. Though no actors are currently attached to star, casting on the project is currently underway with April Webster. The Toronto-based production has a while to wrangle its cast as filming isn't anticipated to start until the beginning of December.
"The Widow"
Isabelle Huppert is about to take on a new role: a not-so-teary-eyed widow. The Golden Globe winner is set to star in a film about a young woman who befriends an older widow after she moves to Manhattan following the death of her mother—but the widow in question has more than friendship on her mind. Chloë Grace Moretz has been cast as co-star and the source of infatuation. Additional actors will be brought on board through the office of Estrin/Bergstein Casting. Production on the film will take place in Canada and Ireland around the middle of September.
For the latest news, check out backstage.com/resources to find thousands of production listings, casting directors, acting classes, agents, and more!