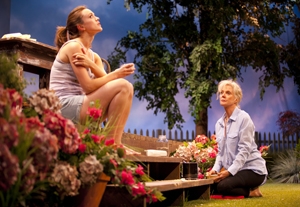 Benjamin Schrager wandered down Main Street looking for the '62 Center for Theatre and Dance. The New York University student was beginning his first year as an apprentice at the Williamstown Theatre Festival, where he looked forward to doing everything from building sets to potentially appearing in a show alongside Kelli O'Hara. When he finally passed someone on the street, Schrager asked for directions.
"I'm walking there too," said the man. "I'm David, by the way."
As in David Hyde Pierce, one of the many A-list names who flock to the theatrical mecca in western Massachusetts for 10 weeks each summer. Williamstown is an oasis for theater makers, where people such as Bradley Cooper and Tyne Daly can shed their celebrity to experiment and work on their craft.
"This idea of family is very important," says Artistic Director Jenny Gersten. "It's so important that we continue to bring back those artists who started here as youngsters. And that's meaningful to the people who are starting out here this summer. They always say, 'I can't wait to come back,' and that will happen."
The feeling of community is everywhere, from sandwiches named after actors at Pappa Charlie's Deli to everyone's caffeine destination, Tunnel City Coffee. Cars stop preemptively for pedestrians, while strangers greet each other on the street. Williamstown may be just a few hours outside New York City, but it's worlds away from the ambitious world of Broadway. Here in the Berkshires, the famous and the unknown are on equal footing.
Such actors as Kate Hudson, Kathryn Hahn, and Christopher Reeve got their start as part of the Workshop, which includes the apprentice program and the non-Equity company. About 70 apprentices are accepted each year and pay tuition to come build sets, serve on a show's backstage crew, take Shakespeare and improv classes, and sometimes perform. The non-Equity actors audition, and the number of company members -- 22 this year -- is capped by the roles available in season shows, Free Theatre, and the fellowship, a program where commissioned directors and writers develop a play and musical.
Apprentices Jeff Deglow and Rebecca Knowles in the Workshop's 10-minute play showcase. (Photo by Steven Koernig)
But the seven-day workweeks can't temper anyone's enthusiasm. After a full day doing odd jobs -- sweeping sawdust from set building at the Mill is the universally hated task -- apprentices and directing interns tech their presentation of 10-minute plays. The final run-through doesn't start until 12:30 a.m., but the adrenaline coursing through the directing studio doesn't waver until rehearsal concludes past 2 a.m. Many will have to be up at 8 a.m., but no one seems to mind.
"I've never been more tired more consistently in my life," says apprentice Jeffrey Hathcoat, "but it's being tired in the best way. Here, I'm actually fueling what I want to do."
Former non-Equity company member Heather Lind, who marked her first festival summer as Equity this year with a performance opposite 21-season festival vet Blythe Danner in "The Blue Deep," got her break through a Workshop showcase like this one in 2008. Lind was performing in "The Lover," and Michael Greif, who directed "Three Sisters" that season, attended with Rosemarie DeWitt, who was playing Masha. Greif complimented Lind, and DeWitt said her representation might be interested when Lind finished graduate school at NYU. Two years later, Lind dug up a contact sheet from the festival and emailed DeWitt.
"She didn't even call me back," Lind remembers. "The next day, her manager [Troy Nankin] called me for a meeting, and he became my manager a few months later. He introduced me to [agent] Bonnie Bernstein at ICM, and before I graduated, I had two representations."
Lind calls DeWitt her "acting guardian angel," and in 2010, Greif cast her in her first Equity job as Jessica in "The Merchant of Venice" and Perdita in "The Winter's Tale" in rep for Shakespeare in the Park.
David Hyde Pierce rehearsing with non-Equity company member Helen Cespedes. (Photo by Steven Koernig)
"This really is a launching pad for many people," says Steve Lawson, a festival legend in his 41st season who founded Free Theatre, an outdoor performance that celebrates its 25th anniversary this year with Lawson's adaptation of the final Sherlock Holmes novel "The Valley of Fear." The program began with the first Holmes tale, starring Alec Baldwin in the title role.
At Free Theatre rehearsal in Poker Flats field, sitting on a towel to avoid the fire ants lurking in the grass, Workshop director Laura Savia explains the casting process. Apprentices audition on the first day, each performing a 90-second monologue. Within the first three days, everyone has been cast in main stage shows, Free Theatre, showcases, cabaret, and other opportunities.
"Each year, there's a couple of apprentices that give the [non-Equity company] a run for their money," says Savia, highlighting Alex Gould, who has the largest part of any apprentice in "The Valley of Fear." "I love that."
Earlier, in the Williams College dorms, where the apprentices bunk in close quarters, Gould calls Williamstown a sort of Disneyland for actors.
"In New York, you're sitting around and nothing's happening," he says. "Here, you're literally sitting there, and your phone rings, and it's Laura [Savia] being like, 'Hey you're cast in this main stage production ... ' It seems like it's a dream, but it's real."
And that fate came true for several apprentices this year, some of whom will be appearing in "Elephant Man" with Bradley Cooper and new musical "Far From Heaven" with Kelli O'Hara.
Performing, however, is a bonus for apprentices. "You wouldn't be happy here if you want to just be an actor, period," says Savia. "There has to be a curiosity about the other elements of theater." If they don't get cast, apprentices make their own opportunities. This year, they organized Monday-night monologues and a writers' group, among other projects. Some will get a chance to showcase their summer's work at "Apprentice Night," while each Equity company participates in a "How I Got Where I Am" discussion with the apprentices.
To Hyde Pierce, who landed his first Broadway show through a connection he made with Edward Herrmann at the festival, this relationship is "symbiotic," as today's apprentices are tomorrow's stars.
"It's a really great reminder for those of us who have been in the theater for a long time," says Hyde Pierce, who was a part of the non-Equity company in 1980 and 1981 alongside Kate Burton. "No matter how high you've risen or how new you are to it, the importance of your contribution is the same."
---

Performance Opportunities at Williamstown
Main Season Shows
– Casting for the main season shows happens for apprentices in the first days of the festival and before the start for the non-Equity company. Calleri Casting is the festival's official casting office and helps place everyone from Equity leads to apprentices in parts in the season's offerings.
Directing Intern Workshop Showcase
– The six directing interns direct 10-minute plays with the apprentices three times during the summer. Auditions are held, and casting decisions are made with the help of the workshop director and workshop assistant. These performances also take place at 11 p.m. in the directing studio.

Directing Assistant Workshop Showcase
– The directing assistants direct longer plays with the non-Equity company members twice a summer in a similar format to the directing intern showcases. These performances also take place at 11 p.m. in the directing studio.
Late-Night Cabaret
– Apprentices and non-Equity company members can do everything from play music to sing alongside Tyne Daly in the Late-Night Cabaret at Goodrich Hall, hosted by comedian Lewis Black.
Free Theatre
– This outdoor theater event features non-Equity company members in leading roles with apprentices rounding out what is usually a large cast.
Fellowship Play and Musical
– A company of 10 non-Equity company members build the ensemble for these projects. Two commissioned director-writer teams, one for the play and one for the musical, develop a new work from scratch with the help of these actors.
Auxiliary Workshops
– In this largely informal program, apprentices and non-Equity company members work with visiting artists to put together new work. There is no audition, and actors are placed based on scheduling availability.
Stand-Up Comedy Master Class with Lewis Black
– Comedian Black works with about 15 apprentices, many of whom haven't had many performance opportunities, to prepare an evening of stand-up on the Nikos stage. "He knows that there's no lack of talent here and we don't have enough roles to go around, which is unfortunately very true," Savia says. "He knows the best material is going to come from people who are hungry."