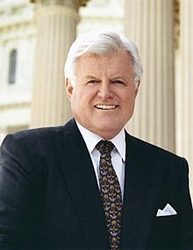 Columbia University and former ambassador to Ireland Jean Kennedy Smith announced today the inaugural winners of the Edward M. Kennedy Prize for Drama Inspired by American History, otherwise known as the EMK Prize. The winners are "The Body of an American" by Dan O'Brien and "All the Way" by Robert Schenkkan.
Usually the award is given to one work, but this year the judges decided to unanimously divide it because both works engage "the great issues of our day through the public conversation, grounded in historical understanding that is essential to the functioning of a democracy."
The prize was created in honor of Ambassador Smith's late brother, the former senator from Massachusetts. It is announced each year on Senator Kennedy's birthday, Feb. 22.
"We are very pleased and excited about this award in Ted's name," said Ambassador Smith in a statement. "My brother loved the arts—museums, books, the performing arts. Music was perhaps dearest to him, but he and I shared an enjoyment of theater—especially, for Teddy, musical theater. He was also a great student of American history and made it come alive for many of us in the Kennedy family. He was much beloved by all the family and he would be very pleased by this tribute."
"All the Way" depicts America from the assassination of President John F. Kennedy in November 1963 through election night in 1964 and is told through many character's stories, from Martin Luther King Jr. to J. Edgar Hoover. The play premiered at the Oregon Shakespeare Festival last year.
"The Body of an American" explores the story behind Paul Watson's famous photograph of the body of an American solider dragged from the wreckage of a helicopter crash through the streets of Somalia in 1993. The work focuses on both the ethical and personal consequences of the photograph, and premiered at the Portland Center Stage in 2012.