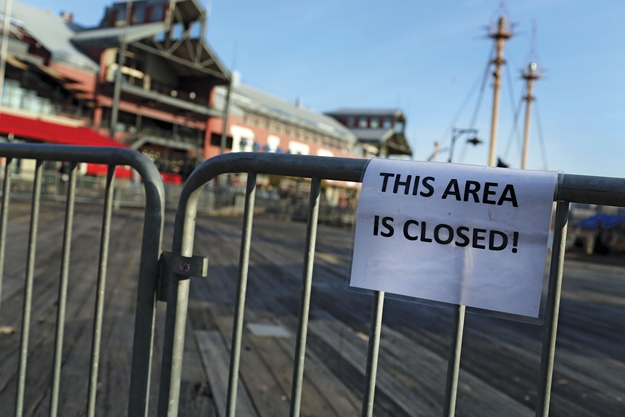 A group of performers working on the feature production "Winter's Tale" say SAG-AFTRA didn't do enough to get their paychecks delivered after Hurricane Sandy shut down the Warner Bros. production and delayed its payroll.
The union declined to penalize the production for its late payments, a decision that officials say was justified because of the mitigating circumstances in the aftermath of the storm.
"Winter's Tale," the passion project of writer and director Akiva Goldsman, tells the story of a middle-aged Irish thief (Colin Farrell) who, amid a storm of "arctic winds" in 19th-century New York, breaks into a mansion on the Upper West Side. In addition to Farrell, Goldsman has cast Russell Crowe and Will Smith for roles in the project. None of those marquee actors was on hand during background filming in late October.
Olan Montgomery was part of the shoot Oct. 24–25. Montgomery said that the production had a Thursday payday. "I assumed that that meant they would process us the following week," he told Backstage.
Sandy got in the way. The storm, which is the largest Atlantic hurricane on record, hit the New York area Oct. 29. The payroll company being employed by Warner Bros. was in lower Manhattan, and its offices were damaged by the storm. The production switched to a payroll provider in California, but it took time for the employment records to be regenerated.
Montgomery and several other performers who spoke with Backstage said they were still waiting for their money by mid-November, long after the storm had passed. "That was a time when that check actually counted," said Montgomery. Many New York–based productions shut down for extended periods after the storm. "Winter's Tale" lost a week of shooting. "That was a time when we needed to be paid," said Montgomery.
Warner Bros. declined to comment for this story.
"This was an epic storm that destroyed entire swaths of the East Coast, including parts of Manhattan, and that had a direct and devastating impact on any number of businesses, including several whose services help support our members and mission," Stephanie Perry, director of theatrical and television contracts, SAG-AFTRA New York, told Backstage in a statement. "In disaster situations like this, extra consideration is entirely appropriate, and consideration was extended. SAG-AFTRA is always concerned with the timeliness of payment to members."
Montgomery and the other background actors Backstage spoke with disputed the union's explanation. They noted the payments were ultimately delivered from California, which was untouched by the storm.
"That for me didn't wash," said Montgomery, who received the checks for the Oct. 24–25 work on Nov. 23. "I'm a victim as well as the production company. If [SAG-AFTRA] is not going to back actors getting paid on time when a natural disaster happens, what happens down the road?"
"When a union whose job is [to] protect the best interests of its members chooses not to protect those members with the rules SAG-AFTRA themselves created, then what's the point of even having a union?" Montgomery asked.