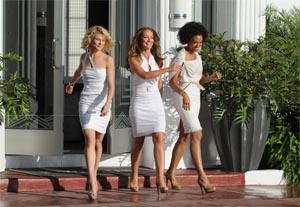 Americans turn to television to see their stories represented onscreen, so it's somewhat surprising when the characters they see do not mirror the U.S. population.
"What we see onscreen is supposed to be an accurate reflection of the world we live in," said Adam Moore, the Screen Actors Guild's associate national director of
affirmative action and diversity
. "If that's the idea, then apparently our society doesn't have many women over the age of 40, only one or two people with disabilities, a half a dozen Latinos, and, like, one South Asian man. Clearly there's room to do better."
Moore noted that anyone producing under a SAG contract has an obligation to reflect the "American scene," but unfortunately that does not always happen. There has been
strong criticism of NBCUniversal
over the lack of diversity in NBC's upcoming fall season, and
research
into the number of women working on- and offscreen in prime-time broadcast TV in 2010-11 found that the situation doesn't appear to be getting better. In fact, some figures are getting worse.
According to SAG's most recent Casting Data Report, African-American actors filled 13.3 percent of all film and television roles in 2008, down from 14.8 percent in 2007. Women, according to a report by the
Center for the Study of Women in Television and Film
, accounted for 41 percent of all characters on prime-time broadcast television in 2010-11, down from 43 percent in 2007-08. Other areas, such as age diversity and the representation of people with disabilities, have been on the decline as well.
"It's providing a mostly upper-middle-class male point of view, and that does not reflect the diversity of this country," said Martha M. Lauzen, the center's executive director and author of the report. "We watch television to see ourselves reflected onscreen. We want to see our stories."
SAG and the American Federation of Television and Radio Artists have various programs intended to encourage diversity onscreen and off, but the unions' main concern is actor employment. "This is about jobs for us," said Ray Bradford, AFTRA's national director for
equal employment opportunities
. "Networks are also employers, and as employers they're bound by federal and state law and by our contracts to provide equal access to employment opportunities."
The Root of the Problem
Though it came into the public eye with the release of Lauzen's study and the criticism of NBCUniversal, the diversity problem plagues the industry every year, pointed out Eric Deggans, TV and media critic of the
St. Petersburg Times
.
"If one network—usually a network that's desperate to get audience—fields a bunch of shows that have diversity in them and those shows don't work, then another network may try the next season," Deggans said. "But if nobody does, then you generally don't have a lot of diversity amongst the stars of the new shows." He suggested that the cancellation of series such as "Undercovers" and "The Event" (both on NBC) last season led to the dearth of diverse stars this season.
Some experts say this lack of diversity is a product of the absence of women and minorities in the writers' room and in other behind-the-scenes positions, as well as advertisers' desire for a young, white, male audience—the demographic that watches the least amount of TV yet that advertisers find the most desirable.
In prime-time broadcast television in 2010-11, according to the center's study, women accounted for 25 percent of all show creators, directors, writers, producers, executive producers, editors, and directors of photography—a decrease of 2 percent from the 2009-10 season. Female writers fell to 15 percent from 29 percent during the previous season. Eighty-four percent of the programs employed no female writers.
"Writers are the ones who put words in the mouths of the characters and work with others to create new characters," Lauzen said. On shows with no female writers, 39 percent of the characters were women. On programs with at least one female writer, that figure rose to 43 percent.
Proportionally, African Americans watch more television than any other group, according to the Nielsen Company, averaging seven hours and 12 minutes per day. But the networks still consider black viewers a niche market, said Deggans.
One of the problems with "Undercovers" was that its two African-American leads did not have mainstream appeal, he explained: "Black people are used to watching shows starring white people and figuring out ways to identify with those characters despite the racial and cultural differences. White people are less used to doing that, so if you build a show around a single person of color as the sole star, that star has to be more magnetic than the reverse."
Compelling black stars such as Will Smith and Whoopi Goldberg often leave television for film because there are more opportunities there, leaving a void in the TV market, Deggans said. "It's hard to find somebody who's charismatic enough to anchor a TV show but not so talented that they have a huge film career too."
While the upcoming fall season appears to be laden with leading ladies, period dramas like "Mad Men," "Pan Am," and "The Playboy Club" hark back to a time when women and minorities held less power in American society, creating skewed depictions of the two groups. SAG's Moore said that some producers have used the excuse that they are "just telling it like it was" and therefore including characters from "underrepresented groups would be false."
These shows also raise the issue of how women come across onscreen. Though the fall season seems to have a large number of heroines, many appear to be young sex symbols in stereotypical female roles. "These shows are reflecting an earlier time, when women are in their place," said Lauzen, adding that this portrayal of women indicates the male-dominated nature of the business. "When you keep the majority of female characters young, you also tend to keep them relatively powerless."
Moore believes that such shows are partially an advertising ploy to bring in young audiences. "Television has always been infatuated with young pretty things, pretty being the important thing," he explained. "There's enough aesthetic in some of these shows to bring young eyeballs from both sexes. They're trying to target tastemakers, the young demographic that is coveted by advertisers."
Women over 40 account for 8 percent of characters in the 2010-11 and 2011-12 TV seasons to date, according to internal AFTRA figures. "When most people say 'older people,' they mean 60 or elderly people," said Bradford, "but the federal and state law for age discrimination and employment lends protection from the age of 40 on, so that is our demographic."

From Inception to Inclusion
More diversity onscreen has to start with the creators. With "Undercovers," co-creator J.J. Abrams made a concerted effort to have a healthy mix of characters, according to Moore. "When there are people in positions like that who understand the value of representing what this country looks like in 2011," he said, "that affects the tone of the show all the way down the line, to when it came time to make hiring decisions."
SAG works with many people and organizations to try to educate the industry about diverse casting. The union shows casting directors how to word breakdowns to increase diversity without making them sound stereotypical or discriminatory, and SAG also teaches agents how to better position their clients for employment.
With the Casting Society of America, SAG hosts panel discussions where CSA's members can meet performers and hear their concerns. The union also discusses diversity issues with the Writers Guild of America because the process ultimately starts with the writer. "If no one is writing these things," said Moore, "by the time it gets to the casting people, a lot of the time that ship has sailed."
Some networks are also attempting to increase diversity behind the scenes. NBCUniversal recently started an apprenticeship program for casting directors in order to bring individuals of all backgrounds behind the audition table, which can lead to changes onscreen. "They're all looking to integrate their efforts from the top down when it comes to diversity," Moore said. "They see those kinds of things do affect hiring decisions down the line, and a lot of those things will end up onscreen."
In a struggling economy, the television networks do not always take chances with their budgets, content, or casting. But Deggans noted that taking risks has led to such successful shows as "
Modern Family
" and "
Glee
."
"Nobody could have looked at 'Modern Family' on paper and said that that was going to be a hit show, but it succeeded," he said, adding that diversity most often shows up in ensemble-driven programs. "You give some talented creators some running room, and they came up with a show that's pretty diverse and also really entertaining. I don't think it's a coincidence that both also feature a wide variety of people, including gay characters and characters of color. It's possible if you make an effort."