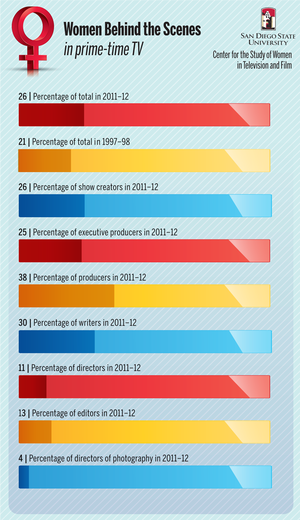 More women than ever occupy top off-camera positions in television, but that hasn't translated into more onscreen roles for female actors—at least not yet.
A new study from San Diego State University's Center for the Study of Women in Television and Film found that women comprised 26 percent of all series creators, directors, writers, producers, executive producers, editors, and directors of photography on prime-time broadcast television programs during the 2011–12 season.
That's a 1 percent increase from 2010–11, and a 5-point jump from the late 1990s, when 21 percent of those jobs were occupied by women.
Martha Lauzen, who conducted the study and is executive director of the center, said the increase in female series creators such as NBC's Tina Fey and ABC's Shonda Rhimes doesn't mean women are approaching parity with men in television.
"I wouldn't say that the celluloid ceiling has been broken," she told Backstage. "Things are getting better for women as creators and executive producers, and if that continues, [the number of] women in other behind-the-scenes roles will rise."
She added: "Women watch more television than men, and they watch for longer periods of time, so I do think it's interesting that the number of women working behind-the-scenes is not higher."
Lauzen's study tracks individuals working on prime-time dramas, sitcoms, and reality series airing on ABC, CBS, the CW, Fox, and NBC.
She noted that women comprise 41 percent of all prime-time television characters, whereas they make up 51 percent of the U.S. population.
"When you get more women working behind-the-scenes, you get more women onscreen," she said. "People tend to create what they know."
Overall, Lauzen's study found that women have the most success in the role of producer, filling 38 percent of those jobs, followed by writer (30 percent), creator (26 percent), executive producer (25 percent), editor (13 percent), and director (11 percent).