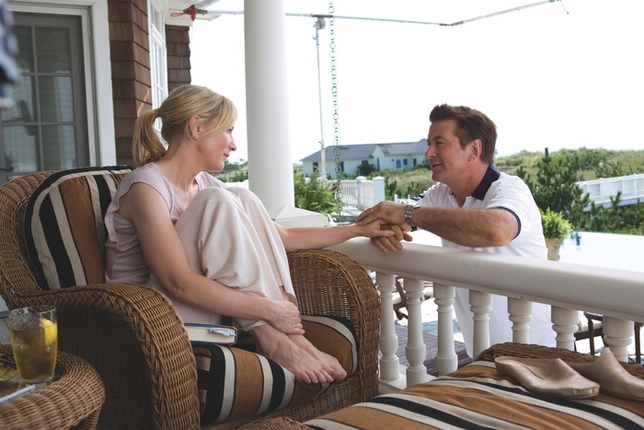 In a recent open letter to the Hollywood Reporter, Woody Allen offered support for the notion of Academy Award recognition for casting directors—and upheld as an exemplar of why such recognition is needed Juliet Taylor, who has cast every one of Allen's films since 1975. "My history shows that my films are full of wonderful performances by actors and actresses I had never heard of and were not only introduced to me by my casting director, Juliet Taylor, but, in any number of cases, pushed on me against my own resistance," Allen wrote. He went on to identify Jeff Daniels, Mary Beth Hurt, Patricia Clarkson, Mariel Hemingway, Dianne Wiest, and a young Meryl Streep as actors he would never have cast if not for Taylor. "I owe a big part of the success of my films to this scrupulous casting process which I must say if left to my own devices would never have happened," he added.
Allen's latest film, "Blue Jasmine," is one of his most lauded in recent years. Once again, Taylor was instrumental in assembling the cast. "[Allen] likes to know if you like the script, if you like the characters," Taylor told Backstage in July. "He leaves himself extremely open, so that makes it a very fun process."
Lead actor Cate Blanchett's performance is one of the elements of the film drawing the most praise. "From the beginning, we just thought Cate Blanchett was the perfect person to play that role," Taylor said. "We both felt that way, and we were so grateful that she accepted it right away."
But one of the boldest casting choices made was that of raunchy comedian Andrew Dice Clay as Blanchett's character's ex-brother-in-law. (Sally Hawkins, who had appeared in Allen's 2007 film "Cassandra's Dream," plays Blanchett's sister and Clay's ex-wife.) Taylor was shocked when Allen floated the idea of Clay, with whom the director had never worked, for the part. But Taylor did her homework, putting a call in to the producers of the HBO series "Entourage," where the comic had done his most recent screen work. "They said, 'Not only is he really good, but he's the greatest guy. He's a terrific person, and you should really hire him.' " Clay read for the part and got it.
Another comic, Louis C.K., also read for that role. Even though he lost the part to Clay, he was cast in a smaller role. "We asked him to do another part, which is not as big a part, but he does a great job in it," Taylor said.
Casting Director: Juliet Taylor
Director: Woody Allen
Writer: Woody Allen
Stars: Cate Blanchett, Sally Hawkins, Andrew Dice Clay, Bobby Cannavale, Alec Baldwin, Louis C.K.
The Pitch: New York socialite Jasmine decamps to San Francisco, where she attempts to put her life together in the company of her sister.