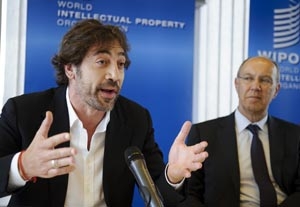 Actors groups praised the international treaty signed in Beijing June 26 as a way to enhance economic security for performers. 
For years, film and television actors haven't enjoyed the same international copyright protections that allow screenwriters or producers to receive payment when their work is sold abroad. Members of the World Intellectual Property Organization (WIPO), a United Nations agency, have spent 12 years negotiating the treaty, which gives so-called audiovisual performers the protections of international copyright law for the first time.
"The conclusion of the Beijing Treaty is an important milestone toward closing the gap in the international rights system for audiovisual performers and reflects the collaborative nature of the multilateral process," Francis Gurry, WIPO director general, said in a statement.
When the
conference convened in the Chinese capital
June 20, actors Meryl Streep, Javier Bardem, and Antonio Banderas
urged delegates to sign the accord
.  Many struggling film actors and other performers could generate extra income from their work because the treaty makes their rights clear and enforceable, they argued.
In addition to extra income, the treaty also grants performers moral rights through which they can prevent distortion and unauthorized exploitation of their performances and images.
"With new rights to proper compensation for the use of our work and control over the use of our images and likenesses, actors will have important tools to protect themselves around the world," SAG-AFTRA Co-Presidents Ken Howard and Roberta Reardon said in a joint statement. "This rising tide can lift the boats of all actors worldwide."
The International Federation of Actors (FIA) echoed their statements.
"The Beijing Treaty will make a clear difference in the lives of performers by helping us to get paid for use of our work, and giving us more control over our image and performance," said Agnete Haaland, president of FIA. 
The treaty, known formally as the Beijing Treaty on Audiovisual Performances, must now be ratified by 30 eligible parties in order to become enforceable. SAG-AFTRA Executive Director David White urged Washington to act.
"Now it is time for the administration to take the steps necessary to bring this treaty to the Senate for ratification, so that the U.S. can remain in the forefront of global intellectual property rights," White said.
The FIA encouraged the other 47 countries that signed the treaty itself to do the same.
"We encourage all member states to ratify the treaty as soon as possible," said Dominick Luquer, FIA general secretary. "This treaty will give performers critical rights that will help them control the legitimate exploitation of their work and benefit financially from the new digital reality."