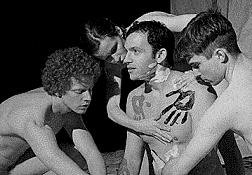 The promise made by Chad Eric Bergman's stark white paper and gauze scenic design for Word Made Flesh, a pristine and primal world, fresh and blank, prepared to launch us into a new understanding, is never fulfilled. Creator Michael Maher (all dialogue in this work is taken from the New American Bible) approaches the work with clear, if static, imagery, but chooses not to move beyond that, leaving one to wonder what Maher wants to convey.
Word Made Flesh clearly and highly esteems several things: the wonder of the human body, our creative nature (exhibited by the imitation of Michelangelo), and the glory of the Word. But no daring perspective is used, save the fact that the actors are naked from beginning to end.
Four actors, Julia Kessler, Brian Annear, Frank Gangarossa, and Ian Westerfer, interpret eight passages of Biblical text. It is claimed in the program that they are playing characters, but the vagueness of their performances and the fact that there is little interaction between players weakens that claim. The most dynamic performance comes from Ms. Kessler; as her ankles and feet are chained and she is held back by the others, she physically struggles to reach into the audience while she turns and twists a debate in her mind.
The actors use, for the majority, direct address; the effect is sometimes like History Channel narration. The delivery is often poetic and cerebral, leaving us untouched. Westerfer, in a lengthy reading of Song of Songs, the most carnally passionate text in the Bible, uses for his lover a red cloth. Why not use another human, as there are three of them posed around the stage? The daring of revealing people on stage in all their natural glory is of little use when the nudity is completely ignored and when the actors are restricted so in their performances.