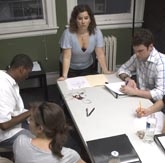 Bruno Oliver moved to Los Angeles fresh out of graduate school. He had impressive acting training and confidence, but his résumé lacked film and television credits. He landed an L.A. agent, but one who clearly wasn't going to be aggressive on Oliver's behalf. That's when the actor decided to sign up for casting director workshops. "I knew I had presence in the room," recalls Oliver, who in addition to pursuing acting is a vice president at Now Casting, which formerly presented casting director workshops but no longer does. "I wanted the most effective way to get on casting's radar. I had wares to sell, and the workshops were the best markets for me to set up a stall."
New York actor Brielle Silvestri came to a similar decision when she realized that many casting directors weren't calling her in based on her headshot and résumé alone. Says Silvestri, "I know the industry is a small community; it really comes down to who knows your work."
Sonya Tsuchigane, another New York actor, concurs, "If my agent isn't sending me out to meet these people, how else am I going to get in front of them? Ideally I wouldn't have to pay to meet them, but I think it's an important part of an actor's job." In an effort to increase their visibility, secure more auditions, and book work, many actors opt to pay for casting director workshops. Indeed, there is no shortage of CD workshops offered in major markets. Though the setup varies from workshop to workshop, all promise actors the opportunity to perform for and receive feedback from a working casting director or casting associate for a fee. Tales of actors plucked from oblivion and landing prime roles after taking a CD workshop run rampant, but how many of those stories are rooted in truth and at what cost?
Those strongly opposed to CD workshops contend that, at the very least, it is unethical for casting directors to charge performers to audition under the guise of offering a workshop and even that CDs leading these workshops may in some cases be breaking the law. Meanwhile, casting directors who participate in such workshops see it differently, as do some actors who are willing to spend money for access to casting offices.
Pay to Play?
One of the most outspoken opponents of CD workshops is casting director Billy DaMota. Says the Los Angeles-based DaMota, "People do get jobs from these workshops. People also get jobs from bribing people. People also get jobs from having sex with directors. People get jobs doing a lot of things that are maybe not the best way to get your foot in the door." DaMota believes that his peers shouldn't be paid to meet actors — that it's part of their job description.
In allowing such workshops to flourish, he posits, the Casting Society of America didn't just lower the bar but "threw it out the window." DaMota has since left CSA and acknowledges that his views make him unpopular among his peers. He says, "The lobby against free opportunities for actors is so strong in this town. I'm not saying people shouldn't be able to run a business. I'm not saying that people shouldn't have the opportunity to learn from a casting director. I'm saying that the quid pro quo that happens in most of these workshops is, basically, an interview with a potential employer, and that should never be a cash transaction."
Actor Kevin E. West, president and founder of the Actors' Network, an L.A.-based organization that provides resources and business tools to its members, also disputes the validity of CD workshops. West believes that although workshops have become part of the fabric of the industry, they "have lessened the likelihood that the people who are supposed to be scouting talent actually do it as part of their job." In his opinion, there is only one point to be made: "Actors are paying for job interviews, and that is illegal."
Casting directors, explains West, fulfill the same function as any human resources department you'd find in corporate America. "A picture and a résumé is our job application, and what goes on in the room — what we like to call auditions — is a job interview," he says. "If that is all that's occurring as a model in a [workshop], and people who are potential employees are paying the very same casting directors that some people see during the day for free — who have better representation or access — while the less fortunate pay for that access, how is that different from paying for a job interview?"
In 2002, the labor commissioner for the state of California ruled that the practice of charging actors fees for attending workshops was indeed in direct violation of California Labor Code Section 450, which states that an employer cannot accept a fee in exchange for a job interview. As a result, a consent decree was created by the state, which outlined the guidelines workshop providers are required to follow to comply with the Labor Code and keep their doors open. At present, California is the only state to have taken CD workshops to task.
California now requires that casting director workshops be educational and that instructors provide written curricula and offer performance feedback that is more than superficial. But who's policing? A representative of California's Division of Labor Standards Enforcement declined to comment for this article. Back Stage was also unable, by press time, to gain access to state records to discover whether recent complaints have been filed against workshop providers and whether the labor commissioner has acted on any such complaints. What's certain is that workshops are thriving. DaMota conjectures that it is a "multimillion-dollar industry," and one would be hard-pressed to find an actor who has never taken a CD workshop.
The Pros of Being With Pros
The California Department of Industrial Relations requires CD-workshop providers to include the following disclaimer in all advertising materials: ""This is not a job interview or audition. The presence of a casting director is neither a guarantee nor a promise of employment. The vast majority of workshop participants do not receive jobs as a result of meeting casting directors at these workshops. The intent of the class is solely educational." But that doesn't deter the majority of actors from trying. The possibility of future employment — not education — appears to be the key aim of performers who pay for such workshops.
Oliver landed an under-five gig on a soap opera as a direct result of attending a workshop, but that was more than 10 years ago. However, he believes that "agent or no agent, most of my theatrical auditions have been in offices where I've workshopped with one or more of the CDs or associates." L.A. thespian Guy Camilleri claims he is frequently called in from workshops. Although he has yet to book a job from a workshop, he's not concerned. Camilleri says, "The whole purpose is to 'book' the casting director. It's about getting the CD on my team." Tsuchigane has also been called in by casting directors she has met at workshops, sometimes years later. "It definitely makes me feel like I'm being proactive about my career," she says.
Los Angeles husband-and-wife casting team Linda Phillips Palo and Paul Palo say they often audition and cast actors they meet in workshops, but they say they also hold generals, see theatre, teach long-term intensive classes, and make themselves as accessible as possible to proactive actors, regardless of an actor's financial situation. Says Paul Palo, "We are always looking for somebody that is new, different, and fresh." New York casting director Michael Cassara says he also brings in actors from workshops. "When I'm working with them on their material and giving feedback, I'm concurrently thinking of projects for which they might be worth keeping in mind," Cassara says.
Still, workshops do not guarantee work. Casting director Betsy Capes of Super/Capes Casting in New York says, "I bring in the best actors I know for each specific project. I am in service of the producers, director, and creative team. If I think someone should be seen for the project, I do what I can, but that has nothing to do with where or how I know them." In addition to casting, Capes opened Capes Coaching, where she teaches with casting partner Dani Super, but Capes adds, "We make it very clear to every actor who takes our workshops that there is no guarantee of casting privilege, and if that is the only reason they are there, we suggest they find another workshop more suited to their needs."
Actors looking for a master class in a CD workshop may be disappointed. Capes doesn't believe that casting and teaching necessarily go hand in hand. She says, "I think the casting director that can also teach acting is a rare breed." But many actors say they find workshops educational. L.A. actor Shannon Evans believes there is no better preparation for auditioning out in the real world than learning a specific casting director's likes and dislikes. Silvestri finds workshops a safe way to hone her auditioning and networking skills. And Oliver maintains he has learned plenty about audition technique, "not so much from getting up and working as from watching other actors."
Agent Adam Lieblein, president of Acme Talent & Literary, is ambivalent about the usefulness of a workshop. "If the workshop is simply a glorified showcase for dozens of actors, without much instruction, guidance, exercises, or open discussion, then it has very little value to the actor," he says. "Those should not be called workshops when in fact they are pay-to-play auditions. However, when a workshop is actually led by an actively working CD, and not a casting assistant, and that CD works with the actors on audition techniques, answers questions, and spends quality time with small groups of actors, then those seminars can be extremely valuable." Lieblein typically recommends that his developmental clients add a legitimate CD workshop to their schedule of classes.
With the average CD workshop costing anywhere from $35 to $60, many actors choose to view them as investments in their career. Camilleri notes, "Most theatre companies in Los Angeles charge [members] $20-$85 a month. Mailings average $1 per headshot, and drop-offs take time and energy. If my agent is unable to get me in the door, I will pay for the opportunity to read for a casting director — just as I would pay to put myself on tape and hand-deliver it if necessary." Silvestri sees workshops as "investment auditions," and Evans prefers to network in a professional atmosphere rather than paying for drinks and schmoozing through the bar scene.
Oliver respects the debate but ultimately has no ethical qualms about paying for workshops. He believes the "actor is the CEO of his or her own acting corporation. The CEO can choose to allocate their marketing budget as they see fit." Naomi Kolstein in the New York office of the bicoastal Kolstein Talent Agency is a proponent of workshops in many cases. Ideally, she hopes new talent will secure auditions based on an agent recommendation and the actor's résumé, but she notes, "There are cases where talent has just relocated from outside of New York or where the talent is working on transitioning from theatre to film and TV or vice versa and would benefit greatly from time spent getting to know a well-respected CD." Although she doesn't suggest that her clients become regulars at such workshops, she is not uncomfortable with the monetary exchange. She says, "In my opinion, it is an important investment on the part of the actor as well as a current industry standard." Says Capes, "I've seen actors get some great results that wouldn't have been possible without these workshops. The fact is it can be a challenge for actors to get into certain casting offices."
The CD Perspective
Back Stage spoke with a number of CDs who say they find value in the debate but feel the ethical arguments against workshops are not applicable to the workshops they teach — that they have always conducted workshops with actors' best interests at heart. Most of the CDs interviewed say they do not feel comfortable speculating on the practices of their peers. Linda Phillips Palo acknowledges "there is abuse" in the system and encourages actors to "pick workshops with reputable CDs that don't charge exorbitant fees and simply give the casting director an honorarium for their time and travel." CDs who teach workshops do not consider reasonable compensation an outlandish request in exchange for their time and expertise — typically $150-$200 per workshop. Says Capes, "I see nothing wrong with casting directors getting paid to offer up their time and energy to meet with actors, especially after a long day at work." Cassara agrees. He says, "Certainly we should be paid for our time — but by all means, performers should ask around and figure out which casting director workshops are useful to them and which aren't." All of the CDs interviewed say they genuinely enjoy working with actors and have a teaching and/or acting background, which they feel qualifies them to teach.
Still, it is difficult to assess whether the work of the CDs we spoke with represents the norm. One actor who spoke with Back Stage on condition of anonymity says he received little or no feedback at the majority of workshops he attended and came to the conclusion that most CD workshops are scams. He says, "One actor after another would perform with nothing more than a quick 'Nice job' from the casting director. These CDs should be ashamed of themselves for taking money from hard-working actors and offering nothing in return. All of the CDs who have had a positive influence on my career I met at auditions."
Although many CDs who teach workshops are members of the Casting Society of America, the organization says it does not micromanage the workshops offered by its members. Speaking on behalf of the CSA, Gary Zuckerbrod, former president and current member of the board of directors, says, "The CSA does not sanction workshops. The organization encourages those members who wish to teach workshops to strictly follow the guidelines that were created by the California State Labor Board, the CSA, AFTRA, SAG, the Los Angeles City Attorney's Office, and the workshop owners. Additionally, the CSA is not responsible for ensuring that any workshops taught by casting directors, qualified casting associates, directors, producers, actors, etc., adhere to the guidelines. That is the responsibility of the workshop owners and the state of California.
"The most important aspect of the guidelines is that they ensure that a qualified professional is teaching and that the workshop is a class in which the actor can receive instruction on audition technique and constructive critique of their work in that class," Zuckerbrod continues. "Actors must use their best judgment in choosing a workshop class. They should make sure the person teaching is a qualified professional and that the class will be instructive. Casting directors should not participate in any classes or showcases that are simply paid auditions."
Other than West, no actors would go on the record to express their disapproval of CD workshops for this article. Until actors, CSA, or labor boards take a stand, CD workshops seem destined to continue and to earn participating casting directors extra income at the actors' expense, or benefit, depending on how you see it.
Alternative Solutions
Actors lacking funds to play the workshop circuit but wishing to gain exposure need not despair. Free workshops are available through the SAG Conservatory, the Screen Actors Guild Foundation, and AFTRA's Casting Access and Casting Showcase programs. The three organizations host a variety of interactive events and seminars that may also shed light on the casting process in a relaxed and noncompetitive environment. However, you must be a member of the union to participate in most of its events, and space is limited. The SAG Conservatory offers CD workshops in addition to classes covering on-camera technique, voiceovers, improvisation, and more. A short application and a fee of $20 are required to begin enrollment. Once the application process is completed, SAG members may sign up for workshops, free of charge, on a first-come, first-served basis. Additionally, actors needing tape for their reels are in luck: The conservatory works directly with the American Film Institute, and all first-year films are cast from within the conservatory.
The Screen Actors Guild Foundation is a nonprofit organization that offers a variety of educational services to guild members, including workshops with CDs through the Casting Access Project. Program director Rufino Cabang says, "Most of us at the SAG Foundation are actors. We're aware that an actor's career rarely comes cheaply, so it's extremely important that we provide useful resources." Once a member has completed an instructional orientation, he or she is eligible to sign up and participate in workshops approximately every three months — a frequency restriction designed to give access to as many members as possible. Phillips Palo, a regular CAP guest, says, "Every three months, these workshops should be on the calendar. It's free, it's educational, and it's getting involved with your union. You'd be crazy not to take advantage of it."
AFTRA's Casting Access serves members protected under the state and federal Equal Employment Opportunity regulations. Performers of color, performers 55 years or older, disabled performers, and women are included in this group. Participants have the opportunity to read audition sides and gain visibility with casting directors at the production facilities of AFTRA shows. AFTRA's Casting Showcase is available to all members on a first-come, first-served basis. CDs are invited to watch a limited group of actors perform prepared, two-person scenes. Consuelo Flores, director of Member Education & EEO, notes, "In the last 14 months, AFTRA has provided $7,500 worth of free programming and access to its members."
As for SAG's official position on CD workshops, SAG general counsel Duncan Crabtree-Ireland says, "Casting director workshops that are educational in nature can be effective career tools for our members, but such workshops must not be promoted in such a way as to suggest that participation in the workshop improperly affects opportunities for employment with the participating casting directors."
On Your Game
Venue and cost aside, if you choose to take a workshop, you'd better be ready. Casting directors expect a certain level of polish from actors competing at the professional level. Cassara says, "If the work isn't where it needs to be, it's not worth my time." Although a workshop may be educational, it should not substitute as an acting class. Says Evans, "It's not a place to learn how to act; it's a place for actors to learn how to book." And Phillips Palo suggests to newcomers, "Get thee to a good class — and then worry about testing the waters at workshops."
Yet even well-trained actors may falter in workshops. Typically, actors have little or no choice over the material provided or the scene partner they are paired with for the evening. Los Angeles actor Heidi Schooler believes that the better workshop providers screen talent through auditions and offer workshops to a select group of actors with similar skill sets. When she first began taking workshops, she found some facilities "disappointing, since they paired actors together without any regard for their abilities. Unfortunately, this detrimentally affected my performance."
Most workshops allow 10-15 minutes of rehearsal for cold reads, so actors must be quick on their feet. Oliver warns, "Don't even think about [taking workshops] if you lack confidence about your cold reading and audition skills. This is not the same as being a good actor. Plenty of fantastic actors seem to flounder in workshops because they are misapplying the techniques they know or because they let their nerves overwhelm their concentration and talent."
Workshop providers scout and court casting directors to conduct workshops at their facilities. Often, the bigger casting offices will send their associates and assistants to act in their place. Although the saying "Today's assistant is tomorrow's boss" may apply, opinions differ as to whether these workshops are worth the money spent. Schooler generally targets workshops with full-fledged CDs. She says, "Some places only book the assistants, and sometimes they just started working with that particular casting office, so they don't know all the ins and outs of the shows they cast. Also, if they like your work, they may not have enough pull to bring you in." Camilleri agrees and avoids "workshops that have the third-in-line." Phillips Palo sees it a little differently. She offers, "At one time I was an associate and I was an assistant. During that time, I was developing my lists. The CDs I was working for would ask me, 'Where do you find these interesting people?' It is a perfect way to get out and learn. The associate will be paying more attention because they have more at stake as they are building their rosters."
Keep in mind, casting directors and their associates have memories of steel. They don't just remember the actors who give strong performances; they remember those who seem a little too green or unprofessional. At the end of the session, thank the casting director for his or her time and leave. Veteran L.A. manager Bonnie Love says, "It is important that actors let their agents and managers know who they are meeting [in workshops], so they can look for future projects [with the CD] that might have roles that are right for them." She also advises her clients to keep in contact with the CDs they have met. Often the most appropriate way to continue a relationship is through the mail. Says Love, "A thank-you note is always appreciated, and a follow-up postcard letting them know what you have been up to is a good way to build relationships."
In an oversaturated workshop market, Cassara cautions actors to "be selective and careful about how they spend their money and time." Do your research, but Silvestri warns, "Don't do it randomly. It's a waste of time and money if the casting director doesn't cast anything you're right for." Actors can easily verify a CD's résumé online at sites such as the Internet Movie Database, www.imdb.com. Likewise, seek facilities that attract high-quality guests and offer an atmosphere conducive to learning. As an added precaution, investigate the workshop provider through your local Better Business Bureau. Don't be afraid to ask questions before making a decision. And if you have a bad experience, make your grievances known to the facility. If the facility is unwilling to address your concerns, contact your city or state labor board — particularly if you reside in California, where guidelines have been set for CD workshop conduct — and the BBB. You're the consumer, so get the most for your dollar.
Workshops do not guarantee casting privileges, and you may never see a return on your investment in the way of résumé credits. If you decide to pay for workshops, know what you want to gain and focus on the things you can control. Tsuchigane advises, "Be realistic. Most likely you'll make some new friends, get some useful feedback, hopefully get appropriate material and practice." Unlike with other careers, there is no surefire way to advance, and workshops are just one of a variety of ways to meet industry professionals. West recommends that actors create a more active game plan and "work harder to network with a more diverse set of people besides just casting directors who hold power, such as writers, directors, and producers. Expand your horizons in the hourly efforts you make on a weekly basis to meet other people, more decision makers, and varied people, as well as casting directors. This is not only intelligent; it is how most folks in business succeed."
Lastly, DaMota poses this tough question to actors: "How much do you want to compromise your integrity?" He urges actors to push against the status quo by refusing to play the game. "If enough actors say, 'I'm not going to use my rent money to meet a casting director,' the game will necessarily swing in their favor," he says. "If you stop paying, they'll stop charging."
And if you choose, for ethical or financial reasons, not to pay for CD workshops, instead form your own cold reading group and get your exercise that way. You may have to work harder to gain access to certain casting offices, but when you do, you can be certain the courtship is genuine.
Stacey Jackson is a working actor, originally from Iowa and now based in Los Angeles. She is a contributor to Unscripted, BackStage.com's actor-written blog. She also works for the Screen Actors Guild Foundation.