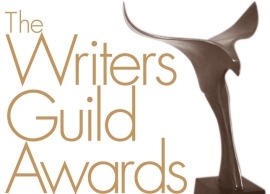 Despite the swirling controversy around whether or not the moral compass of Martin Scorsese and Leonardo DiCaprio's "The Wolf of Wall Street" points north, you'd be hard-pressed denying that the story isn't, at its very core, very entertaining; it's probably why the 2014 Writer's Guild Awards nominated screenwriter Terence Winter for best adapted screenplay, alongside Billy Ray for "Captain Phillips," and "Homeland" actor Tracy Letts' "August: Osage County."
The Writers Guild—known for its efforts in representing writers in motion pictures, television, cable, digital media, and broadcast news—announced their nominations for adapted screenplay, original screenplay, and documentary screenplay today. Screenplays up for nominations include "American Hustle," "Blue Jasmine," and the documentary "We Steal Secrets: The Story of Wikileaks."

The 2014 winners will be honored Feb. 1 at ceremonies held simultaneously in New York City and Los Angeles.
A full list of the 2014 nominees is below:

ORIGINAL SCREENPLAY
Eric Warren Singer and David O. Russell–"American Hustle"
Woody Allen–"Blue Jasmine"
Craig Borten and Melisa Wallack–"Dallas Buyers Club"
Spike Jonze–"Her"
Bob Nelson–"Nebraska"
ADAPTED SCREENPLAY
Tracy Letts–"August: Osage County," based on his play of the same title.
Richard Linklater, Julie Delpy, and Ethan Hawke–"Before Midnight," based on characters created by Richard Linklater and Kim Krizan.
Billy Ray–"Captain Phillips," based on the book, "A Captain's Duty: Somali Pirates, Navy SEALS, and Dangerous Days at Sea" by Richard Phillips with Stephan Talty.
Peter Berg–"Lone Survivor," based on the book by Marcus Luttrell with Patrick Robinson.
Terence Winter–"The Wolf of Wall Street," based on the book by Jordan Belfort.
DOCUMENTARY SCREENPLAY
Jeremy Scahill and David Riker–"Dirty Wars"
Sara Lukinson and Michael Stevens–"Herblock – The Black & The White"
Janet Tobias and Paul Laikin–"No Place on Earth"
Sarah Polley–"Stories We Tell"
Alex Gibney–"We Steal Secrets: The Story of Wikileaks"