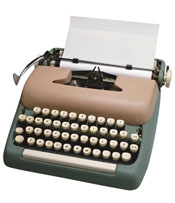 Writers famously value their solitude. We can all picture the reclusive poet scribbling in an isolated hut or the novelist typing away in a distant attic. Moviemakers, on the other hand, are thought to be of a more gregarious nature: people who need people -- or, at least, people who don't normally shun people.
The screenwriter is, perhaps, a hybrid. Although requiring periods of quiet concentration during the creative phase, he or she eventually must emerge from the hermitage. And considering the collaborative nature of filmmaking, screenwriters had better be able to play well with others. It makes sense, then, that screenwriters seek out one another for feedback and support. Screenwriting discussion groups and workshops can foster desirable camaraderie among writers. But they can also turn into petri dishes for the cultivation of discord or indifference. Ill feelings can grow until the group explodes or dissolves. Back Stage recently spoke with writers who have participated in and/or formed screenwriting groups, to find out what makes them fly and what makes them fail.
Hit or Miss
Los Angeles-based writer Jim Vines has been involved in five screenwriting groups over the years, three of which he formed -- including his current group. Vines, who wrote the script for the thriller The Perfect Tenant, which was released in 2000 and starred Linda Purl and Maxwell Caulfield, says the first two groups he joined failed in part because of a lack of commitment by some of their participants. "This is why I'm really hesitant to get involved with these things," he says. "Most people aren't that fired up. They think they want to be screenwriters, and then they actually have to produce some work, and they kind of fall out, one by one."
Vines says founders of screenwriting groups are sometimes uncertain about their own intent: Participants become confused about whether the group will be a forum for chat about the craft or a workshop setting in which writers offer constructive criticism about one another's work. When Vines joined established groups, his strong personality seemed to attract some people and repel others. "I tend to take over these groups, because people look to me for leadership because I seem to know what I'm talking about," says the writer, who also works as a private script consultant and has published a book of interviews with 16 screenwriters called Q&A: The Working Screenwriter (www.theworkingscreenwriter.com). In one of the groups Vines joined, the founder soon departed, leaving Vines as leader by default. The group sputtered to a halt not long after.
Acknowledging that his criticism can be blunt, Vines says some of the feedback from group members tends to be tepid and unspecific: "The most into it they'll go is, 'Oh, it's really good writing. I really liked that scene with the cat and the old woman.' All right, great. That really doesn't tell you very much."
Another potential problem can be having a mix of beginners and pros, although such a blend can also be a blessing. "If some newbie gets into a group of five or six professional writers, that can be good or it can be really bad," says Vines. "It's great if you have a couple that have some good experience and then a few who are willing to listen and aren't going to have their feelings hurt. Then they can get kind of pulled up by the more professional writers."
Vines has had somewhat better luck with the groups he has formed, especially his current group of four, which has been meeting informally at the Farmer's Market at the Grove shopping center near L.A.'s Miracle Mile since March. Such success is perhaps due in part to the fact that Vines is unequivocally the leader of this band of writers. Also, he has not created expectations that the meetings will continue for more than a few sessions. Meetings are devoted in part to discussion of the business side of screenwriting. Members are welcome to bring their own work for dissection by the others, but they aren't required to do so.
Touches of Class
Writers who want to ensure against the chaos and disorganization that can come with an informal writing group might consider enrolling in a paid writing course with a workshop structure. A pair of writers, Jeff Fligelman and David Grae, founded the Gotham Writers' Workshop (www.writingclasses.com) in Manhattan in 1993. Gotham now serves about 6,000 enrollees yearly. There are classes in various writing genres. Nine or 10 in-person screenwriting courses are offered each 10-week term, as are eight to 10 online courses. The live sessions meet once per week for three hours.
What is the difference between Gotham courses and an ordinary screenwriting class in a college or university? According to Dana Miller, Gotham director of student affairs, the main distinction is that Gotham's workshops are practical rather than theoretical: "It's not the instructor sitting jocularly on the corner of the desk, saying, 'Oh, let's talk about screenwriting.' It's really about craft." Miller knows of what she speaks, having come to Gotham as a student. She has taken 23 screenwriting workshops there. Participants may take the advanced courses repeatedly.
Level 1 courses emphasize the step-by-step basics of scene structure, action, plotting, pacing, and conflict. The course includes exercises, in class and out, as well as group feedback on each enrollee's ongoing personal work. The advanced courses are run in more of a workshop format, with fewer developmental exercises.
Central to the workshopping procedure is an element called "the booth." When a student's work is discussed in class, he or she steps inside a metaphorical booth and is not allowed to speak. This eliminates the kind of defensive posturing on the part of the writer that can turn a workshop into an unproductive fracas. The facilitator asks for one positive and one constructively critical comment from all other participants in the workshop. "For the last person who does the critique that week, that's tough," says Miller. "You could be talking about character names, you could be talking about finding the spell-check button. You really have to dig in. But we don't want anybody paying 400-some-odd dollars for one person's critique." The instructor is the last member of the group to speak, giving feedback from a more seasoned perspective.
Jason Greiff, like Miller, came to Gotham as a student. He used one of the screenplays he wrote in his Gotham workshops as a submission to graduate school at New York University. After finishing the NYU program, he returned to Gotham as an instructor (he also teaches screenwriting in an NYU continuing education program). At Gotham, Greiff leads in-person and online workshops. For the computer-based courses, he posts a lecture and then initiates class discussion on a message board. Online, the booth element is preserved: The student whose work is being discussed is locked out of the feedback program. "You really work on your own schedule," says Greiff of the online workshops. "There isn't a set time you need to be in the class. You can show up in your [pajamas], and you're in school."
One of Greiff's students in Manhattan, Jennifer Nashorn, has since studied screenwriting at the American Film Institute in Los Angeles. She valued the detailed criticism she got from Greiff and the other participants, some of whom became her closest New York friends. She says the structure of Gotham's workshops was somewhat more favorable than that of her first workshop at AFI: "There were people in the [AFI] class that were quieter individuals that I didn't really ever get feedback from. In Jason's class, I got feedback from every single person."
If there is one drawback to this sort of workshop, it is its size. As many as 14 students can participate in a live Gotham workshop, 16 in the online courses; most private screenwriting groups are smaller. Also, as Miller points out, at Gotham you do not have the benefit of picking the people you want to work with. But that can be its own blessing. Sometimes the colleague you least expect to get helpful feedback from can give you exactly what you need. "It's an X factor that you couldn't really calculate beforehand," Miller notes.
What's the Buzz?
If you want a screenwriting group with at least a modicum of structure, but you are not interested in a formal, paid workshop situation, you may be able to create one -- with hard work and careful planning. In Los Angeles, Ina Burke formed her current group, known as the Hive, about a year and a half ago. This is no haphazard organization with irregular meetings and a fluctuating membership. The Hive has its own mission statement and bylaws. Meetings proceed according to a carefully articulated plan. Those who want to join must submit writing samples and attend four meetings, after which their membership is voted on by the group, which is kept to six or seven members. Anyone wanting to be a part of the Hive must own a copy of the screenwriting software program Final Draft (a prerequisite specified in the group's bylaws).
Burke participated in other groups before deciding to create her own organization. She found them either too elementary or unwieldy in size. She attended Syd Field's seminars, in person and online, and she was thinking of enrolling in the expensive Writers Boot Camp program when she decided to form her own group instead. "I realized that what I really wanted out of a writing group was the discipline of the meeting of the group, so that I could personally hold myself accountable to deadlines," she says. "And also to have some feedback from other people who are screenwriters. And the third reason was to help writers pursue producing their own work."
The Hive meets for three hours every other Monday in Burke's home. Part of the meetings is devoted to workshopping the members' ongoing "outside projects." One member, for instance, works on spec TV scripts, while others polish their feature screenplays. Another component of the sessions involves giving feedback on short film scripts written on a common theme. This builds a "library" of short film scripts for each writer. The goal is that each member of the group will take one of his or her shorts into production each year.
Writers submit their work to other members of the group via email, so that everyone has two to three weeks to read the material and prepare written feedback. Actors are invited to the sessions to participate in script readings so writers can hear how their words sound when articulated by professionals. (The actors are not paid, but they are served a meal. Actors interested in participating can email Burke at inaburke@gmail.com.) There are intensive, hourlong feedback sessions about each screenplay. A protocol similar to Gotham's booth method is used during feedback: The project's writer is precluded from participating in the discussion of the script, except at a certain point to ask questions and get clarification on criticisms.
Burke takes the lead as production coordinator for the shoots. She says, "The idea that the group is founded on is that we are all co-producers, a support crew for each other to get what tend to be lower-budget shorts [produced], although two of the shorts that we did last year crept into the $26,000 budget [range]."
So far, eight shorts have gone through the production process, and some of the finished products have been accepted at film festivals. Burke's own Hive-processed short, Hudson and Rome (directed by Thomas Nellen), appeared at DancesWithFilms and is scheduled to show at the Los Angeles and Palm Springs short-film festivals.
Though the structure of the Hive sounds a bit rigid, Burke says the group has built-in flexibility. "Most everyone meets their deadlines," she says, adding with a laugh, "I'm the one that has the biggest problem meeting deadlines, because of all my responsibilities." Members who don't keep to the schedule are "berated by the rest of the group and they're given a thumbs-down in a very joking manner. That's really the extent of it. And then they're held accountable for it the next time -- to make it up. But that's it. There's no lashing or embarrassing emails."
In Good Company
No matter how smart and supportive your fellow scribes may be, becoming part of a screenwriting group will not guarantee that you will come up with a hot, saleable script. Nor will it ensure that you will start networking with prominent industry types. It may or may not make you a better writer. But what it will do is remind you that you are not the only one regularly facing the pale specter of that blank computer screen.
Mark Dundas Wood can be reached at mdundaswood (at) yahoo.com.