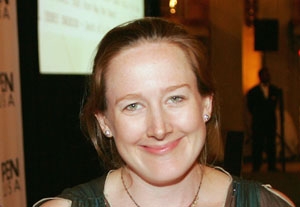 Two plays by Sarah Ruhl are among the 10 new works of theater selected for the 91st edition of the annual Best Plays Theater Yearbook. The choices for 2009-10 were announced today by Jeffrey Eric Jenkins, editor of the yearbook, which will be published by Limelight Editions in 2011.
The Best Plays Theater Yearbook was founded in 1920 by drama critic Burns Mantle and honors each work with an essay. This year's selections were chosen from among Broadway, Off-Broadway, and Off-Off-Broadway productions that opened between June 1, 2009, and May 31, 2010. The new volume will also honor three plays cited by the Harold and Mimi Steinberg New Play Awards and Citations competition.
"Despite the naysayers who decry the end of theatrical civilization as each season draws to a close, Best Plays Theater Yearbook finds it increasingly difficult each year to whittle our list to a top 10," Jenkins, who chose the plays in consultation with the yearbook's editorial board, said in a written statement. "There are, as ever, a handful of works whose exclusion will surely confound the casual observer. Let the debates begin."
The selections for 2009-10 are:
"Bloody Bloody Andrew Jackson" by Alex Timbers and Michael Friedman (essay by Adam Feldman)
"The Brother/Sister Plays" by Tarell Alvin McCraney (essay by David Rooney)
"Circle Mirror Transformation" by Annie Baker (essay by Celia Wren)
"Clybourne Park" by Bruce Norris (essay by John Istel)
"The Elaborate Entrance of Chad Deity" by Kristoffer Diaz (essay by David Cote)
"In the Next Room or the vibrator play" by Sarah Ruhl (essay by Michael Sommers)
"Passion Play" by Sarah Ruhl (essay by Dan Bacalzo)
"Red" by John Logan (essay by Chris Jones)
"Time Stands Still" by Donald Margulies (essay by Charles Wright)
"The Understudy" by Theresa Rebeck (essay by Jill Dolan)