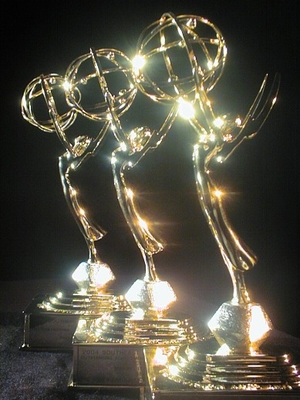 The 41st annual Daytime Emmy nominations were announced, with soap operas earning the highest number of nods. "The Young and the Restless" leads with 26 nominations. "The Bold and The Beautiful" is nominated 18 times, and "General Hospital" is up for 16.
Actors on "The Young and the Restless" dominate two categories, with a majority in both lead actor and supporting actress; there were nominations for Peter Bergman, Doug Davidson, Christian LeBlanc, and Billy Miller, and Melissa Claire Egan, Amelia Heinle, and Elizabeth Hendrickson.
"Sesame Street" received 15 nominations, including one for outstanding pre-school children's series, and another for outstanding original song, thanks to "In the Heights" star Lin-Manuel Miranda and Luis Santeiro's tune "Rhymes with Mando."
Netflix is continuing to prove it's a serious contender with its content earning two nominations, both for the children's series "TurboFAST"; it's a first for the streaming service.
In terms of networks, CBS is leading the pack with 61 nominations, 50 of which belong to syndicated programs. PBS made out with 44 nods; Nickelodeon with 37; ABC with 30; NBS with 18.
"With over 1,400 entries this year, the National Academy is again excited to welcome more than 350 nominees to this year's Daytime Emmy Awards," said Malachy Wienges, National Academy of Television Arts and Sciences chairman, in a statement.
The Daytime Emmys were designed to recognize outstanding work across daytime television production airing from between 2:00 a.m. and 6 p.m.
The awards ceremony for this year's Emmys are set for June 22 at the swanky Beverly Hilton Hotel in Beverly Hills, Calif.
For more of our awards coverage click here.
A partial list of the nominees is below. For a full list, visit here.
---
Outstanding Drama Series
The Bold and the Beautiful, CBS
Days of Our Lives, NBC
One Life To Live, TOLN.com
The Young and the Restless, CBS
Outstanding Lead Actress in a Drama Series
EILEEN DAVIDSON, as Kristen DiMera, Days of Our Lives, NBC
KATHERINE KELLY LANG, as Brooke Logan, The Bold and the Beautiful, CBS
HEATHER TOM, as Katie Logan, The Bold and the Beautiful, CBS
ARIANNE ZUCKER, as Nicole Walker, Days of Our Lives, NBC
Outstanding Lead Actor in a Drama Series
PETER BERGMAN, as Jack Abbott, The Young and the Restless, CBS
DOUG DAVIDSON, as Paul Williams, The Young and the Restless, CBS
CHRISTIAN LEBLANC, as Michael Baldwin, The Young and the Restless, CBS
BILLY MILLER, as Billy Abbott, The Young and the Restless, CBS
JASON THOMPSON, as Patrick Drake, General Hospital, ABC
Outstanding Supporting Actress in a Drama Series
MELISSA CLAIRE EGAN, as Chelsea Newman, The Young and the Restless, CBS
JANE ELLIOT, as Tracy Quartermaine, General Hospital, ABC
AMELIA HEINLE, as Victoria Newman, The Young and the Restless, CBS
ELIZABETH HENDRICKSON, as Chloe Fisher, The Young and the Restless, CBS
KELLY SULLIVAN, as Connie Falconeri, General Hospital, ABC
Outstanding Supporting Actor in a Drama Series
BRADFORD ANDERSON, as Damien Spinelli, General Hospital, ABC
STEVE BURTON, as Dylan McAvoy, The Young and the Restless, CBS
SCOTT CLIFTON, as Liam Spencer, The Bold and the Beautiful, CBS
ERIC MARTSOLF, as Brady Black, Days of Our Lives, NBC
DOMINIC ZAMPROGNA, as Dante Falconeri General Hospital, ABC
Outstanding Younger Actress in a Drama Series
KRISTEN ALDERSON, as Kiki Jerom, General Hospital , ABC
LINSEY GODFREY, as Caroline Spencer, The Bold and the Beautiful, CBS
HUNTER KING, as Summer Newman, The Young and the Restless, CBS
KIM MATULA, as Hope Logan, The Bold and the Beautiful, CBS
KELLEY MISSAL, as Danielle Manning, One Life to Live, TOLN.com
Outstanding Younger Actor in a Drama Series
BRYAN CRAIG, as Morgan Corinthos, General Hospital, ABC
CHAD DUELL, as Michael Corinthos, General Hospital, ABC
MAX EHRICH, as Fenmore Baldwin, The Young and the Restless, CBS
CHANDLER MASSEY, as Will Horton, Days of Our Lives, NBC
DANIEL POLO, as Jamie Vernon, The Young and the Restless, CBS
Outstanding Performer in a Children's Series
Sesame Street: LESLIE CARRARA-RUDOLPH, as Sigrid, Carrie, Flantine, Velvet & Old Lady, PBS
Spooksville: KATIE DOUGLAS, as Sally Wilcox, Hub Network
Green Screen Adventures: JESSICA HONOR CARLETON, as Snail, Mouse, Monster, Cow & Lion, MeTV
Sesame Street: JOSEPH MAZZARINO, as Stinky, Murray and Davy Jones, PBS
Sesame Street: DAVID RUDMAN, as Baby Bear & Cookie Monster, PBS
Outstanding Pre-School Children's Series
Dino Dan, Nickelodeon
The Fresh Beat Band, Nickelodeon
Sesame Street, PBS
Yo Gabba Gabba! Nickelodeon
Outstanding Children's Series
Animal Science, Syndicated
Game Changers with Kevin Frazier, CBS
R.L.Stine's The Haunting Hour: The Series, Hub Network
Sea Rescue, Syndicated
Outstanding Pre-School Children's Animated Program
Curious George, PBS
Disney Sofia the First, Disney Channel
Peg+Cat, PBS
The Wonder Pets!, Nickelodeon
Outstanding Children's Animated Program
Beware the Batman, Cartoon Network
The Fairly OddParents, Nickelodeon
Kung Fu Panda: Legends of Awesomeness, Nickelodeon
Monsters vs. Aliens, Nickelodeon
TurboFAST, Netflix