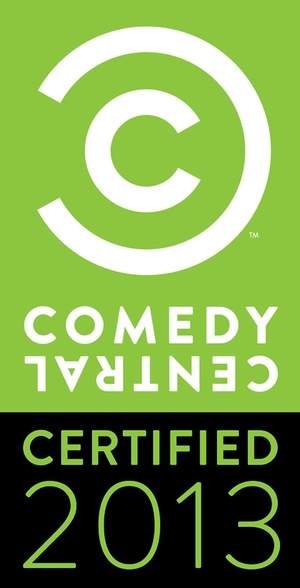 Carolines on Broadway, the Hollywood Improv, and Cobb's Comedy Club are among the venerable comedy venues that have just been given "certified" status by Comedy Central as part of its newly created Certified Club program, the cable network announced Jan. 10.

Certified comedy clubs earn the network's seal of approval as well as opportunities for promotion. Participating clubs are listed on ComedyCentral.com's tours and events page, including show listings and links to purchase tickets. These clubs will also be promoted nationally on television and online in "an ongoing series of programming stunts, commercials, and national sweepstakes," according to the network. In addition, each club will be able to offer "certified" live stand-up shows and host viewing parties for events like Comedy Central Roasts, stand-up specials, and series premieres before they air on TV.

The network hopes that using its national brand recognition to promote individual comedy clubs will help venues draw larger audiences, including visiting tourists, to their live comedy shows. Comedians who have been featured on Comedy Central will also be highlighted and promoted on ComedyCentral.com when they are set to perform at "certified" clubs.

"Comedy Central has established great relationships with comedy clubs through our live touring arm and with the 'Certified Club' initiative we will be able to deepen our connection with the top venues and fans of comedy across the country," Mitch Fried, executive vice president of Comedy Central Enterprises, said in a statement. "Through this new venture local comedy clubs will be able to showcase and market their venues on a national scale via our massive promotional footprint and Comedy Central will be able to extend its brand on-the-ground by directly engaging fans where they live."

Comedy Central is partnering with some of the biggest comedy clubs across the country for its new initiative. The charter members of Comedy Central's Certified Club program are the Addison Improv in Addison, Texas; the Arlington Improv in Arlington, Texas; the Wilbur Theatre in Boston, Mass.; the Brea Improv in Brea, Calif.; the Comedy Zone in Charlotte, N.C.; the Chicago Improv in Chicago, Ill.; the Cleveland Improv in Cleveland, Ohio; the Denver Improv in Denver, Colo.; the Ft. Lauderdale Improv in Ft. Lauderdale, Fla.; the Hartford Funny Bone in Hartford, Conn.; the Houston Improv in Houston, Texas; the Irvine Improv in Irvine, Calif.; the Kansas City Improv in Kansas City, Mo.; the Hollywood Improv in Hollywood; the Miami Improv in Miami, Fla.; Zanies Comedy Showplace in Nashville, Tenn.; Carolines on Broadway in New York City; the Ontario Improv in Ontario, B.C.; the Orlando Improv in Orlando, Fla.; Stand Up Live in Phoenix, Ariz.; the Pittsburgh Improv in Pittsburgh, Pa.; the Punch Line clubs in Sacramento and San Francisco, Calif.; Cobb's Comedy Club in San Francisco, Cali.; the San Jose Improv in San Jose, Calif.; the Tampa Improv in Tampa, Fla.; the Virginia Beach Funny Bone in Virginia Beach, Va.; Levity Live in West Nyack, N.Y.; and the Palm Beach Improv in West Palm Beach, Fla.