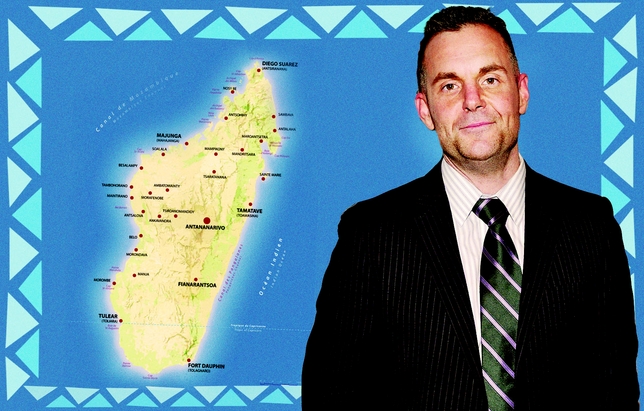 Lucas Caleb Rooney's agents may not be thrilled with the benefit he's throwing next week, but that's kind of the point.
On Nov. 26, Rooney's organization, Zara Aina, will host its Big Ol' Fancy Pants Inaugural Benefit at the 52nd Street Project Theater. Funds will help American artists join children in Madagascar to create and tour an original play.
Benefit performers include ascendant Broadway hunk Benjamin Walker (the upcoming "Cat on a Hot Tin Roof"), Tony Award winner Adriane Lenox ("Doubt"), "Ghost" and "Hair" star Caissie Levy, and Drama Desk Award winner Lorenzo Pisoni ("Humor Abuse").
This glittery lineup speaks to Zara Aina's roots in New York City theater. Rooney, the artistic director, is on Broadway in "Golden Boy," and he's been an Off-Broadway staple for years. Executive director Bryce Pinkham was in "Ghost" and "Bloody Bloody Andrew Jackson," and he co-starred with Rooney in "The Orphans' Home Cycle" at Signature Theatre.
Actors may also be drawn to the benefit by Zara Aina's mission. Founded after Rooney visited Madagascar in 2010, the group fosters creativity and scholarship in Malagasy children. At the same time, it expands the creative horizons of American artists.
"It's not just us riding in there on white horses and being white people teaching theater," Rooney said. "It's the idea of a cultural exchange."
The benefit supports an especially collaborative project. For several months, Rooney and his associates have worked with young American actors to develop physical theater based on Malagasy folktales. Meanwhile, a Zara Aina associate in Madagascar has done the same thing with 14 local children, and the groups have used Vimeo and webcams to share their results. Ideally, this creates a shared language of physical performance.
If they raise enough money, the Americans will fly to Madagascar next spring to develop a new show with the Malagasy children. Then they'll take the kids on a tour of their country, performing the show and donating school supplies to villages in need.
Rooney hopes this not only empowers the African children, but also changes the American actors. "They're young performers who are trying to discover their own way through this weird machinery of entertainment that's often asking you to figure out what your marketable slot is and milk the shit out of it, which is pretty limiting," he said. "We're trying to give them a means to discover a broader palette and their own voice, aesthetically."
Zara Aina (which means "share life" in Malagasy) gives Rooney the same reward. "I've been doing this for a while, and I'm tired of being a cog in a big wheel that doesn't seem to serve any of the reasons I got into acting. Showing up and doing my part in a little thing doesn't seem to be about reaching people."
Careerwise, he knows this project will take him out of the country for pilot season and potential theater auditions. "My agents aren't necessarily happy," he says. "But if theater is about taking your heart out and showing it to an audience and saying, 'This is just like yours,' then this is a way to do that."