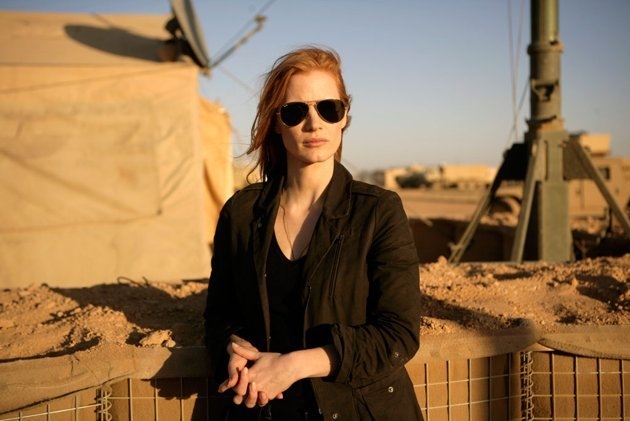 Oscar-winning director Kathryn Bigelow noted that she had just finished editing "Zero Dark Thirty" four days ago as it screened for the first time for audiences on Sunday. Her highly anticipated follow-up to "The Hurt Locker," which re-teams her with producer-screenwriter Mark Boal, tracks the CIA's 10-year manhunt for Osama bin Laden. I was fortunate enough to moderate two Q&As with Bigelow and Boal, who were joined by cast members Jessica Chastain, Jason Clarke, Jennifer Ehle, and Edgar Ramirez.
Critical response to the film was immediate and highly positive. Earlier in the day, the review embargo was lifted, and Richard Corliss of Time Magazine kicked things off by comparing it to "Argo," which, he says, "'ZDT' blows out of the water." You can read his rave here. Todd McCarthy of The Hollywood Reporter agreed, noting, ""It could well be the most impressive film Bigelow has made." Variety's Peter Debruge was a bit more mixed, while still praising certain aspects: "The ultra-professional result may be easier to respect than enjoy, but there's no denying its power, both as a credible reimagining of what went down and a welcome example of distaff resolve prevailing in an arena traditionally dominated by men."
Even those who were more reserved about the film had nothing but praise for Chastain, who stars as a CIA operative named Maya. Chastain shot to the top of the shortlist for the Best Actress Oscar, a surefire nominee and possible winner for her determined, tough, and sometimes fragile performance. Oscar blogger Sasha Stone pulled no punches, declaring mere hours after the first screening: "Jessica Chastain gives far and away the best performance of the year by any actress."
In the Q&A, it was revealed that Chastain was Bigelow's first choice for the role after her friend Ralph Fiennes (who appeared in "Strange Days" and "The Hurt Locker") showed her an early cut of his film "Coriolanus" with Chastain playing Virgilia. This was before Chastain became a Hollywood commodity with her Oscar-nominated turn in "The Help." After getting Chastain's number from producer Megan Ellison, Bigelow left her a voicemail saying she'd love to meet. Chastain became very animated as she recalled, "I was completely freaking out and screaming when I got that voicemail. I got it out of my system and called her back—" here, Chastain shifted into a calm, soothing tone, "And I said, 'Why, hello. Why, yes, I would love to meet. That would be great.'"
The film, which was meticulously researched by Boal, contains many surprises, but for the writer/producer, he says the biggest surprise to him was what an important role women played in the hunt for bin Laden. Boal commented on the irony that "the leader of Al Qaeda was defeated by the specter he feared most—a liberated western woman."
As for awards: Chastain is a lock for a Best Actress nomination. Odds are excellent for Best Picture, Best Director, Best Original Screenplay, and Best Editing. More of a longshot, but a definitely possibilty are Clarke and Ehle in supporting categories. And the ensemble might score a SAG Award nomination, but it's not a sure thing with the field being so crowded this year.