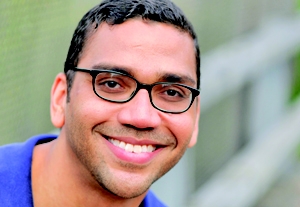 Eugene Douglas has been teaching actors everything from Shakespeare to commercial auditioning for the past decade, while also booking one or two roles each year in regional theater and commercials. But at the beginning of 2010, he decided he couldn't teach another class without taking the plunge and becoming a full-time performer at last.
"Something was missing," he says. "If I was going to be a more effective teacher, I needed to know more about every aspect of [acting], and the only way to do that was to fully immerse myself."
Douglas became an avid reader of Back Stage this February, after putting a temporary hold on his teaching career. Four months later, he was simultaneously growing out a 'fro and studying the historical context of "Much Ado About Nothing," in preparation for two roles this summer that he booked after seeing casting notices in Back Stage.
He started by carefully selecting auditions for characters he identified with, then choosing headshots with the right look for each. When he auditioned for the nonunion feature film "NYC B&B," he remained diligent through four callbacks, practicing and reworking audition pieces on his webcam to see how he translated on camera (a preparation technique he teaches in his classes). Douglas' willingness to keep coming back in for auditions also helped build a solid relationship with director Geoff Shelton.
In the supporting role of Simon, a character Shelton calls "the catalyst" of the film, Douglas needed charisma and vitality to keep the story moving. His personality gave him a leg up on the competition, even before he delivered his monologue. "He had a strong presence" and knew "who he was as a person," says Shelton. "He's not someone that would blend into a room."
A few weeks later, Douglas was cast as Don John in Vermont Shakespeare Company's production of "Much Ado About Nothing," thanks in part to his confidence with Shakespeare's language. Director John Nagle said Douglas' master of fine arts degree and teaching experience made the actor better able to comprehend and communicate the text clearly. In fact, Nagle ended up promoting him from Don John to the larger role of Don Pedro.
While Douglas' teaching career has certainly proved helpful to his acting career, he hopes he will now be better able to guide his students through the New York City acting world. "If a student asks me about going to EPAs, now I can tell him what list he'll be on, how long he'll wait, what he'll have to do," he says. "But this isn't just a research project for me." Douglas also has goals he'd like to achieve as a performer, including opening himself up to a broader range of projects, especially in New York theater.
"I hope to be able to genuinely talk about what the process is like breaking in" in New York, he says. "That's a big part of the puzzle that was missing for me." By devoting himself to his acting, Douglas hopes to fulfill his own professional goals, then return to the classroom with new perspectives that can help his students realize theirs.
For more information about Vermont Shakespeare Company's upcoming production of "Much Ado About Nothing," go to
www.vermontshakespeare.org
.
Has Back Stage helped you get cast in the past year? We'd love to tell your story. Be in the weekly column by emailing
casting@backstage.com
for New York or
bswcasting@backstage.com
for Los Angeles with "I Got the Part" in the subject line.