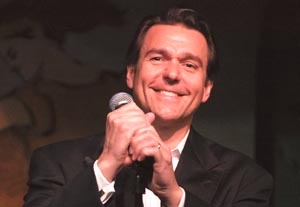 Opera star Nathan Gunn is making his Café Carlyle debut with a beguilingly intimate set that feels as if you're sharing an evening salon of song in his home. Gunn is that rare breed of performer who understands the difference between the classical and popular worlds and can inhabit each with authority.
Accompanied by his wife, Julie Jordan Gunn, who plays these songs with the precision and delicacy of lieder, the handsome and imposing leading man may at times give the sense of holding back on his outsize talent, but that only adds a frisson of tension to a thoroughly enjoyable program.
The show begins a bit shakily with Gene Scheer's "Just Before Sunrise," the title song of Gunn's CD. Though musically attractive, it's too ruminative for an opener, and the lyric is one of those meandering tapeworms with which one loses patience. But Gunn quickly recovers with a friendly rendition of "Polka Dots and Moonbeams" (James Van Heusen–Johnny Burke). Several Great American Songbook standards follow, all sung with sensitivity and taste, though Gunn stays a bit cautiously on their surface.
Then he delivers a delightfully smart "Jam Tart," Scheer's witty setting of a text by W.H. Auden, and the show snaps into focus. Two Tom Waits numbers, "The Briar and the Rose" and "Whistlin' Down the Wind," have the enchanting simplicity of folk songs. Gunn does indeed go, as he says, "a little Elvis" on the end of Cole Porter's "Don't Fence Me In," then offers a stunning "Home on the Range" (Brewster M. Higley–Dan Kelly) that wipes this warhorse utterly clean of cliché.
Throughout, Gunn's patter is disarmingly conversational, feeling as spontaneous as a chat over coffee. He has an off-center, impish wit (I loved his definition of cabaret: "If you're drinking, it's cabaret") and shares a warm and loving rapport with his wife, who puts in her own welcome two cents from time to time. But for all the evening's low-key charm, Gunn is most vibrant when he has a character to latch onto. Three decidedly different William Bolcom songs—"Song of the Black Max," "Over the Piano," and "George"—offer him that opportunity, and the evening lifts to a new level.
Then he reprises his acting triumph as Lancelot in Lonny Price's concert production of Alan Jay Lerner and Frederick Loewe's "Camelot" with sterling accounts of "C'est Moi" (Gunn's performance of this tricky song is the best I've ever seen, perfectly balancing the character's pompous self-regard with a naively winning enthusiasm) and "If Ever I Would Leave You," which has never sounded more sensual and impassioned. The traditional Irish tune "Parting Glass" is a quietly satisfying closer, but Gunn leaves things on the evening's most expansive emotional note with a stirring encore of "Brother, Can You Spare a Dime?" (E.Y. Harburg–Jay Gorney) that reminds us of the extraordinary dramatic power he can pack.
I confess I wouldn't mind seeing Gunn in a slightly more robust turn, say backed with a small band, which would allow him to display a fuller range of his abilities. Nevertheless, "An Evening With Nathan Gunn" ends up an engaging illustration of that time-honored axiom: Less is more.
Presented by and at Café Carlyle, 35 E. 76th St., NYC. March 29–April 16. Tue.–Fri., 8:45 p.m.; Sat., 8:45 and 10:45 p.m. (212) 744-1600.