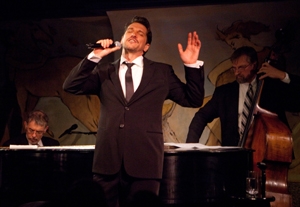 Acclaimed opera singer and Tony-winning musical theater actor Paulo Szot is sticking his toe into the cabaret waters at Café Carlyle. In a well-judged rendering of one of his big "South Pacific" songs, "Some Enchanted Evening" (Richard Rodgers–Oscar Hammerstein II), he quickly assures the audience that he knows how to refashion his style for the more intimate demands of this new medium. Szot never sings less than beautifully, and he continues to radiate matinee-idol sexiness, but as the evening goes on, it becomes apparent that he is not particularly interested in revealing himself through his singing. Emotionally remote from his audience, he lets an invisible wall descend that prevents his considerable talents from being fully realized.
Szot has apparently performed much of this repertoire—a mixture of classic Great American Songbook ballads and bossa novas and tangos of his native Brazil—in concert halls with a larger band. Here, he's backed by three excellent musicians—Bob Albanese at the piano, Ratzo B. Harris on bass, and David Meade on drums—who give him solid support, even if Albanese's arrangements are occasionally a bit effortful. But Szot, while toning down his vocal size and style, is still singing in the concert hall. The evening is all about the music and making it sound good; there's precious little connection made with lyrics. Combine that with a sparse patter that's scarcely more than "And now I'll sing…" and far too much singing with his eyes closed, and what you get is an artist resolutely keeping his audience at arm's length.
Szot seems more relaxed singing numbers in Portuguese and Spanish than in the English-language ballads. Back to back tangos, "Besame Mucho" (Consuelo Veláquez) and "El Dia Que Me Quieras" (Carlos Gardel–Alfredo Le Pera), are seriously sinuous and sexy, while two Antonio Carlos Jobim numbers, "Vou Te Contar" and "Desafinado," are mesmerizingly effortless. Of course, not speaking either language, I had no idea how the words did or did not contribute to the numbers' success.
In English, though, Szot too often stumbles. "A Nightingale Sang in Berkeley Square" (Eric Maschwitz–Manning Sherwin) is smooth but devoid of longing. "If I Loved You" (Rodgers–Hammerstein II) is all about the arrangement, sung without a discernible point of view. A four-song Cole Porter medley contains an oddly upbeat "Love for Sale" and was marred by lyric miscues that demolished Porter's careful rhyme schemes. A happily swinging "I've Grown Accustomed to Her Face" (Alan Jay Lerner–Frederick Loewe) is virtually at war with the song's content.
Szot fares a bit better with a romantically sung "Gigi" (Lerner-Loewe) but never quite breaks through to the necessary wondrous amazement. Fortunately, he finishes strong, with his other big number from "South Pacific," "This Nearly Was Mine," again nicely rethought for a cabaret purpose. He then topped it with his encore, a fervent and impassioned "If Ever I Would Leave You" (Lerner-Loewe), made particularly notable by his deftly delicate rendition of the song's chansonlike verse, with a lyric partly in French, something almost no one ever sings.
Something Szot does singing "Make Someone Happy" (Jule Styne–Betty Comden–Adolph Green) seemed to me indicative of the evening's central problem. This gorgeous ballad is all about finding your one true love. Though Szot is an out and partnered gay man (he wears a wedding ring during the show), he chooses to make the single pronoun in this song "her" instead of "him." Why, if he truly wants to be personal with us, would he not sing this about the most important man in his life? There is, of course, absolutely nothing wrong about him singing it to a woman. But that's undeniably a conscious and distancing choice.
Presented by and at Café Carlyle, 35 E. 76th St., NYC. Sept. 14–25. Tue.–Fri., 8:45 p.m.; Sat., 8:45 and 10:45 p.m. (212) 744-1600.