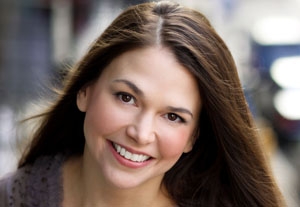 One of the most refreshing aspects of Sutton Foster's cabaret debut at the Café Carlyle is the absence of a press kit. At most cabaret engagements, critics are provided with press materials including a song list, but Foster eschewed this practice—at least during the show. As she was taking her bows, the list was delivered to reviewers at their tables. I was later told by the press agent that Foster wanted it this way in order to maintain an element of surprise in her hourlong set. She certainly fulfills that goal with a fun, witty songfest that allows the star to display her considerable range. This four-time Tony nominee can be a sharp comedian, an innocent ingénue, a sassy soubrette, or a lovelorn balladeer.
The set begins with a peppy rendition of "I'm Beginning to See the Light" (Duke Ellington–Don George–Johnny Hodges) accompanied by the jazzy piano of musical director Michael Rafter and the sunny banjo of Kevin Kuhn. Foster follows up this light, easy intro with a medley of three songs from shows she played in on Broadway. In between the expected "Not for the Life of Me" (Jeanine Tesori–Dick Scanlan) from "Thoroughly Modern Millie" and "Astonishing" (Mindi Dickstein–Jason Howland) from "Little Women," she sandwiches in the delightful "NYC" (Charles Strouse–Martin Charnin) from "Annie," in which she played the small role of A Star to Be in the 1997 revival. Once she has delivered the expected highlights from her Main Stem triumphs, Foster shifts gears to a soft and sweet rendition of "Up on the Roof," Carole King and Gerry Goffin's gentle ode to urban summer. Then she pivots again for a sarcastic take on Christine Lavin's funny novelty number "Air Conditioner," about a sweaty single woman whose only requirement for romance is the titular appliance. The temperature-related theme is smartly and movingly concluded with Frank Loesser's tender "Warm All Over."
Foster does include more numbers from her Main Stem gigs, including "The Drowsy Chaperone" and "Shrek: The Musical," but she doesn't make the predictable move of performing "Gimme Gimme," her socko 11 o'clock number from "Millie," the show that made her a star and won her a Tony. Instead, she gives a clever medley of two songs that were cut from that production during the out-of-town tryout. This segment allows for a mini-lesson in the supremely difficult undertaking of putting on a musical and illustrates how numbers are constructed to fit the needs of a particular spot in the show.
The audience is dealt another surprise when Foster has an audience member choose a number at random. At the performance attended, the winning selection was "Defying Gravity" (Stephen Schwartz) from "Wicked." The game Foster began the challenging high-belt showstopper with comic trepidation but built to a soaring climax. She rounds out the program with a balanced menu of pop and Broadway, finishing with a lovely and lilting rendition of John Lennon and Paul McCartney's "Here, There, Everywhere," again accompanied by Kuhn's surprisingly supple banjo.
Presented by and at the Café Carlyle, 35 E. 76th St., NYC. June 15–26. Tue.–Sat., 8:45 p.m. (212) 744-1600.