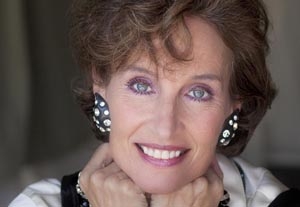 "I hope I behave better for the rest of the run," said Andrea Marcovicci with a laugh during her show "No Strings" after cutting up with her musicians. I hope she doesn't behave, as it's clear from her first entrance, when she chats casually with audience members, that the lady is enjoying herself immensely. Though her light soprano may wobble a trifle here and there, Marcovicci still projects glamour and wistful reflection as she gives fresh meaning to familiar tunes and amuses with forgotten curios.
The hourlong set, which celebrates her 25th anniversary at the Algonquin Hotel's Oak Room, takes world travel as its theme, and Marcovicci guides us on a memorable tour of popular melodic spots such as Paris, London, and New York, as well as some rarely visited locales. The diverse song list includes romantic standards, novelty numbers, and a song written especially for Marcovicci—"Back at the Algonquin" (Enid Futterman–Michael Cohen), an elegant tribute to the storied hotel, where it never seems to be later than 1934. Music director and pianist Shelly Markham smoothly interpolates phrases from Richard Rodgers and Lorenz Hart's "Where or When," giving the song a sort of double vision, viewing the setting from both past and present.
It's no surprise that Marcovicci evokes bittersweet tenderness with romantic ballads like "These Foolish Things" (Holt Marvell–Jack Strachey–Harry Link) and "As Time Goes By" (Herman Hupfeld). Though we've heard these lyrics a hundred times, the singer imparts such emotion to them that they seem newly minted. During "These Foolish Things," the lights slowly dim to a single spotlight, and Marcovicci could be a woman alone at a bar, fingering the stem of her cocktail glass as she recollects a lost love to the sympathetic bartender. Her feathery voice contains a sweet ache that brings a lump to the audience's collective throat. In the new song "The Night I Fell in Love With Paris" (Tom Toce), she blends dry irony with dizzy intoxication as a tourist getting her preconceived notions of the City of Light shattered while still romanticizing it.
Marcovicci takes on a more fancy-free tone with an inventive medley of songs associated with Fred Astaire, breaking into a brief soft-shoe as she transitions from extolling the virtues of the single life in "No Strings" (Irving Berlin) and "By Myself" (Arthur Schwartz–Howard Dietz) to finding amour during "A Foggy Day" (George and Ira Gershwin).
Marcovicci is equally at home with neglected comedy songs, giving a mischievous edge to "A Rainy Night in Rio" (Leo Robin–Arthur Schwartz), which I first heard in a Bugs Bunny cartoon, and "When Yuba Plays the Rhumba on the Tuba" (Hupfeld). In "I Don't Know" (Ronald Jeans–Philip Braham), a British bit of whimsy originated by Gertrude Lawrence, she captures the giddy excitement of a normally prim London girl encountering a flirt on the underground. She wraps up the evening with a lovely reinterpretation of the kitschy 1950s pop hit "You Belong to Me" (Chilton Price–Pee Wee King–Redd Stewart) and a charming "The Sweetest of Nights and the Finest of Days" (Shelly Markham–Judith Viorst). Here's to another 25 years for Marcovicci at this scintillating nightspot.
Presented by and at the Oak Room at the Algonquin Hotel, 59 W. 44th St., NYC. Nov. 15–Dec. 30. Tue.–Sat., 8:30 p.m.; Fri. and Sat., 11 p.m. (No performance Sun., Dec. 25; additional performance Mon., Dec. 26, 7:30 p.m.) (212) 419-9331, (212) 840-6800, or www.algonquinhotel.com.