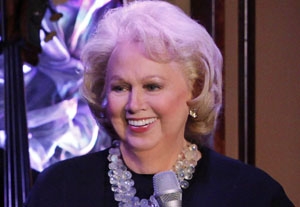 Barbara Cook's latest cabaret offering may be titled "You Make Me Feel So Young" (from the Josef Myrow–Mack Gordon standard she sings deliciously)—and she certainly seems nowhere near her admitted 83 years—but what registers most forcefully in the intimacy of Feinstein's at Loews Regency is the wise maturity of a woman who has lived a rich and full life. Cook is a superb actor and knows a thing or two about the human condition. She shares that knowledge in this artfully understated, deeply affecting show.
That's not to say there aren't lighthearted moments. An amusing gloss on "I'll Build a Stairway to Paradise" (George Gershwin–Ira Gershwin–B.G. DySylva, with the gloss provided by lyricist Jim Luigs) gets her on stage despite a set of bad knees. A buoyant "Are You Havin' Any Fun?" (Sammy Fain–Jack Yellen) and that title song start us off on a decidedly upbeat note. Then the first stunner of the evening occurs, one of a quartet of songs about relationships that serves as the show's dramatic spine. Cook takes Alan Jay Lerner and Frederick Loewe's "My Fair Lady" standard "I've Grown Accustomed to Her Face" and turns it into a moving rumination on mixed feelings from a woman who has finally found happiness with a man but can't quite trust it. It is without question one of the best interpretations of this classic I have ever heard.
The quartet continues with a playfully assertive account of Stephen Sondheim's "Live Alone and Like It," from "Dick Tracy," in which she shows us a woman who has come to hard-won but happy terms with solitude. She connects this to an amusing story about her divorce that involves her love of paisley. Not long after that, we get an aching and passionate "I've Got You Under My Skin" (Cole Porter), notable for its brilliant revisionist arrangement by Cook and her top-flight musical director, Lee Musiker, that eschews Porter's beguine accompaniment to burrow deep into the song's romantic obsession. Said obsession is shortly afterward taken to the nth degree in a masochistic and self-castigating "I'm a Fool to Want You" (Jack Wolf–Joel Herron–Frank Sinatra), which Cook informs us may be about Sinatra's love-hate relationship with Ava Gardner. This feels connected to the singer's indelible inhabiting of Fosca, the anti-heroine of Sondheim and James Lapine's "Passion," a role Cook got to play briefly but brilliantly on Broadway last season in her Tony-nominated turn in the musical revue "Sondheim on Sondheim."
Leavening the bracingly adult portraiture of the complexities of love are a wry "Wait 'Til You're Sixty-Five" (Lerner–Burton Lane), in which Cook lands every laugh Lerner goes for about the aging process; a speedy and jazzy "This Can't Be Love" (Richard Rodgers–Lorenz Hart), notable for Musiker's fleet fingers during an instrumental break and Cook's joyful scatting; a jaunty, fun-loving "Love Is Good for Anything That Ails You" (Cliff Friend–Matty Melnick), which comes complete with a slightly ribald story about how Cook discovered it; a bemused "What Did I Have That I Don't Have?" (Lerner-Lane); and a giddy "The Frim Fram Sauce" (Joe Ricardel–Redd Evans) that provides the singer with yet another opportunity to demonstrate her kazoo chops.
It all builds beautifully to the climactic song, "Here's to Life" (Artie Butler–Phyllis Molinary), a bittersweet valentine to survival and the human spirit that Cook mines for pure gold. A palate-cleansing "I Got Rhythm" (the Gershwins) brings us back to joy and allows Cook to thank her terrific band: Musiker (piano), Warren Odze (percussion), Jay Leonhart (bass), and Steve Kenyon (woodwinds). Her encore is an unmiked rendition of John Lennon's "Imagine," a song I have always found annoyingly disingenuous in its global naiveté but which Cook sings with such simplicity and feeling that I felt entirely ashamed of myself for ever entertaining such thoughts.
Presented by and at Feinstein's at Loews Regency, 540 Park Ave., NYC. June 7–18. Tue.–Thu., 8:30 p.m.; Fri. and Sat., 8 and 10:30 p.m. (212) 339-4095 or www.feinsteinsatheregency.com.