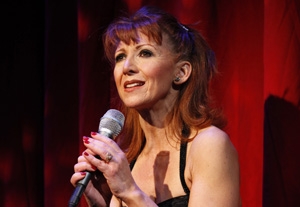 I first encountered Bonnie Langford as part of an evening devoted to the songs of Cy Coleman in, of all places, Cardiff, Wales. It was one of many events in the 2002 International Festival of Musical Theatre, but she made quite an impression. So when Brits Off Broadway announced she'd be doing a show here, I was ready.
She and musical director Michael Lavine have taken the traditional autobiographical approach. The result, though a tad unwieldy at times, is mostly, to paraphrase a song from Langford's only Broadway credit, friendly and funny and fine.
It's been 36 years since Langford played New York, as Baby June opposite Angela Lansbury's Rose in "Gypsy." Though a mere 10 years old, she got a Drama Desk nomination for her work. She'd played the role in the West End before coming to America, but it wasn't her West End debut. That came as the doomed Bonnie in Harold Rome and Horton Foote's ill-fated musical version of "Gone With the Wind."
Langford went on to become a child star of considerable magnitude in the U.K., working on stage, screen ("Bugsy Malone"), and especially series TV, including having one of her own. Transitioning successfully to adult roles, she was in the original London company of "Cats," won acclaim in the title roles of "Sweet Charity" and "Peter Pan," headlined the U.S. company's international tour of "Fosse," and still found time to be a regular on "Dr. Who." This is one talented lady.
She begins smartly, with the John Kander and Fred Ebb comic rarity "Winter in New York," from Harold Prince's short-lived Off-Broadway musical "Diamonds." Now that our attention has been attained, she's soon doing a "Gypsy" medley (Stephen Sondheim–Jule Styne) interspersed with her memories of the show.
Langford's stories are nearly always engaging and rarely if ever mean-spirited. It's fun dish, and she's tremendously engaging as she serves it up, though the story-to-song ratio of her act is perhaps a bit out of balance, with music coming up a tad short. Still, there's plenty to savor. Another rarity, "Growing Up Isn't Easy" (Don Black–Charles Strouse), from a 1985 TV special called "The Worst Witch," is lovely and understated. "Neverland" (Styne–Betty Comden–Adolph Green) is touchingly infused with a childlike wonder.
Langford delivers a big surprise when we learn that as a teenager, she was invited to audition for the Metropolitan Opera. The choice came down to her or Kiri Te Kanawa. Then she reveals a powerful head voice and knocks our socks off with "A Word on My Ear" (Michael Flanders–Donald Swann), which she says was her audition piece. It and she are absolutely hilarious. Turning on a dime, she offers a corking "The Birth of the Blues" (B.G. DeSylva–Lou Brown–Ray Henderson) and an equally bluesy and ballsy "The Music That Makes Me Dance" (Styne–Bob Merrill).
The show climaxes with medleys from "Sweet Charity" (Coleman–Dorothy Fields) and "Chicago" (Kander-Ebb) that include considerable dialogue, allowing Langford to demonstrate her excellent acting as Charity Hope Valentine and Roxie Hart. Though she doesn't get to dance much on the tiny cabaret stage at 59E59 Theaters, she has just enough room to let us know how good she is at that too.
Though steeped in the show biz, Langford's never phony. Instead, she uses her acute performance instincts to enhance her work through sharpness, focus, and timing. A story about being a child star told late in the evening suggests that she still feels somewhat trapped by that image in her homeland. Perhaps that's why she and her family have relocated to New York City. Whatever the reason, London's loss is most definitely New York's gain.
Presented by the Yvonne Arnaud Theatre as part of Brits Off Broadway at 59E59 Theaters, 59 E. 59th St., NYC. Dec. 19–Jan. 2. Tue.–Fri., 7:30 p.m.; Sat., 8:30 p.m.; Sun., 3:30 and 7:30 p.m. (No performance Sat., Dec. 25; additional performance Fri., Dec. 31, 5:30 p.m.) (212) 279-4200 or www.ticketcentral.com.