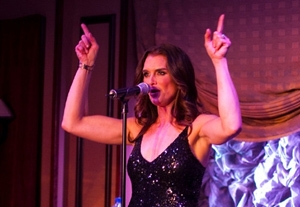 When, nearly halfway through her 65-minute set at Feinstein's at Loews Regency, Brooke Shields launched into a little Charles Aznavour ditty called "Rien de Rien," it was as if a light bulb had suddenly been switched on. Shields socked the French lyric home with élan in a flawless accent and infused the song, in which a woman complains of a lack of incident in her life, with a relaxed playfulness and sass that were utterly delightful. My schoolboy French caught only about half of the words, but Shields made the song's meaning—and the character singing it—beautifully clear. It was proof positive that she can do this cabaret thing. Unfortunately, for the rest of this evening of autobiography mixed with song the nervous neophyte treaded far too carefully, allowing the effort behind the work to sap her spontaneity. The result is a pleasant but undistinguished turn.
Shields already has one boite requirement down cold: She knows how to be herself. Even better, that person is someone we like right from the start: unpretentious, smart, and convincingly genuine. Her self-written patter sparkles with wit and shines with perception, and she tells great show-biz stories (particularly one about dating George Michael when she was a famous teenage virgin). Backed by a fine four-piece band led with snap by musical director Charlie Alterman, she seems more at home with pop songs, such as her opener, James Taylor's "Your Smiling Face," and the Carole King–Gerry Goffin "One Fine Day." Perhaps that's because they call for the projection of a single emotion, are not about character, and allow Shields to sing in a more contemporary style than the raft of theater songs she does, many of which come from the classic musicals in which she has appeared on Broadway as a replacement: "Grease," "Cabaret," "Chicago," and "Wonderful Town."
The possessor of a modest instrument, Shields is not going to be able to wow the crowd with her vocal abilities. It's not that she can't sing; she's definitely got the chops to do roles with moderate musical demands. But she needs to bring more to the table as an actor, finding depths and resonances that will compensate for the lack of thrilling high notes and vocal power. She should also ease up on the constant references to her nervousness. However true, they inevitably undercut her relationship with her audience. If she doesn't have confidence in herself, why should we?
Veteran director Mark Waldrop, surprisingly, has made some uncharacteristic blunders. One of Shields' better moments is the Mary Rodgers–Stephen Sondheim comic lament "The Boy From…," introduced by the great Linda Lavin Off-Broadway in "The Mad Show." Shields is a lot of fun in the number, but she gets no laughs, because it has been preceded by the George Michael story, giving away the song's comic premise. Having the star sing Frank Loesser's "Can't Stop Talking About Him" is another misstep. It's not so much the ghost of Betty Hutton, for whom it was written, that hovers; it's the recent example of Audra McDonald's virtuosic rendition, currently available on CD and recently seen in her concerts and on PBS. Shields can't compete with it, so why ask her to? Finally, programming John Kander and Fred Ebb's "Maybe This Time" as her closer is bewildering. Shields may have sung it on Broadway, but she hasn't the vocal strength to do it justice, and she and Waldrop haven't found a successful interpretation that would justify an understated delivery.
Beautiful and brainy, winning and warm, Shields has much to offer a cabaret audience. Right now, however, she's learning on the job, something I expect she's used to, having been famous since she was a child. I hope she hangs in there and gets her sea legs. An entire evening as accomplished as her "Rien de Rien" would be something to look forward to.

Presented by and at Feinstein's at Loews Regency, 540 Park Ave., NYC. Feb. 1–12. Tue.–Thu., 8:30 p.m.; Fri. and Sat., 8 and 10:30 p.m. (212) 339-4095.