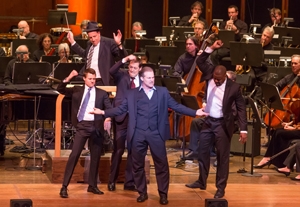 Whatever happened to class? Well, tonight it was alive and thriving onstage at Lincoln Center's Avery Fisher Hall in the New York Philharmonic's sensational tribute to one of America's finest songwriters, Frank Loesser. Put together with the taste, intelligence, and scholarship that we've come to expect from musical director Ted Sperling, whose expert conducting of this marvelous orchestra was only one of many highlights, the evening glowed from start to finish.
The show began with a bang thanks to Sperling and Larry Hochman's specially created "A Frank Overture," played with elegant pizzazz by the Phil, which stretched for nearly 10 minutes as the audience recognized hit after hit surfacing only to melt into yet one more. Sperling assembled a superlative cast—Ann Hampton Callaway, Victoria Clark, Jason Danieley, Marc Kudisch, Bryn Terfel, and Mary Testa, plus John Bolton, Bernard Dotson, and Michael Seelbach as a trio of "boys" offering snappy support—who didn't put a foot wrong all night. All five of Loesser's Broadway shows were represented—though there was nothing from "Pleasures and Palaces," a 1965 out-of-town flop with some great songs, or "Senor Discretion Himself," finished by others long after Loesser's death in 1969—as well as pop songs and movie tunes. Particularly welcome was the integrity of the performances of Loesser's stage work, including dialogue within numbers and clear dramatic context and character intentions.
High on the standout list has to be the material from Loesser's semi-operatic classic "The Most Happy Fella." Mary Testa gave a master class in how to interpret a lyric, as a tired waitress in "Ooh! My Feet!," and Marc Kudisch sang a sensual and impassioned "Joey, Joey, Joey." Somebody should sign Terfel to play Tony immediately. The opera star proved that he's no slouch as a stage actor, nailing Tony's Italian accent and nervous agitation in a stunningly sung "Rosabella." Danieley and the "boys" offered a mischievously winning "Standing on the Corner," then Terfel and Clark brought the house down with their gloriously voiced and beautifully acted rendition of "My Heart Is so Full of You."
Clark also shone on a transparent "Anywhere I Wander," from the film musical "Hans Christian Andersen," to which she lent a lightly Celtic inflection, and a vulnerably giddy "If I Were a Bell," from "Guys and Dolls." Testa got to show her considerable range in a well-judged "Adelaide's Lament," also from "Dolls," and a bluesy and sinuous "What Are You Doing New Year's Eve?," aided by Larry Moore's evocative orchestration. Danieley scored on a very 1940s sexy and swinging "On a Slow Boat to China," only to pivot to a powerful and haunted "Never Will I Marry," from "Greenwillow."
Kudisch offered an antic and amusing "I'm Hans Christian Andersen," then got seriously butch with a driving "Luck Be a Lady Tonight," from "Dolls." Cabaret stalwart Callaway reigned in the pop department, first with a delightful "I Hear Music" (music by Burton Lane, the one song of the night for which Loesser only wrote the lyric) that started small with piano accompaniment and built carefully (in Hampton's own arrangement and B. Mays' orchestration) to full orchestral glory. Later, backed by a jazz quartet, she contributed a smoky and impeccably phrased "I Wish I Didn't Love You So," written for Betty Hutton, a Loesser favorite, to sing in the film musical "The Perils of Pauline." Bolton got a chance to step out of the trio and into the spotlight in a sprightly "Once in Love With Amy," from "Where's Charley?," that had the audience enthusiastically joining in the traditional sing-along.
The evening climaxed in a spectacular one-two punch. Robert Morse, who had earlier welcomed the crowd with opening remarks, returned to re-create his J. Pierpont Finch in the comic classic "I Believe in You," from "How to Succeed in Business Without Really Trying." Now 80, Morse still has the irrepressibly impish Ponty locked inside him, and he gleefully let the kid out, though he was unfortunately hampered by a crackling head mike. Then Jo Sullivan Loesser, the tunesmith's widow and Broadway's original Rosabella, arrived to make some gracious closing remarks and sing a melting, crystalline "Spring Will Be a Little Late This Year," floating her final high note into the ether as if time was so much twaddle. An imaginative finale mixing two comic duets, "Baby, It's Cold Outside" and "No Two People," eventually involved all and was memorable for Kudisch's hilariously spot-on imitation of Ricardo Montalban, who introduced "Baby" opposite Esther Williams in "Neptune's Daughter."
Sperling's trenchant commentary, delivered in turns by the company, included Loesser's advice to his good friend novelist John Steinbeck: "Don't avoid the corny stuff; just don't let 'em catch you at it." And Loesser never did.
Presented by the New York Philharmonic at Avery Fisher Hall, 10 Lincoln Center Plaza, NYC. Mon., March 26, 7:30 p.m.