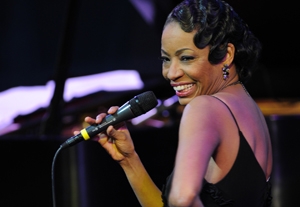 Most people today will remember Ethel Waters, if they know her at all, from her sterling performances in the films "Cabin in the Sky," "Pinky," and "The Member of the Wedding." Nevertheless, Waters is a seminal performer in American show-biz history, hugely influencing American music and popular culture during her seven-decade career. She was a star onstage, on the radio, and onscreen when black performers were relegated to playing domestics (as she was much too often), and she broke the color barrier on Broadway by headlining alongside a white cast in Irving Berlin's revue "As Thousands Cheer." In that show she displayed her considerable range, tearing the roof off the Music Box Theatre with the sexy "Heat Wave," then cutting to the quick in "Suppertime," a protest song about a lynching. Jazz at Lincoln Center has put together a two-night program honoring her, and it's a honey.
Three beauteous and bountifully talented ladies—Adriane Lenox, Catherine Russell, and Tracie Thoms—ably capture the many facets of Waters' talent and complement a relaxed and chipper Michael Feinstein, who serves as a personable host, articulate conveyor of director-writer Scott Siegel's nugget-studded biographical narration, and sings a few of the evening's 17 numbers himself.
Thoms and Lenox, of course, are well-known actors as well as vocalists. Russell mostly just sings with the band, and boy does she do it well. Each gets four solos. The elegant Russell starts with a deceptively casual, conversational "Harlem on My Mind" (Irving Berlin) that sneakily blossoms into glory. Following are a beautifully phrased "Am I Blue?" (Harry Akst
–
Grant Clarke), a self-satisfied cat-with-cream take on "Bread and Gravy" (Hoagy Carmichael), and a sophisticated "Please Don't Talk About Me When I'm Gone" (Sam H. Sept
–
Sidney Clarke) that builds to a spectacular finish.
Thoms is the youngster of the bunch and brings a sunny quality that suffuses her work. Her "Good for Nothin' Joe" (Rube Bloom
–
Ted Koehler) slyly suggests that perhaps Joe really isn't quite that bad. Clad in high black heels and a form-fitting print dress, she gives "Heat Wave" (Berlin) plenty of sizzle. "I Must Have That Man" (Dorothy Fields
–
Jimmy McHugh) is sensuous and jazzy. "Georgia on My Mind" (Carmichael
–
Stuart Gorrell)—sung about a woman, not the state, as originally written—brims with a longing more joyful than aching.
The divine Lenox, so good earlier this season in Encores! "Cotton Club Parade," reprises her wonderfully down and dirty "Go Back Where You Stayed Last Night," which Waters wrote with composer Sidney Easton. "Birmingham Bertha" (Akst-Clarke) is full of twinkling sass and determination ("Like the police/I never release my man"). Lenox's "Stormy Weather" (Harold Arlen
–
Ted Koehler) is an object lesson in the value of restraint, superbly judged and never wild or maudlin. Then she brings the house down in the traditional gospel song "His Eye Is on the Sparrow," featuring not only extraordinary vocal control but a deep sincerity that nearly converted this confirmed agnostic, aided by musical director Tedd Firth's fervent piano.
Feinstein reserves the Vernon Duke
–
John Latouche score for "Cabin in the Sky" for himself, offering a nicely swinging "Taking a Chance on Love" and an effectively dreamy gloss on the title song. His "Love Turned the Light Out," however, never quite takes on the necessary darkness, remaining in the land of light depression. "I Can't Give You Anything but Love" (Fields-McHugh) offers a rare countermelody, complete with lyric, that was fascinating to hear, and "Dinah" (Akst
–
Sam Lewis
–
Joe Young) couldn't have been finah, especially the exciting rapid-fire second chorus, which Feinstein negotiates with consummate skill.
Firth leads a tight and tasty quartet, with Andy Farber on reeds (loved the saxophone solos), Ed Howard on bass, and Mark McLean on drums. "Ethel Waters: Blues, Broadway, and Jazz" is a classy evening and a heartfelt salute to one of America's great stars.
Presented by Jazz at Lincoln Center as part of the Jazz & Popular Song Series at the Allen Room at Frederick P. Rose Hall, 33 W. 60th St., 5th floor, NYC. May 1–2. Tue. and Wed., 7:30 p.m. (212) 721-6500 or www.jalc.org.