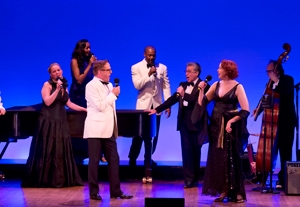 Offering 30 songs (though promising 35) and running an enervating two hours and 40 minutes, "Mad Dogs & Educated Fleas: Noël & Cole, a Battle of Wits," a Lyrics & Lyricists series entry at the 92nd Street Y, is the epitome of too much of a good thing. Worse, that good thing is too often the material and not its interpretation. Artistic director, writer, host, and vocalist Mark Waldrop's stab at contrasting and comparing two of the 20th century's wittiest, sexiest, and most sophisticated songwriters is, despite a few bright spots, miscast, overreaching, and underrehearsed.
Though Broadway performer is one of Waldrop's professions, he would have been wiser putting the rehearsal time that job required toward his other duties, such as shaping performances, cutting and pacing the program, and becoming acquainted with his hosting narration, in which he was awkward and stiff, regularly getting lost. His only significant singing contribution was a perfectly fine though hardly inspired rendition of Coward's "Mad Dogs and Englishmen" that was marred by a lyric flub.
The focus on comedy songs resulted in what Waldrop himself termed "an avalanche of words," under which the company was too often buried. We were 12 numbers in before ignition, which finally came when guest star Harriet Harris delivered a snazzy take on Porter's "The Tale of the Oyster," which Edward Hibbert then gleefully proceeded to top with Coward's "A Bar on the Piccola Marina." In an effortless display of how the Master should be done, Hibbert somehow also managed to wickedly channel Maggie Smith. He remained the hero of the evening, thanks to a delightfully crisp and jaunty "I Like America" (Coward) and a grimly sardonic "Thank You So Much, Mrs. Lowsborough-Goodby" (Porter). In her second and final number, Harris bent Coward's "I Went to a Marvelous Party" to her considerable will, giving this oft-performed song a successful original spin by infusing it with her signature comic persona of outsized extravagance.
Jeff Harnar's "Mrs. Worthington (Don't Put Your Daughter on the Stage)" benefited from being sung before Hibbert was unleashed on Coward's catalogue, displaying an intellectual understanding of the comedy but lacking any instinctual connection. Harnar fared much better with Porter's "A Little Skipper From Heaven Above," a surreal comic ditty for which he re-created Durante's singing style and vaudevillian interjections with flair. It's clear that T. Oliver Reid is prodigiously talented and has an innate understanding of this kind of material, but he needed a director to modulate his work, frequently pushing too hard and also sometimes throwing lines away with excessive casualness for such a large and formal venue. Still, he provided a twinkling "Any Little Fish" (Coward) and an achingly lovely "You Don't Know Paree" (Porter), the latter eerily reminiscent of the great Bobby Short.
On the distaff side, the elegant La Tanya Hall showed little natural affinity for the comedy numbers, but she did come through with a sultry and insinuating "Love for Sale" (Porter) and was effective in her portion of Coward's "Mad About the Boy," for which Waldrop made the smart choice of providing the song's original dramatic context. The perkily strident Colleen McHugh generally seemed at sea, especially when belting Coward's romantic paean to England's capital, "London Pride," as if it were "La Marseillaise" and the enemy were at the gates.
Musical director
–
pianist Don Rebic and Sean Harkness (guitar), Dick Sarpola (bass), and Ray Marchica (drums) proved an entirely professional quartet but sometimes seemed to be fighting rather than enhancing the wordplay. This may have been due more to some of Rebic's arrangements than to the players, particularly on two Porter songs: an energy-sapping attempt at languor for "Begin the Beguine" and a close-harmony account of "At Long Last Love" that mangled both its melody and rhythmic construction, in the process turning the words into an unintelligible, misaccented muddle.
Well, you can't win 'em all. Let's hope the invaluable series bounces back in June with its final program of the season, "It's Magic: 90 Years of Songs From Warner Bros.," courtesy of artistic director and host Rex Reed.
Presented by and at the 92nd Street Y as part of Lyrics & Lyricists, 1395 Lexington Ave., NYC. May 5–7. Sat., 8 p.m.; Sun., 2 and 7 p.m.; Mon., 2 and 8 p.m. (212) 415-5500 or www.92y.org.