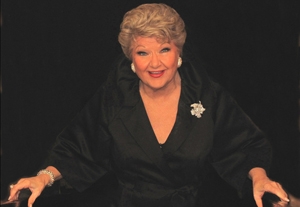 Marilyn Maye recently celebrated a birthday, but she isn't telling her age at her bubbling cabaret set at Feinstein's at Loews Regency, at least not until the very end of an hour of soulful warbling. When she does reveal the number—I'll be a gentleman and not repeat it— it comes as something of a shock, as the figure does not match her energetic demeanor and still-vibrant vocalizing.
With masterful musical director Billy Stritch on piano, Maye sometimes glides over the surface of the accompaniment and then dives into it like an expert swimmer, joyously splashing in the melody and showing off her expert strokes. She'll begin the verse of a standard like "Spring Is Here" (Richard Rodgers–Lorenz Hart) almost casually, and then when she gets to the refrain, she'll play around with the vowels, stretching out and relishing the sounds to emphasize the loneliness of the character, who feels isolated and abandoned despite the beautiful weather that surrounds her. She continues this softly plaintive mood with "Spring Can Really Hang You Up the Most" (Fran Landesman–Tommy Wolf), endowing the lyric with a bittersweet ache and contrasting the light, almost lilting quality of the first song with the slower, bluesy feel of the second. She can also scat with the best of them, launching into a rapid, rib-tickling duet of "scooby-doos" and "whadda-wows" with Stritch on "Mountain Greenery" (Rodgers-Hart).
Her voice is like a vintage wine, rich with the kind of layers only experience can bring. Maye can endow "Make Your Own Kind of Music" (Barry Mann–Cynthia Weil) with youthful spark in her boffo opening, then later convey the reflective regret of "Here's That Rainy Day" (James Van Heusen–Johnny Burke). There are unexpected takes on familiar material as well. She starts a medley of "happy" tunes with a slow, velvety rendition of "Get Happy" (Harold Arlen–Ted Koehler) and then delivers an even slower, syncopated twist to the usually peppy "I Want to Be Happy" (Vincent Youmans–Irving Caesar), with just Tom Hubbard's bouncy bass in the background, finishing up with a sardonic "Sometimes I'm Happy" (Youmans–Caesar). In another surprise move, she punctuates a tribute to New York with a zippy offering of the rare "My Personal Property" (Cy Coleman–Dorothy Fields), written for the film version of "Sweet Charity." To show she's perfectly up to date, Maye includes "Butter Outta Cream" (Marc Shaiman–Scott Wittman), from the recent "Catch Me If You Can," and this clever up tune gives her the opportunity to display the still forceful power of her voice. It's the highlight of the show.
She wisely keeps her between-songs patter to a minimum, restricting it to a few jokes, anecdotes, and reminiscences about the influence of her mother, who taught her songs such as "Look for the Silver Lining" (Jerome Kern–Buddy DeSylva), which she puts across with affectionate nostalgia for her beloved parent. It's a sweet moment in a varied and entertaining set.
Presented by and at Feinstein's at Loews Regency, 540 Park Ave., NYC. April 24–May 5. Tue.–Thu., 8 p.m.; Fri. and Sat., 8 and 10:30 p.m. (212) 339-4095 or www.feinsteinsatloewsregency.com.