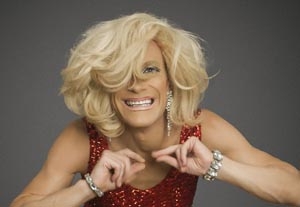 The drugged-up, featherbrained, slightly talented semi-celebrity is a prominent archetype in the drag universe (Justin Bond's Kiki, of Kiki and Herb, is a prime example). David Drake, who has achieved diva status for his dazzling cross-dressing performances in Charles Busch's "Vampire Lesbians of Sodom" and the mock-beauty-contest musical "Pageant" and won an Obie Award for his nondrag solo show "The Night Larry Kramer Kissed Me," adds his own D-lister to the ranks of showbiz infamy. She's Tawny Heatherton, a goofy, bubbly airhead in a Carol Channing wig whose biggest claims to fame are a single European disco hit that never received airplay in the States and the fact that she's the niece of Joey Heatherton, barely remembered songstress of the 1960s and TV mattress spokesperson ("Be a perfect sleeper. Buy a Serta!").
With the aid of Robert La Fosse's sure-handed direction and Lance Cruce's bright musical direction and accompaniment, Drake brings Tawny's cabaret act to the Laurie Beechman Theatre for 70 minutes of insanity called "My Tawny Valentine." Her show is composed mostly of Tawny rambling on about her travels around the world and her dysfunctional, bizarre childhood. A single question to Cruce about his family leads Tawny into a freeform monologue that encompasses hot-air ballooning in North Dakota, touring in a promotional show for the awful TV series "Hee Haw," and picking up Italian soldiers in Rome, finally finishing with her crooning "My Funny Valentine" in Esperanto. I still can't figure out how the connections were made, but with Drake at the controls of this crazy vehicle, getting there is more than half the fun.
The emphasis is on Tawny's checkered past, not her vocalizing, which Drake handles with assurance, though he doesn't soar. But that's okay; the effect Drake and La Fosse seem to be going for is a visit with an old friend who is slightly out of her mind but sure to show you a good time. Drake is at his best reliving Tawny's twisted girlhood, from setting her Long Island home on fire to growing up in a commune with her hippie mother to touring with the USO as a barely legal adolescent. She's basically a kooky comic creature, but Drake gives her a compassionate heart and a loving nature, keeping her from becoming a total caricature. There is just enough humanity in this showbiz never-was to make her more than a punch line.
This weird combination of empathy and hilarity works especially well for the show's closing number. After recounting a convoluted encounter with a gay army cook who later turns up as a makeup artist when Tawny has a one-line role on "Knots Landing," Drake simply and sweetly sings the intro to the Beatles' "All You Need Is Love" while Cruce plays haunting Sondheimesque chords. Somehow, the seemingly mismatched pieces of story and song come together to form a heartfelt plea for acceptance and a celebration of survival in a deranged world.
Kudos as well to Ned Stresen Reuter, who furnished the divinely awful video for Tawny's single disco hit, "Run Crazy Man." I have a feeling that we'll be seeing more of this lovable nut job on the city's cabaret stages, and I'm looking forward to it. Is "Tawny's Thanksgiving Special" next?
Self-presented at the Laurie Beechman Theatre, West Bank Café, 407 W. 42nd St., NYC. Feb. 17–March 2. Thu. and Fri., 7:30 p.m. (212) 352-3101, (866) 811-4111, www.theatermania.com, or www.spincyclenyc.com.