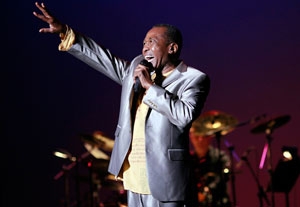 It's almost 40 years since "Pippin" opened on Broadway and made Ben Vereen a star. Yet when the stylish performer makes his entrance for "Steppin' Out," his classy cabaret set at the gorgeous new venue 54 Below, the decades drop away. He moves with the elegance and ease of a sinuous snake with legs and sings with the same smooth voice, equal parts honey and silk. The humor and immediate connection with an audience are still there too. At the performance attended, the microphone was dead as Vereen warbled his first notes. Without missing a beat, he laughed and shouted, "Let's take that again," slinked off, and re-entered to even louder applause.
He starts the show with "Magic to Do" (Stephen Schwartz), the entrancing opener from "Pippin," then segues into a medley of tunes from that show and from his previous Broadway outings. A surprisingly slow and seductive "Aquarius" (Galt MacDermot–James Rado–Gerome Ragni), from "Hair," transitions into an unexpectedly moving "I Don't Know How to Love Him" (Andrew Lloyd Webber–Tim Rice), from "Jesus Christ Superstar." With appropriate lyric changes and an impassioned performance, this familiar song is transformed from an innocuous pop ballad into an anguished search for faith.
All of the additional numbers benefit from Vereen's dramatic skills. He doesn't merely vocalize; he endows the songs with reams of subtext, making each one into a miniature play, complete with a varied and believable cast of characters. During a tear-inducing rendition of "Mr. Bojangles" (Jerry Jeff Walker), presented as part of a tribute to Sammy Davis Jr., Vereen takes on the bent posture and wavering voice of the titular elderly New Orleans street entertainer. You can detect the sparkle in the old man's eye when Vereen executes the character's ragged busking as he sings of his glory days. The star also evokes rather than imitates Davis in this familiar piece, which was one of the legendary entertainer's signature numbers. Vereen manages to salute Davis as well as present a creation of his own.
Another remarkable aspect of that number—and of the whole show—is Vereen's ability to give a full dance performance on 54 Below's tiny stage. Though he has limited space—just a strip of platform in front of the able musicians—Vereen economically employs his supple body to command it totally. He makes a popped hip and a flicked wrist speak volumes.
The songs are punctuated with spicy anecdotes of auditions for such shows as a Las Vegas production of "Sweet Charity"—his first job, in the chorus, and his introduction to Bob Fosse, who was instrumental in his career—and for the original Broadway edition of "Superstar," an audition at which he unintentionally dissed Lloyd Webber. He also reveals his difficult journey back to health after years of drug abuse and a crippling auto accident. That he does so without sentimentality is another feat of superb stagecraft.
Vereen is backed by the versatile David Loeb at the piano, Marc Dicianni on drums, and Tom Kennedy on bass, who collaborates beautifully with the star on a sweet and surprising solo of "Your Song" (Bernie Taupin–Elton John). It's another magic moment in this all-too-brief hourlong show.
Presented by and at 54 Below, 254 W. 54 St., NYC. July 11–21. Tue.–Sat., 8 p.m. (Additional performance Sat., July 21, 11 p.m.) (866) 468-7619 or www.54below.com.