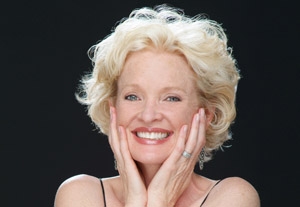 Whether it's comedy novelty numbers, moving ballads, jazz scatting, or operatic trills, Christine Ebersole can do it all. In her current cabaret gig at the Café Carlyle, this two-time Tony winner runs the proverbial gamut, with plenty of stops along the way. After imitating a trumpet on "Big Noise From Winnetka" (Bob Haggart) during a socko instrumental turn led by her musical director, John Oddo, she gives an inventive riff on "Ding Dong the Witch Is Dead" (E.Y. Harburg–Harold Arlen), then launches into a hour of scintillating song and witty banter.
Ebersole takes the audience on an autobiographical journey from Broadway to Hollywood, with side trips into her marriage and family life. Each song is subtly introduced with a reflection or a recollection. Her director, Scott Wittman, co-lyricist of "Hairspray," probably had a hand in crafting the quips, which get considerable comic mileage out of Tinseltown's obsession with youth and beauty. "After a beauty treatment in L.A., I looked in the mirror and wondered, 'Do I really look $1,600 younger'," she jokes. The highlight of the show is a deadpan rendition of Sophie Tucker's "You Can't Deep Freeze a Hot Mama." The setup is perfect, with Ebersole suggesting that Hillary Clinton might be motivated to croon this racy number at an affair of state.
Ebersole balances the comedy with soulful renditions of favorites like "Blame It on My Youth" (Oscar Levant  Ed Heyman), "Can't Help Lovin' Dat Man" (Oscar Hammerstein II–Jerome Kern), and an especially effective combination of "When the World Was Young" (Johnny Mercer–Philippe Bloch) with two songs from the her biggest Broadway triumph, "Grey Gardens, " "Another Winter in a Summer Town" and "Drift Away" (Scott Frankel–Michael Korie).
My only complaint about this sparkling set is that it's too polished. Ebersole is a skilled actor, able to transform herself into anyone, from the flighty hostess in "Dinner at Eight" to the psychologically damaged Edie Beale and her domineering mother in "Grey Gardens." But when it comes to just being herself—an essential component of a successful cabaret act—Ebersole lacks a certain degree of spontaneity. She does relate numerous personal anecdotes, including intimate stories about her mother's memory loss and meeting two of her adopted children on the same day. But these come across as part of a rehearsed performance, rather than as sharing parts of herself with her audience. At the performance attended, an audience member interrupted Ebersole's patter introducing her encore number. Barely pausing, Ebersole said, with the only the slightest sarcasm, "Thank you, dear. Now where was I?" It was a very funny moment and showed a very brief crack in Ebersole's professional façade. I would have appreciated more of them.
Presented by and at Café Carlyle, 35 E. 76th St., NYC. Jan. 11–29. Tue.–Fri., 8:45 p.m.; Sat., 8:45 and 10:45 p.m. (212) 744-1600.