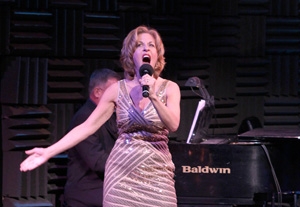 Jackie Hoffman is not afraid to go to the dark side. In her latest solo show at Joe's Pub, "Jackie Five-Oh!," the bitterly funny actor-comic unflinchingly skewers sacred cows such as the Tony Awards and Holocaust movies, flings acid-dipped barbs at the Broadway hierarchy, and does painfully accurate imitations of a gallery of showbiz icons, including Bernadette Peters and Mary Tyler Moore.
The hourlong set, written by Hoffman and her director, Michael Schiralli, with music and musical direction by Bobby Peaco, revolves around Hoffman's reflections on her 50th birthday and sustaining an acting career built upon small parts. She performs it on her nights off from playing the grandmother in Broadway's "The Addams Family," and a good deal of her material covers that show's gestation and lacerating reviews. Hoffman raises howls with her sarcastic reading of some of those notices, as well as references to the show in reviews of other productions. "The critics hated us so much, they couldn't stop writing about us," she quips. Her biggest complaint is the lack of a solo song for Grandma Addams. She remedies that by writing her own. Though it was rejected for the show, she performs it here, and it's a little gem of funereal humor. Another of her targets is the typical Main Stem audience. According to her, the three big questions concerning every Broadway theatergoer are "Who's the star? What TV show were they on? And what train can we catch to get home?"
Hoffman also gets considerable comic mileage from her tribulations on other big-scale projects. She works up an ingenious specialty number out of getting replaced by Queen Latifah in a major movie and thereby losing health benefits through the Screen Actors Guild. On this number, she is joined by her husband, trumpeter Steven Smith, who adds spice to the spoofy Latin-flavored tune.
You would think an hour of kvetching would be wearying—after all, she's gainfully employed in a hit show during a recession—but Hoffman's no-holds-barred delivery and brutally honest attitude keep inspiring guffaws. No one is spared her acid tongue—not her mother, not earthquake victims in Haiti ("I'm sorry your home is in ruins, but you try doing a musical out of town") or the people who don't recognize her at the bagel store in her old neighborhood.
Hoffman is a prickly prize in a sea of cheerful "up" performers. She also offers a lesson to all aspiring musical performers: Take lemons (small parts, no solo song) and make lemonade (write your own cabaret show).

Presented by and at Joe's Pub, 425 Lafayette St., NYC. Nov. 22–April 4. Schedule varies.
(212) 967-7555 or www.joespub.com.