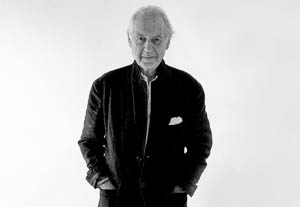 John Standing may be appearing in cabaret, but that hasn't stopped him from delivering a master class in acting in this program of Noël Coward songs at Café Carlyle. You'd have to look far and wide to find Coward performed with such effortless authenticity. In Standing's hands, the wit glistens, the irony stings, the characterization pops, and the sentiment seduces. This, folks, is how it's done.
As he tells us in his delightful patter of show-biz anecdotes, this veteran of the British stage comes from a long line of actors dating to 1809. He first met Coward when he was 10 years old. The encounter occurred backstage in the dressing room of Standing's mother, Kay Hammond, who created the role of Elvira in "Blithe Spirit" in 1941 and played it again on screen four years later. Standing then delivers a drop-dead impersonation of the Master. But his performance is no impersonation. The actor inhabits this material as masterfully as he did Elyot in Coward's "Private Lives," which I saw in 1974 in a pre-Broadway tour opposite Maggie Smith, or Tobias in Edward Albee's "A Delicate Balance," which I caught in the West End in 1998, opposite Smith and Eileen Atkins.
Standing's 16-song program borrows heavily from the repertoire Coward performed in his signature 1950s Vegas stints. Comedy songs predominate, possibly because the self-effacing performer doesn't think much of his singing voice (I believe the word "dreadful" was employed at one point). He's wrong. While his light high baritone may not be at its best sustaining long notes, he more than compensates in his affecting delivery of three Coward classics—"You Were There," "Someday I'll Find You," and "I'll See You Again"—which he imbues with the ideal mixture of longing, rue, and wistfulness to musical director Stuart Barr's sensitive accompaniment. I longed to hear "London Pride" or perhaps "Matelot."
As for the comic songs, they come willy nilly in happy profusion, each one characterized precisely and hilariously. Whether steaming with increasing frustration in "Don't Put Your Daughter on the Stage, Mrs. Worthington" or suffused with libidinous glee in "A Bar on the Piccolo Marina," Standing rivets his audience's attention and lands every laugh in sight. You know at once you are in good hands from his opener, "I've Been to a Marvelous Party," which is spoken sans accompaniment to devastating effect. It's hard to single out favorites, but I'll have to go with "The Stately Homes of England," which he makes into a biting indictment of Britain's feckless upper classes, and his enthusiastically pitch-black "There Are Bad Times Just Around the Corner," sadly more relevant today than ever.
As the current Roundabout Theatre Company production of "Present Laughter" demonstrates, the further we get from Coward's era, the harder it is for artists to know the most effective way to deliver his idiosyncratic material. For Standing, it's second nature, in his bones. You can sit at the Carlyle bar for $45. Any actor who hopes to play Coward should avail himself of this teaching opportunity. Everybody else should go just for the sheer joy of it.
Presented by and at Café Carlyle, 33 E. 76th St., NYC. Feb. 23–March 6. Tue.–Sat., 8:45 p.m. (212) 744-1600 or www.thecarlyle.com.